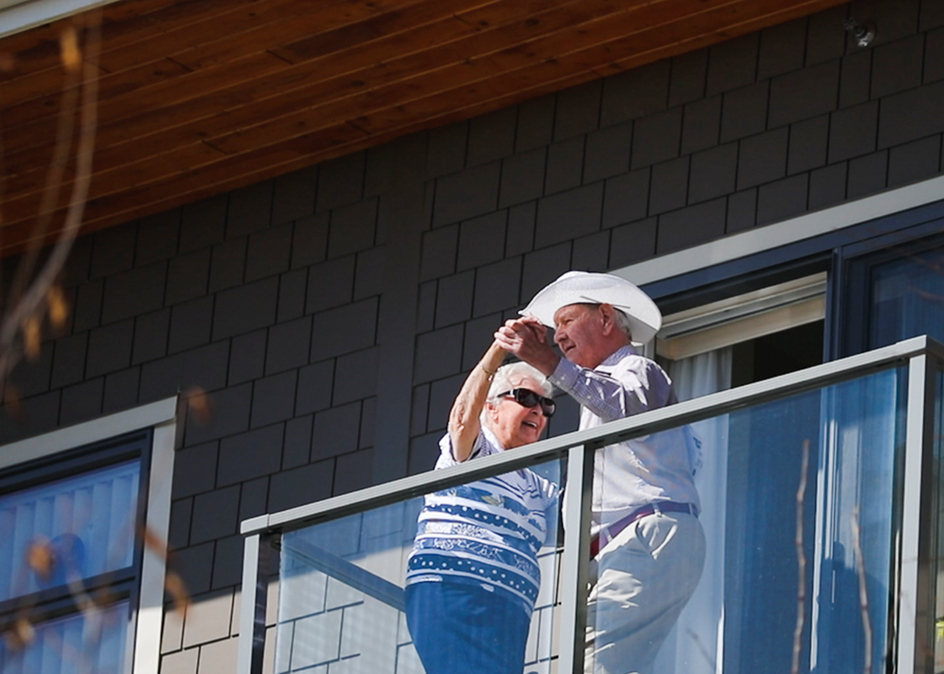 Amica Senior Lifestyles residences across Canada have been making headlines for taking entertainment outdoors to nurture a vibrant sense of community during a challenging time. While residence common spaces remain temporarily closed, and seniors self-isolate in their suites as a precaution, Life Enrichment teams are moving outside to offer recreational activities and social events. Waving from balconies, residents have been watching live music, dressing up for themed parties, performing in singalongs and dancing at workouts — all while practicing safe physical distancing to prevent the spread of COVID-19.
Elvis concert
Singing from the street, a popular Elvis impersonator had residents and passersby singing and dancing as he performed at Amica White Rock in South Surrey, B.C. "We enjoyed it very much," said Shirley, a resident who spoke to a newspaper that featured the Elvis show. "Everybody in the building looked like they did. Elvis did a great job, he took us back to our younger days." The residence also offers balcony fitness in the mornings and afternoon music to keep seniors moving and socializing from a safe distance.
Celebrity singalong for frontline workers
Residents at Amica White Rock were joined by a local celebrity to sing a musical thank-you to the staff at the residence as well as frontline workers at Peace Arch Hospital and local first responders. Dressed in his tux, Vancouver Canucks anthem singer Mark Donnelly led the singing of O Canada while holding out the microphone to encourage his audience of 177 seniors to sing along. The community event was featured in the Vancouver Sun.
Curbside fitness
Amica Edgemont Village made the cover of the North Shore News for its outdoor dance parties in the name of fitness. To help seniors stay active in a fun way, instructors in cowboy hats and tutus blasted music while demonstrating the dance moves on the street — and residents followed along on their balconies and decks. "The joy in their faces and enthusiasm to join is very heartwarming," says Judy Bjornson of Surefeet, the company that runs the mobility programs.
Live music
As a lunchtime treat, Amica Stoney Creek residents dined in their suites while an accordion player strolled around the courtyard outside the residence. "It was so great, they were cheering and clapping from their suites!" says Life Enrichment Coordinator Rhonda Bowman. Another day, a fellow resident volunteered to play the violin from his balcony for his neighbours. Live music was also a big hit at Amica Dundas, where residents enjoyed an outdoor concert by a singer playing his guitar. He played a set for each side of the building, using an amplifier so everyone could enjoy the music through their open windows or from their balconies.
More feel-good stories
If you could use some good news stories in your week, we think you'll enjoy
The Bright Spot
. Our new video series shows how Amica seniors, team members, families and everyday Canadians are helping raise community spirit during a challenging time.