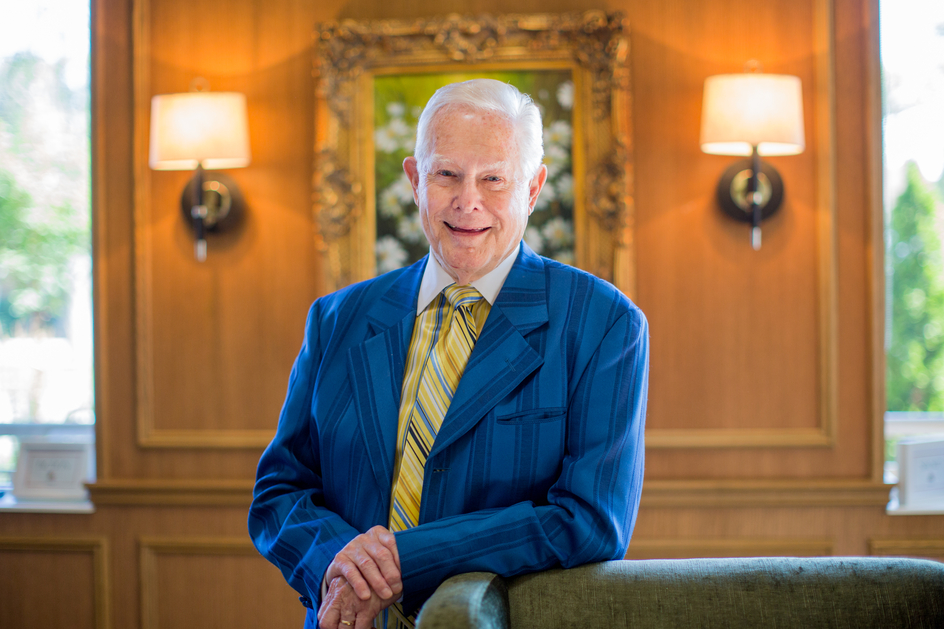 It's only natural for Herb to find himself in front of an audience at Amica Peel Village, where he's known for sharing his talents and remarkable stories with his fellow residents. After all: he spent more than three decades entertaining people as the founder and host of SuperDogs, where he delighted audiences with a family-friendly dog show starring a cast of talented four-legged performers.
After stints as a teacher, a tour guide at General Motors, and an advertising account executive, Herb fell into his extraordinary second career by accident. He was given a Chow Chow puppy who was born with a condition causing cloudy eyes and impaired vision. On walks, Shang would raise his ear to hear what Herb was saying, which gave the pup extraordinary walking posture (his eyes gradually returned to normal). "I decided to show him at Madison Square Garden at a dog show run by the Westminster Kennel Club. I won the group and was best in show against all the professionals," says Herb. His once-blind dog went on to be the winningest Chow in the world.
The victory led to a meeting with Dave Nichol, then president of Loblaws, who was about to launch President's Choice dog food. "'I've found the perfect dog for your packaging — and he's in Toronto!'" Nichol's mother announced over the phone, having watched Shang's win on TV from her home in Florida. When Shang was selected as the face of the new brand, Herb found himself in a boardroom with Nichol, Galen Weston Jr. and other Loblaws executives, where he floated an idea: Would they like him to develop a show starring the country's most decorated breeds and obedience dogs?
Backed by Loblaws, Herb emceed the first SuperDogs show at the Pacific National Exhibition in the summer of 1976 to an enthusiastic crowd of 500. By his last appearance in 2012 — he retired in his 80s — Herb was hosting audiences of 20,000-plus. "There were dog shows before, but none like this one," he says. Featured on TV, in movies and in documentary films, SuperDogs wove agility and stunts into humorous and heartwarming stories produced with music and costumes. Its popularity meant that Herb, dressed in his signature shiny suits at the centre of the arena, crisscrossed the country more than 30 times, where he entertained celebrities like Richard Gere, Joan Rivers and Luciano Pavarotti, and royals including Princess Margaret, Prince Philip, Prince Charles and Camilla Parker Bowles. "The dogs enriched our lives so much and opened so many doors for us," says Herb, who has been married to his wife Joan for 64 years. "We've had the life we've had because we were given a dog."
Now, he's giving back by weaving his passions, talents and knack for storytelling into unique presentations he produces himself. He's played piano for themed singalongs at the residence, led collaborative art workshops and offered informative sessions about different dog breeds. At a Canada 150 photo exhibit he created at Amica Bronte Harbour, he told of a boy who wandered onto the SuperDogs stage in Newfoundland: he'd found $2 and wanted the owner to have it back. Herb told the boy he could keep the money if he promised to bank it for his education. When the crowd started offering the child cash from their own pockets, Herb sent a golden retriever around with a basket; at intermission, the boy's education fund had reached $1,462. "I love telling that story about Newfoundland, where the people are so kind and generous and honest."
Instead of simply playing the piano for music appreciation, he takes his neighbours at the residence on a musical journey around the world. He accompanies every piece with large pictures of landmarks, such as the Eiffel Tower paired with "The Last Time I Saw Paris." One man was so excited to see an image of the Victor Emmanuel II Monument that he spent the afternoon fondly remembering a trip to Italy. When Herb had finished the session, one resident called him over to his wheelchair. "Herb, you know what my life is like? I'm either in bed or in this wheelchair. I eat my meals in bed or in this chair. For the last hour, I wasn't in bed or my wheelchair — I was travelling to concert halls and sites around the world with you, and it was just fabulous."
"What do you think is more rewarding: playing for 25,000 people at the opening ceremonies at the Calgary Stampede or seeing a few of my friends glow when they hear a certain piece of music?" says Herb. "I love doing this because I'd like to help people feel that coming to a seniors' residence is a step up to a new, broader more enriched life. I'll be 90 years old this year and I still live every day like the best is yet to come."
Find out how residents are enjoying great amenities, activities, flexible dining and personalized service at Amica residences. Book a personal visit today.