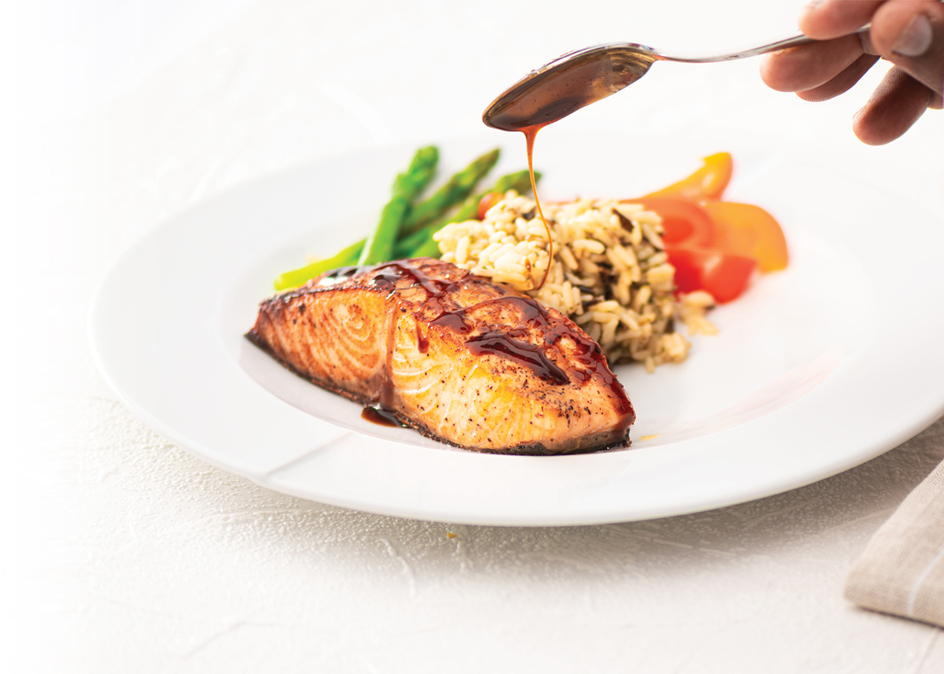 Dinner-party worthy and ready in about 10 minutes, this is bound to be your favourite salmon recipe from the first time you try it. Honey, chipotle peppers and fresh herbs offer a flavour boost to easy pan-fried salmon. Serve this honey-ginger salmon recipe at a weekday dinner, an elegant party or a holiday celebration. Created by Gary McBlain, Amica's National Director of Culinary Services, this recipe also celebrates our partnership with Alvéole, an urban beekeeping company that has installed honey-bee hives at seven Amica residences. Be sure to try our other honey recipes, too!
Makes: 4 portions
Ingredients
6 tablespoons honey
1/4 cup chopped fresh cilantro
1/4 cup hoisin sauce
1 1/2 tablespoons minced fresh ginger
1 1/2 tablespoons chopped fresh garlic
1 tablespoon chopped fresh or canned chipotle peppers
4 six-ounce salmon filets (each about 1-inch thick)
Olive oil
Instructions:
In a bowl, mix honey, hoisin sauce, garlic, ginger, cilantro and peppers. May be thinned with a touch of water if it's too thick.
Heat a pan with olive oil over medium-high heat. Sautee salmon skin side up for 2-3 minutes until it is brown and crispy.
Turn salmon skin side down to continue cooking. Add mixed ingredients from bowl.
Continue cooking salmon for 2-3 minutes until cooked thoroughly over medium heat while spooning sauce over each portion.
Transfer the salmon from pan to plate and spoon the remaining sauce equally over each portion.