"Happy people tend to function better." Dr. Heather Palmer notices lots of nodding heads when she makes this pronouncement during speaking and training engagements as National Director of Cognitive Well-Being for Amica. "From a research perspective we know there's a very, very strong correlation between cognitive ability and how people feel about themselves, others and their environment."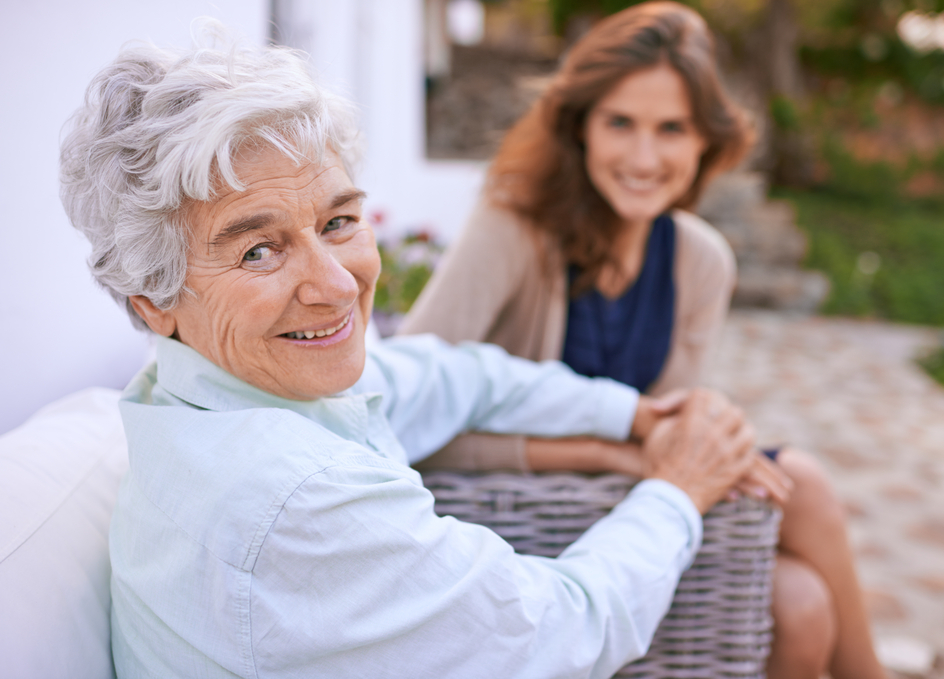 Generally, people who score higher on questionnaires about happiness, optimism, independence and feelings of being in control also cognitively score higher on tests involving memory, language and multitasking. "We can't tell if people are happy because they're thinking well, or they're thinking well because they're happy," says Palmer. "To truly maximize individual ability, we focus our team member training and resident programming on both happiness and cognitive.
Warning Signs
How happy is your parent? He or she might be inching downward on the well-being scale if you notice the following:
A change in motivation or taking initiative: Do they engage less frequently in activities they enjoy? Do they shy away from opportunities and events? Have they simplified their meals resulting in less variety?
Feeling overwhelmed: Dad might decline your lunch invitation if he has a doctor's appointment that day, feeling that he can't do more than one thing. Or a formerly happy hostess will stop entertaining at home because she's overwhelmed by the thought of the cooking or cleaning. "If you can help her to continue to host people, the empowerment from that success would be incredibly positive," says Palmer.
Social isolation: Is your parent becoming more socially isolated, steering away from group activities?
Feeling a loss of control: Aging results in many changes that can be felt as loss of independence and control. This may include losing one's driver's license or depending on others to manage finances or the home. Achieving a sense of purpose and meaning in life often happens when seniors can strike a balance between maintaining their independence and receiving just the right amount of support — and having a choice and a say in the process.
Seeing the glass half-empty: "When people start to feel loss of control and engage less often, there is a tendency to become more negative about life in general," says Palmer. "Their world then becomes viewed as 'difficult' and 'impossible,' leading to increased feelings of anxiety and depression, which will link back to more cognitive challenges."
Take action to help
How can you stop the slide as your parent ages? Here are two suggestions:
Sensitive communication: Some parents will be thrilled to have an adult child show up to sort the bills; for others, that sense of needing help might eat away at their psychological well-being. What's the nature of your relationship? Can you decipher cues when your parent really needs help and may need a little nudge to willingly accept your offer? Or will prodding push the exchange into negative territory and make the situation worse?
Support what brings happiness: If going out weekly for lunch with friends is a cherished ritual to your mom, but she can no longer drive, it is in her best interest that you help her make arrangements to maintain that routine.
Identify the activities that bring purpose and meaning to her life, and work with her, other family members, and residence teams to help her continue them. Meanwhile, encourage her to participate in new activities, perhaps by joining her or by identifying opportunities that tap into skills and talents she has let go of due to logistics.

Dr. Heather Palmer is a cognitive aging and dementia specialist with more than 30 years of clinical and scientific experience. She focuses on helping individuals improve the way they think, feel and function. Heather is the National Director of Cognitive Well-Being for Amica Senior Lifestyles. She is developing cognitive well-being programs for Amica with a heightened focus on Memory Care and Assisted Living.

Find out how residents are enjoying great amenities, activities, flexible dining and personalized service at Amica residences. Book a personal visit today.