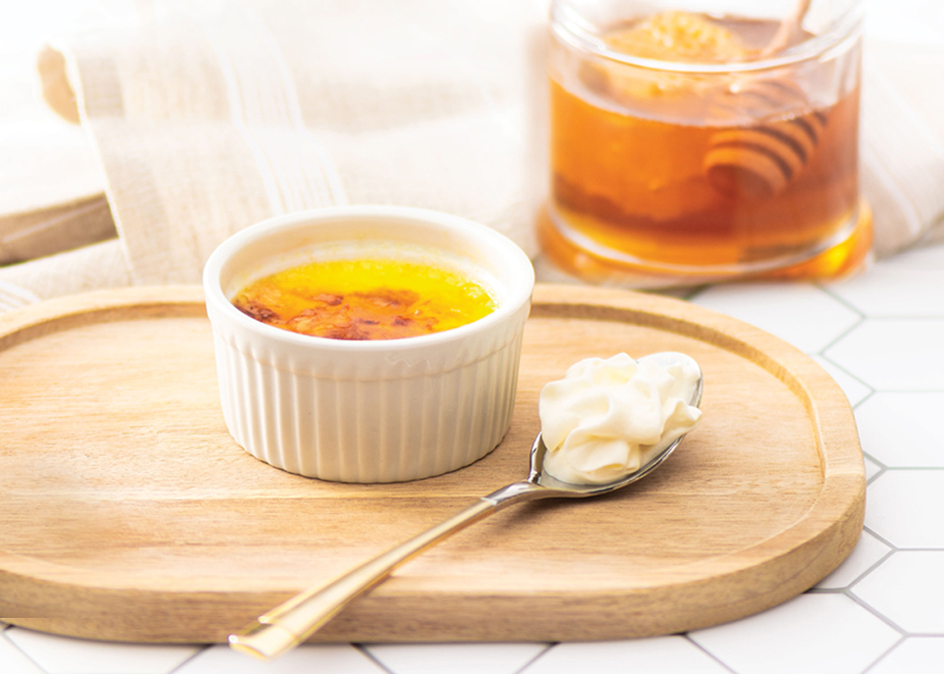 Is there anything more divine than cracking the crisp, caramelized sugar top of a crème brûlée and savouring the creamy custard within? You'll be amazed at how easy it is to make this crème brûlée recipe, flavoured with sweet honey, vanilla bean and lemon zest and served with plump, tart raspberries. Created by Gary McBlain, Amica's National Director of Culinary Services, this recipe celebrates our partnership with Alvéole, an urban beekeeping company that has installed honey-bee hives at seven Amica residences. Be sure to try our other honey recipes, too!
Makes: 4 servings
Ingredients:
2 cups 35% cream plus 1 cup for whipping
5 egg yolks
2 stalks vanilla bean split and scrapped
3 tablespoons honey
Zest of 1 lemon, chopped fine
2-3 tablespoons sugar
Raspberries to garnish
Instructions:
Preheat oven to 325°F.
In a saucepan, heat 2 cups of 35% cream, the honey and vanilla bean until boiling.
In a separate bowl, whisk the egg yolks until creamy.
Temper the egg yolks with hot cream and then mix thoroughly.
Add lemon zest.
Fill 4 ramekins with the cream and egg mixture.
Place ramekins on a deep baking tray. Pour hot water into the baking tray until there is about one inch of water surrounding the ramekins.
Bake for 40-45 minutes until the edges are set, but the middle is still wiggling.
Cool in the fridge for a minimum of 2 hours.
Sprinkle sugar on top of each dessert and caramelize with a butane torch. Garnish with fresh whipped cream and a few raspberries.