Bert & Elsie
Married since 1944, this couple lives happily at Amica Bronte Harbour.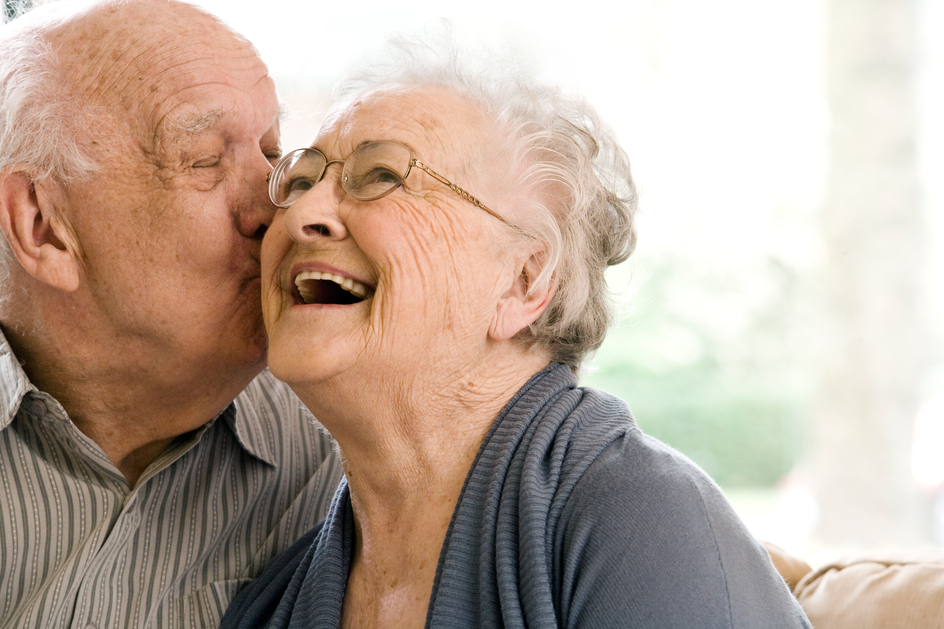 How did you meet?
"In 1942, Bert was in the Air Force in Scotland, then he was assigned to Picton, Ontario," says Elsie. "Every two to three weeks, the servicemen received a 48-hour pass to leave the base. At that time, families from Oakville were welcoming servicemen into their homes for dinner as a thank-you gesture. Burt's first Oakville visit was to my family's home. That's how we met!"

What did you do on your first date?
"After asking my father for permission, we took my dog, Toby, for a walk."

What did you have in common?
"We both had relatives from England," says Bert, "and we both enjoyed a quiet life."

What routines helped your marriage work?
"I'm very fussy with it comes to cleaning, so Bert always helped out with chores and ironed my pants just the way I liked. We didn't argue much, and if there was a misunderstanding, we slept on it to cool down, and made it right after. We do little things to make life easier for each other, like helping out and doing things they enjoy."

When problems come up, how do you deal with them?
"We listen to each other and always look for answers," says Elsie. "Never underestimate a conflict." "Marriage is all about give and take," says Bert. "You can't always have your way—you have to find a way to compromise, because it is about the two of us."

What's the most romantic thing you've ever done?
"We took a trip to England. We didn't have an engagement ring when we got married, so Bert bought me one on our anniversary."

What's your advice to young couples on how to make a marriage last?
"Don't fight about the little things," says Elsie. "Always find a way to make up, it is the best part!" says Bert.

Marcelle & Ron
They met while living Amica Dundas and married in 2010; Ron has since moved to a long-term care facility where Marcelle visits him frequently.

How did you meet?
"I had lost my first husband and was living in London. My daughter is an artisan in Dundas and encouraged me to move here in 2008 when the building was new. She knew a volunteer at the gallery who was Ron's daughter, and they decided we should meet because we both like Scrabble. I introduced myself when I got here and mentioned that our daughters knew each other. We decided to meet for cocktails before dinner. I guess I made the first move! We had no way of knowing then that it would turn into a relationship but we realized we were so happy together. We were married in 2010."

What made you fall in love with your husband?
"Ron is a professor who has taught all over the world. He has the Order of Canada. He is a precious man. He is from England and I am French. He loves France because he taught there and his French is pretty good. That was our excuse to take a table for two at meals: so we could speak French together."

What's it like to fall in love and get married in your 80s?
"I never thought I would remarry. It's so unexpected—I had such a wonderful first husband, I figured I'd had my luck! To meet someone else is a miracle, a gift. We had so much fun together. We travelled a lot before Ron became ill. You can't help feeling alive again."

When problems come up, how do you deal with them?
"We don't really have conflict because what do people usually argue about? Family and money. His girls are wonderful. Both families supported our relationship. He's financially independent and so am I; I take care of my expenses and he does too. We were both married for 50 years so we're very tolerant. We've seen it all, done it all, so we decided, 'You do your way and I'll do mine. Let's just enjoy each other.'"

What's the most romantic thing you've ever done?
"Our first trip to the islands was like a honeymoon. We were staying in a resort, swimming, walking hand-in-hand in the sun—it felt like we were teenagers."

William & Andrée
They met while living at Amica Newmarket and recently moved into a suite together.

How did you meet?
"I was sitting in the entrance and I saw him and thought, 'This guy is for me,'" says Andrée. "He was dressed right and very handsome." "It's because I am taller than her!" says William, who is Dutch; Andrée is French.

What do you have in common?
"We like the same music, the same plays at the theatre and my children love him," she says.

"We do everything together," says William. We have a great balcony, we sit and have a drink, we read, talk, go to bed together. We are really fit for one another."

When did you decide to move into the same suite?
We both had single rooms, one on top of the other, on the fourth and fifth floors. I would come up in my PJs to his room and the next day I would go back to mine. After a while we thought it was silly for me to go back and forth so I moved in to his suite, which is larger. This way is cheaper and more fun!"

What routines helped your marriage work?
"She's not allowed to cook," says William, laughing.

"It's true because I don't cook—that's why I'm here at Amica!" she says.

"She is a bundle of energy and she's fantastic. I grow fat sitting and watching her."

"I'm very happy and thankful to the Lord to have given me Bill," Andrée says.

When problems come up, how do you deal with them?
"We practically never argue. We go with the flow," says Andrée. "We have so little time, we want to enjoy it."

You'll be surrounded by great amenities, flexible dining, activities and personalized support at Amica residences. Book your personal visit today.