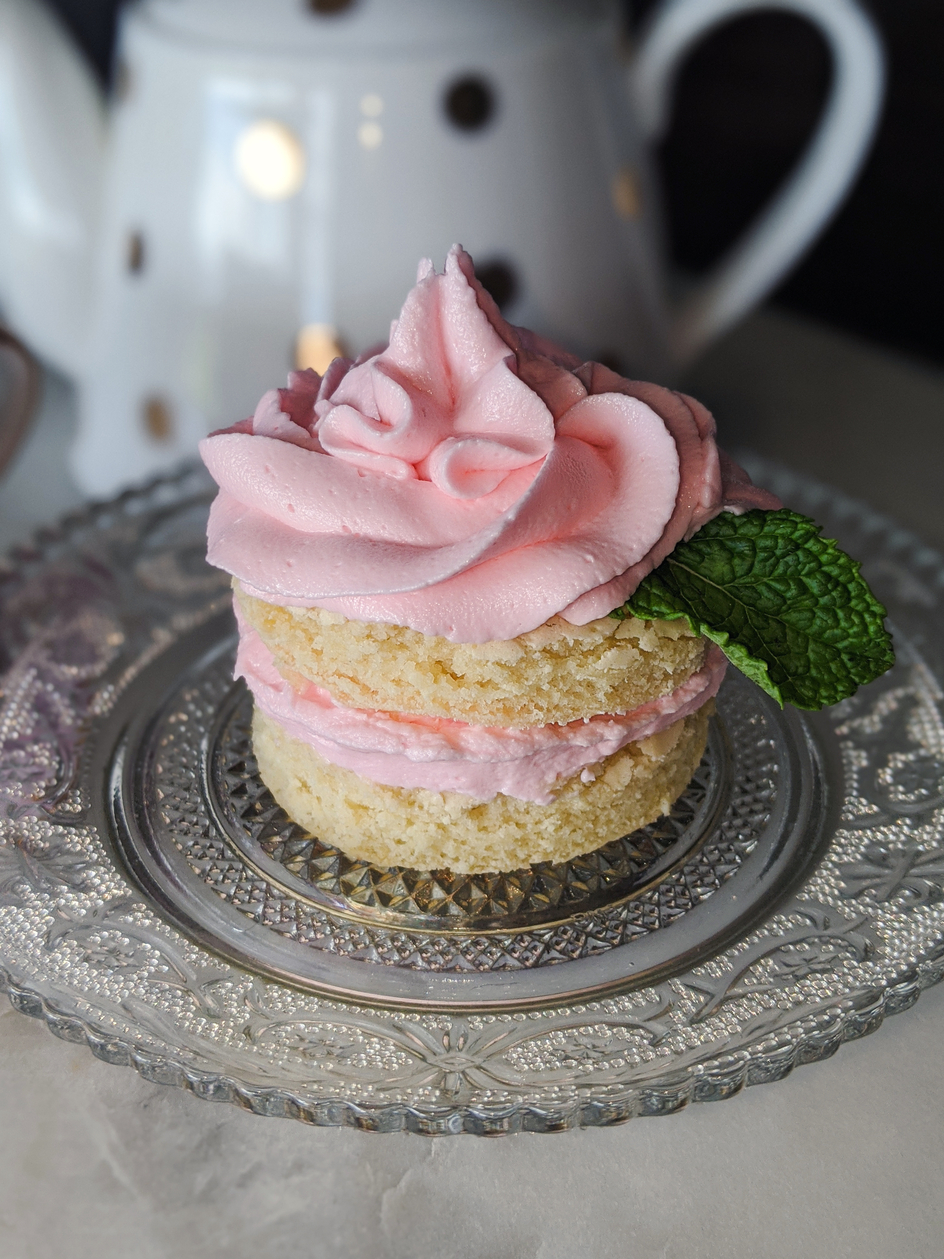 Utterly delicious and easy to make, serve and eat, these individual tea cakes make teatime or any occasion extra special. A rose-shaped swirl of buttercream icing on top adds a picture-perfect touch of sweetness. Wrap them up as a gift for a friend or serve them alongside petit fours and finger sandwiches at a socially distanced afternoon tea, lunch, shower or birthday party. Moms will appreciate them on their special day, too.
Kaylea Botting — a third-generation baker, tea aficionado and communications specialist at Amica — developed this recipe for the many tea parties and events that Amica hosts for residents, and to celebrate our partnership with sustainably produced METZ Luxury Tea.
Makes: 7 tea cakes
Ingredients
Mini tea cakes
4 medium eggs
1 ½ cups powdered sugar
1 cup all-purpose flour
1 teaspoon baking powder
3 tablespoons melted unsalted butter
2 tablespoons hot water
1 tablespoon vanilla extract
Buttercream frosting
1 cup room temperature unsalted butter
4 ½ cups powdered or confectioner's sugar, sifted
4 tablespoons whole milk
1 tablespoon vanilla extract
7 mint leaves (optional, for garnish)
Instructions
Start by making the tea cakes. Preheat oven to 350°F with a rack in the middle.
Spray a 1-inch deep sheet pan with non-stick spray and line the bottom with parchment paper. We used a standard half pan (11 x 14 inches).
In a stand mixer, mix eggs for one minute. Add sugar and mix on high for 15-20 mins.
Mix together melted butter, hot water and vanilla extract. Pour slowly into egg and sugar mixture until combined.
Sift together flour and baking powder. Divide flour mixture into two parts and fold gently into wet ingredients. Once combined, pour in an even layer onto sheet pan.
Bake in middle oven rack for 20-25 mins, until a toothpick inserted into the center comes out free of crumbs.
Once baked, remove from oven and place on a cooling rack for 15-20 mins.
Using a 2.5-inch cookie cutter, cut out as many rounds as possible and put them aside to cool further. (Our test sheet cake made 15 comfortably.)
To make the frosting, use a stand or hand mixer to beat the butter and vanilla extract together until soft and smooth.
Add powdered sugar in four parts until well mixed. The mixture should be soft and creamy.
Add the whole milk one tablespoon at a time until desired consistency is reached. You can also add food colouring, if desired.
Taking one round of cooled cake, pipe a layer of buttercream frosting on top. Place another round over the filling, making a sandwich.
Using a star piping tip, create a simple flower with the buttercream frosting on the very top of the cake, and garnish with an optional mint leaf to look like a rose leaf.
Serve and enjoy.