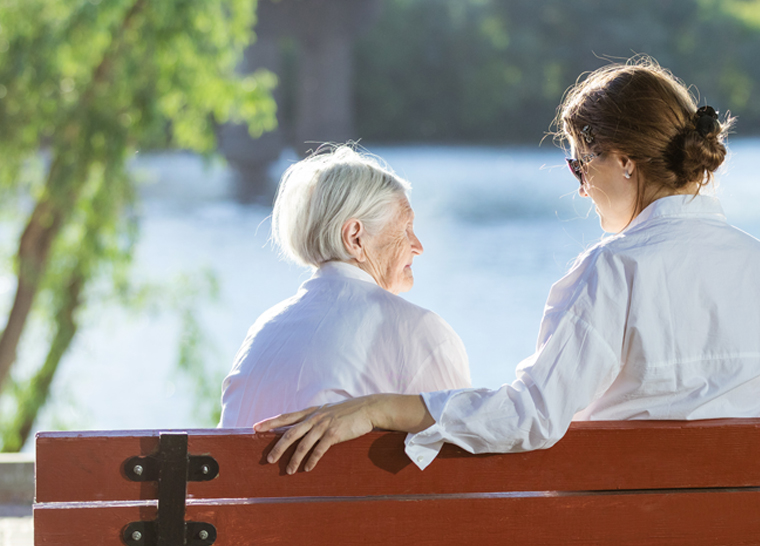 It would be easy to feel discouraged by all the surveys, studies and reports showing that seniors are facing a new health risk greater than heart disease or obesity — isolation. One doctor said loneliness can have the same deadly impact as smoking 15 cigarettes a day. At Amica, we offer hope for seniors who want to feel a sense of belonging despite health changes, the loss of a spouse or a shrinking social network. Dr. Heather Palmer, National Director of Cognitive Well-Being for Amica retirement residences, spoke with Zoomer magazine to share tips on how to cope with loneliness, and how senior living can help. Dr. Palmer helps enrich seniors' lives at Amica with innovative programs that create a sense of community and support each resident's physical, emotional and cognitive health.
Coping with isolation in seniors
#1 Stay active
Dr. Palmer stresses the importance of regular activity to help seniors feel better, even if it's a short walk every morning. "It can become a negative cycle," says Dr. Palmer. "'I'm not feeling motivated and great and, as a result of that, I'm not going to go out and do things.' But the reality is, going out and doing things makes us feel motivated and good."
Families can help by giving a "loving nudge" either by offering to go out for a walk together. Those in different places can chat on cell phones while walking to combine activity with socializing. Amica residences offer exercise classes, fitness centres, walking clubs or pools to make it easy and convenient for seniors to stay active together.
#2 Get involved
Seniors who've been active as volunteers might enjoy getting back into it. Mentoring young people allows them to share their skills, stories and experiences. Thanks to a unique "discovery process" at Amica, new residents share their favourite activities, hobbies and goals so team members can help seniors maintain a sense of joy and purpose. While we've helped one residents achieve her dream of going skydiving, we've also facilitated activities that help seniors learn robotics, volunteer for the Amica Helping Hands Charity, attend a tasting to select our tea menu or participate in mentoring with intergenerational activities. "Giving back to the community brings a lot of purpose and meaning to people's lives," says Dr. Palmer.
#3 Be social
Enriching social activities are at the backbone of the Amica senior living experience. Seniors can connect with others simply by joining a game of billiards, having a conversation over dinner in the fully licensed dining room, attending movie nights or going out on a scheduled cultural excursion that includes dedicated transportation. With organized events, arts workshops, themed parties, resident birthdays, live entertainers and guest speakers, Amica provides a variety of optional activities tailored to the tastes of residents. Life at Amica features a combination of private suites and elegant shared spaces designed to inspire a vibrant social life.
Read more about warning signs for isolation in seniors and what to do in this Zoomer article containing tips for better mental health as we age. When you're ready, you can schedule a private tour at your nearest Amica residence.