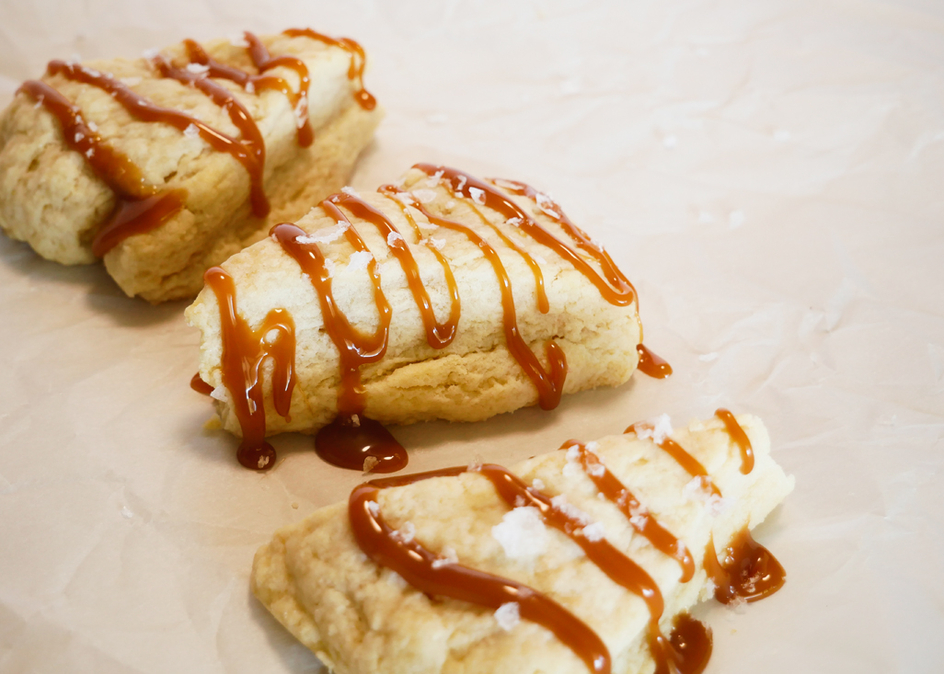 Hot, buttery scones are so versatile. You can enjoy them as part of an everyday breakfast or snack or bring them to elevate a socially distanced brunch, afternoon tea or a birthday or Mother's Day gathering. This elegant recipe is made with Metz Salted Caramel tea-infused cream, and the finished scones are decadently drizzled with salt and caramel.
Kaylea Botting — a third-generation baker, tea aficionado and communications specialist at Amica — developed this recipe for the many tea parties and events that Amica hosts for residents, and to celebrate our partnership with sustainably produced METZ Luxury Tea.
Makes: 16 scones
Ingredients
Scones
3 cups all-purpose flour
½ cup granulated sugar
4 teaspoons baking powder
½ teaspoon salt
1 cup cubed cold unsalted butter
½ teaspoon vanilla extract
1 cup heavy cream
4 Metz Salted Caramel tea bags
Caramel sauce
1 cup granulated sugar
1/3 cup water
2 tablespoons butter
¾ cup heavy cream — you can also infuse this cream with Metz tea if you wish
1 teaspoon vanilla extract
Instructions
Start by making the scones. In a small saucepan, bring heavy cream to a fast simmer. Once simmering, remove from heat and steep Metz Salted Caramel tea bags in the cream for 6-7 mins. Remove tea bags and set cream in fridge until cold. (This can be done the night before you bake the scones, if desired.)
In a food processor or large bowl, combine flour, sugar, salt and baking powder. Add cubes of very cold butter and pulse until the mixture is crumbly. If mixing by hand, use a pastry cutter until butter is the size of oatmeal. Once combined, pour the cream and tea infusion and mix or pulse gently until it begins to clump together.
Take dough to a lightly floured surface and knead until just combined. Don't overwork. Smooth out dough to 1-inch thickness and use a sharp knife to cut into wedges or squares.
Place on a baking sheet lined with parchment paper and bake at 375°F for 16 minutes or until golden brown at edges. Remove from oven and allow scones to cool on the baking sheet.
To make the caramel sauce, place sugar into saucepan and shake to create an even layer. Pour water evenly into the pan to saturate sugar. Cook this mixture on stovetop over medium heat.
The sugar will begin to bubble and become clear. Once clear (approximately 5 mins) increase heat to medium-high. A thermometer is useful — once the mixture reaches between 338-350°F, or turns into an amber colour, remove from heat and stir in cream, vanilla and butter.
Keep stirring until consistency is smooth. Place into a jar and refrigerate until thick.
Drizzle caramel over each scone, then sprinkle lightly with salt. Serve scones with Metz Salted Caramel tea and enjoy.