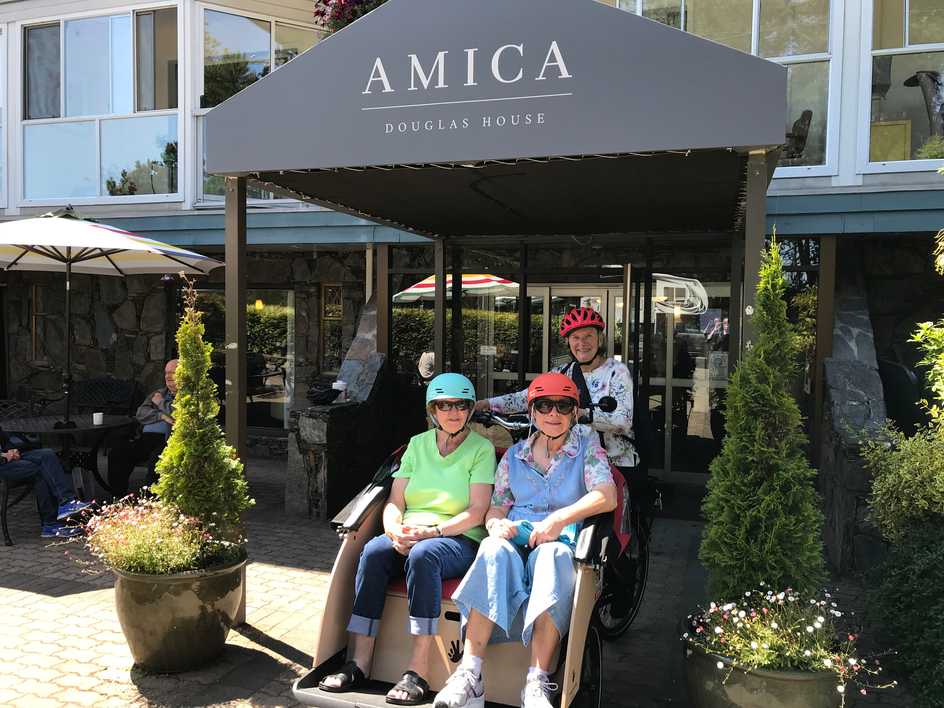 An Amica Douglas House resident named Jane was grinning when she returned from her first bike ride in ages this summer. Riding as a passenger in a specialized three-wheeled bike, she was able to take in breathtaking views of the Olympic Mountains and Juan de Fuca Strait from the lookout in Beacon Hill Park, a beloved spot that she hadn't been able to visit in 10 years. "She didn't realize how much she'd been missing it," says Jaime Sharpe, a Life Enrichment Coordinator (LEC) who helped organize the outings at the Victoria seniors' residence with fellow LEC Katie Moore. "It's about a five-minute walk but it's uphill and it's outside the radius she's comfortable walking. It's so close but so far away in terms of accessibility."
Jane's return to the lookout came through Cycling Without Age Victoria, an international program offering free rides, mostly to seniors, on specialized trishaw bicycles in 42 countries around the world. "The rides are all about fun, fresh air and friendship," says Marleen Butchart, who helped co-found the British Columbia's first chapter with her daughter, Kristi Owens and Carson Sage. Butchart says the rides are a wonderful way for seniors to take in the scenery, get back to nature and connect with a fellow passenger and the volunteer piloting the bike."The trishaw bikes we use are not a piece of medical equipment, which changes how seniors are perceived when they're out for a ride. They're not seen as frail or incapable, they're just two people having fun riding around the park, enjoying the flowers, watching the kites and the ocean. We get so many positive comments when people see us out riding. I think it makes seniors feel like an active part of the community, which is important at any age."
The trishows are designed to be accessible for seniors. Unlike most pedicabs, where passengers are seated behind the driver, the trishaw carries two seniors out front with an unobstructed view. With lap belts for safety and a removable footrest for comfort, residents of Amica Douglas House sat side-by-side chatting on a bench seat. A cover is available for protection from sun or rain, and a blanket is stowed on board in case passengers feel chilly.
Volunteers of all ages pilot the bike slowly and smoothly around picturesque routes. On their first ride, the seniors explored Beacon Hill Park, with its ponds, petting zoo and beautifully landscaped flower gardens. "The residents all came back with positive comments and great big smiles," says Sharpe. "I think they felt a sense of freedom to be out in the park without limitations, to go somewhere that's outside their normal experience. We drive by these places on outings but on a bike you're not confined the way you are in a bus: you can reach out and touch something and stop and smell the roses if you want — which they did!"
Residents are enjoying great activities, amenities, dining and personalized care at Amica residences. Schedule a tour today.