Just as farmers' markets transition from selling root vegetables in winter to offering summer's freshest ingredients, the menus at Amica residences are undergoing a seasonal makeover. Residents love the variety on the menu as much as Amica's Red Seal chefs, who prepare fresh meals daily at premium senior living residences across Canada. In fact, every month Amica residents get a choice of 112 different entrees, 56 soups and 56 desserts on the menu. As summer hits its stride, Amica's National Director of Culinary Gary McBlain shares cooking tips for seniors who appreciate delicious, healthy meals.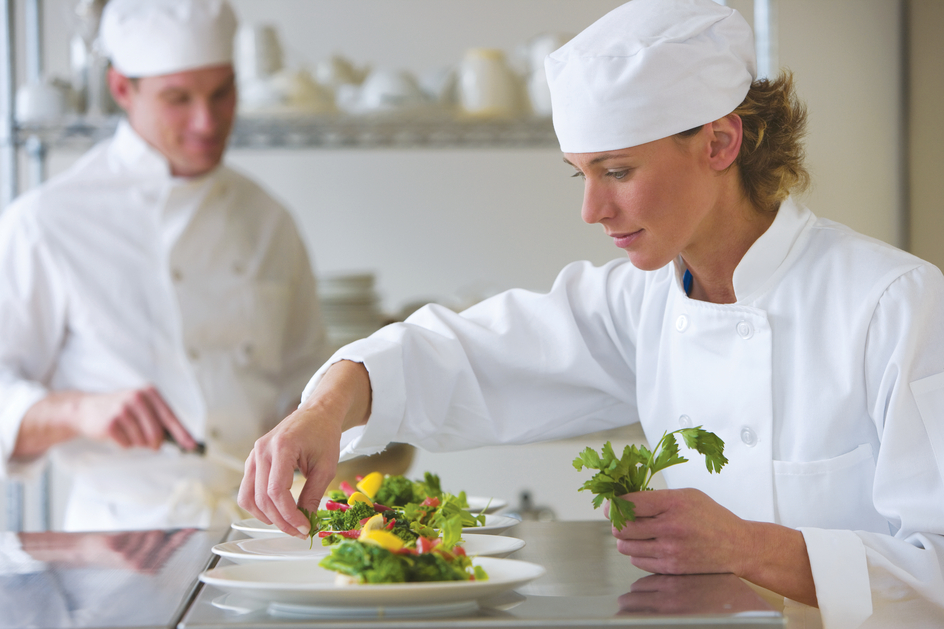 This isn't institutional food from yesterday's nursing homes. This is fine dining created by chefs who've worked in hotels around the world. Click to see the dishes McBlain previewed on Breakfast Television from the Amica summer menu for seniors, such as lamb chops with a cherry sauce and maple-orange-whiskey glazed salmon. And don't miss the strawberry rhubarb trifles served in mini jars and lime-basil chicken McBlain showcased in this interview on CP24. Hungry? Read on for more tips on cooking for seniors.
Cook with the seasons

McBlain isn't the only chef who believes great meals start with the best ingredients. That means choosing Ontario asparagus in May and June, strawberries in June and July, and peaches or corn in August. Eating seasonal produce also guarantees you'll enjoy an ever-changing variety of fresh flavours and textures that need very little adornment to taste fabulous.
Shop locally
Amica's chefs know that local food in season is food at its best, so they're experts at sussing out great sources for local ingredients. They also love creating dishes that celebrate local specialties. For example, thanks to the Winona Peach Festival, the stone fruit stars on summer menus at Amica Dundas.
Cook once, eat twice

If you or the seniors in your life don't love cooking every day, try to make the most out of kitchen time by prepping larger batches that provide multiple portions. You can save leftovers for a different day that week, or freeze for another week.

Make food tasty AND healthy
Chef McBlain says that many older adults have smaller appetites as they age, so it's important to make dishes that pack a nutritional punch. Beets are a superfood that show up in various ways in Amica's summer menu, including a pickled beet salad with arugula and goat cheeses. McBlain likes serving salmon glazed with maple, orange juice and whiskey: the fish is rich in protein as well as healthy omega-3 fatty acids.

Mix up the menu
Amica chefs keep residents excited about meals by serving a wide variety of dishes. An emerald-green summer asparagus soup is one of more than four dozen residents can choose from every month.

Deliver moisture and flavour
McBlain notes that aging can dilute some of the flavours seniors can taste. Certain medications may also leave seniors with dry mouths. Instead of dousing food with too much salt or unnecessary fat, Amica chefs reach for fresh and dried herbs to add flavour. Lime-basil chicken uses citrus and healthy yogurt to keep the dish moist and tasty without heavy sauces or unnecessary fat.

Cook vegetables a little further
Many seniors have had dental work and weakened jaws that can make chewing and swallowing a challenge. Cook vegetables to a texture that they can be easily chewed.

Keep dessert on the menu!
Amica residents love their treats, but chefs keep them on the healthier side with smaller portions and fruit-based recipes. Amica serves strawberry-rhubarb trifles with fresh mint in a miniature jar.

Gary McBlain is a Red Seal certified chef who has a passion for creating healthy meals using fresh ingredients. After years in the restaurant industry, he transitioned to retirement living. Over the past 15 years, he has worked with more than 150 retirement communities with the simple goal of providing wonderful food and great service.

You'll be surrounded by great amenities, flexible dining, activities and personalized support at Amica residences. Book your personal visit today.