Whether you're a senior or you're helping a parent understand how senior living works, you'll no doubt have questions on how to choose a retirement residence. From learning about a retirement home's recreational activities and skilled nursing to figuring out how to select senior living arrangements for living better with dementia, it helps to start by understanding the levels of care available to meet the daily needs of yourself or your loved ones.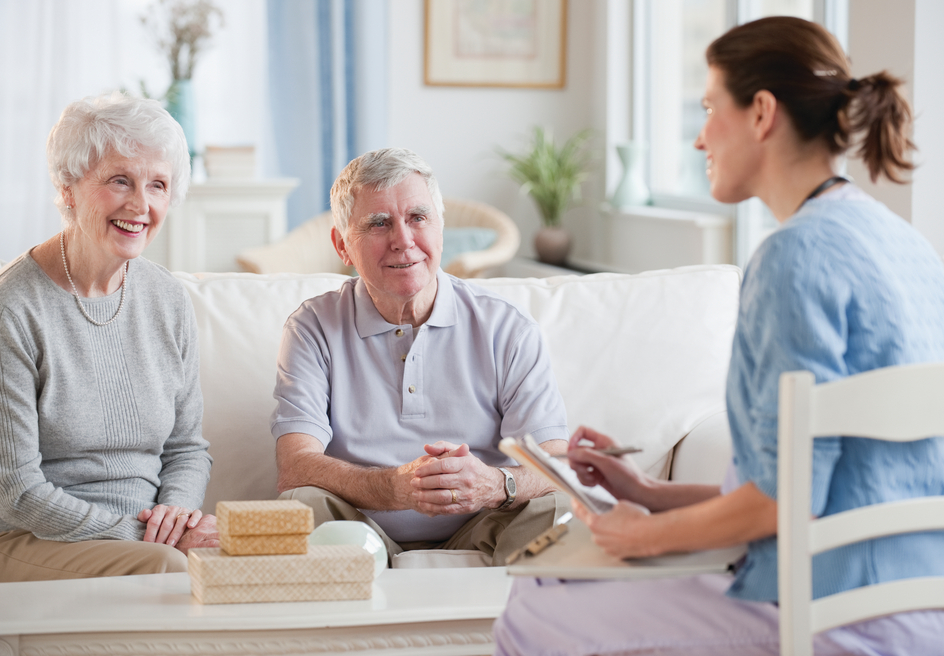 Two common questions asked by families considering premium retirement living at Amica are, "What do the lifestyle options mean? And how do I know which one is right for me or my parent?" After all, you want to set up an ideal living arrangement that maximizes well-being.
Before each new resident moves into an Amica retirement residence, we collaborate with the senior and their family to complete a thorough wellness assessment—it's a blueprint for how we can best serve each senior's unique goals, wishes, and needs. "The information we gather is so helpful in allowing us to ensure that the recommendations we make are well suited to the resident's needs and safety, and also allow loved ones peace of mind," says Paulette Kinsella, a registered nurse and Amica's Regional Director of Wellness. Kinsella has over 40 years of nursing experience and has specialized in retirement care since 2005. Her focus is to ensure all Amica residents receive professional, high-quality care personalized to their needs and preferences. Unlike at a long-term care home, at Amica our goal is to offer seniors an exceptional experience personalized to your individual needs and passions.
To get an idea of where you or your parent fits on the spectrum of senior living and levels of care, it helps to be open and honest when answering these questions:
#1 What level of support are you looking for?
If you're like most seniors, you're probably looking forward to handing over chores and enjoying a private suite with chef-prepared meals, weekly housekeeping, linens laundry and optional fitness, entertainment, and social activities. If you're an active senior and are able to go about most or all of your daily living activities without assistance, you might be a good candidate for independent living. If you need an extra pair of hands, we also offer flexible care and skilled nursing and medical care that allows residents to get help when and where they request it, whether on a temporary basis after illness or surgery or over the long term. As always, your unique needs and preferences are met with individualized support.
#2 Do you need help with transfers or continence assistance?
Do you need a hand to safely get out of bed and into a chair, or with using the washroom? "When residents request help with continence or transfers, they might be best served in Assisted Living," says Kinsella. Residents in Assisted Living have the added peace of mind of knowing there is wellness staff on the floor 24/7 to provide personal care or assistance in a more timely way.
#3 Are you concerned about your loved one's safety and security of a loved one with dementia?
If you are seeing more cognitive changes in your loved one, how concerned are you about their immediate safety? Every person is different, Paulette says. "We find many residents with cognitive changes are still able to live safely in Independent Living. The added familiarity and sense of security allow them to feel supported while still knowing they are the driver of the ship." Has your parent been forgetting to turn off the stove? Not eating? Not changing clothing? Going out and not sure of how to get back home, leaving everyone worried and stressed? "If your parent is having increasing trouble with way-finding and may be looking to leave the residence on their own, they might be best served in Memory Care where there's a 24-hour team in place," says Paulette. If your dad would like to leave the area, he can safely do that accompanied by a team member. The other advantage of Memory Care is your loved one is surrounded by specially trained staff and recreational activities dedicated to supporting people with cognitive challenges due to Alzheimer's disease or another form of dementia.
#4 If your needs change, would you prefer to move or stay put?
This is a key question when you're making retirement living plans. Some retirement operators cater only to active seniors; if your health changes and you find yourself in need of support, you may be forced to move out. At Amica, we aim to make life easier by accommodating your evolving care needs. We use a comprehensive assessment tool that will allow us to ensure the care and services you want or need are being identified. "We meet with you before you move in, then again 30 days after move-in to see if what we all agreed on is meeting your needs and, more importantly, your expectations," says Paulette. "We then meet with you every six months, if we note a change in your condition or if you request to review how you are doing and make any adjustments to what, how and when we might serve you better."
Schedule a tour to learn more about excellent amenities and activities, flexible dining, activities and personalized support at Amica residences.