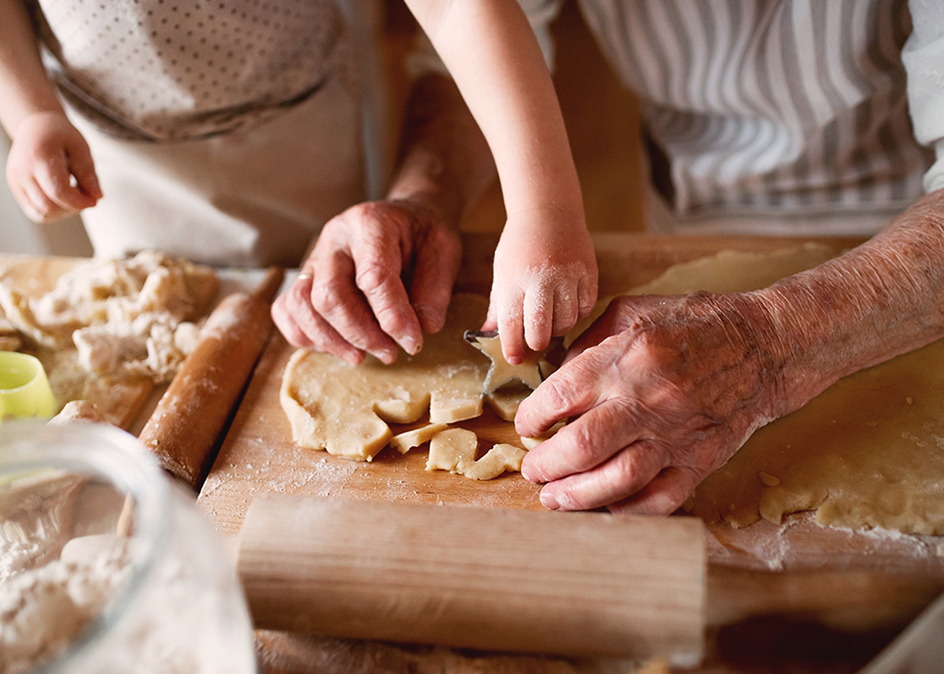 When an aging parent or spouse is diagnosed with Alzheimer's or another type of dementia, loved ones may fear the worst. Memory Care at Amica offers a brighter picture, however, with professional care, 24/7 support, brain boosting activities and exceptional dining customized to every senior's taste. When one Memory Care resident moved to Amica Little Lake a year ago, for instance, her family mentioned her passion for baking. So team members organized a lovely and safe baking session in the Amica Craft Kitchen with her, her daughter and her three grandchildren. It's a sweet example of the difference that Amica Memory Care makes for seniors with dementia, helping them experience joy and purpose every day.
"We set Memory Care residents up for success even before they move in," says Jill McFarlane, a Registered Care Partner (RCP) at Amica Little Lake. "The Amica Discovery Process helps us learn their interests, likes and dislikes, so that we can make each day good. Plus, we have the same RCP working with a group of residents about 90 percent of the time, so care is consistent."
Finding the right Memory Care residence and support
Chat with your family and your parent or spouse's doctor about the supports and senior care they will need and review what's offered at local residences. Our Memory Care Guide can help you learn more about private, paid retirement homes and publicly subsidized long-term care facilities with dementia care. It also outlines how Memory Care at Amica enhances residents' happiness while easing the progression of dementia or Alzheimer's through cognitively stimulating activities, safe excursions, fitness, live entertainment and more.
"One of the many differences between Amica Memory Care and public long term care is our individualized approach," says McFarlane. "We don't have set times for everything. If it takes an hour to get a resident ready for the day, fine — we don't rush. We help residents apply makeup and put on jewelry or a tie, because we love to help them dress for success."
Amica residences also offer exceptional cuisine prepared by Red Seal chefs, accessible design and a range of care levels from Independent Living to Assisted Living and Memory Care, which means that spouses with different care needs can often live in the same suite or building. The dedicated Memory Care floors feature elegant and thoughtful design to enhance wayfinding, safety and comfort. In addition, Amica Memory Care residences offer on-site nurses available 24/7, emergency monitoring and an entire team with training in cognitive aging or dementia.
"Every Amica team member at a residence is trained to help and support Memory Care residents," says Natalie Palladini, the Memory Care Coordinator at Amica Little Lake. "That includes dining room servers who know the residents by name, and the chef who comes out to say hello, too."
Read articles such as What is Memory Care?, Choosing between Assisted Living and Memory Care and How to find the right Memory Care to discover even more details about dementia care at Amica.
How Memory Care makes each day better
"Honestly, we have so much fun with residents each day," says McFarlane. "One Memory Care resident, for example, was only speaking Italian when she first moved in. We knew that she loved baking, though, and then we discovered that she would sing and dance whenever we played Dean Martin songs. So we combined them and once a week we bake, sing and laugh together!"
Trained Amica team members also know how to assist when seniors with dementia experience anxiety, communication challenges, anger or frustration.
"When a Memory Care resident is feeling agitated, we help redirect them in ways that work for them," says McFarlane. "That could include doll therapy, a quick walk, having a coffee or cookie in the bistro, or just sitting and reading a magazine with them."
Amica team members typically become quite close with seniors' families and share tips and soothing strategies like these with them, as well.
"It's hard for adult children to see their mom or dad change, so the Amica team supports them with information about dementia and interventions that can help their parents," says Palladini.
She knows how nervous seniors can be to move out of their old home, but also sees residents thrive once they're settled in Memory Care.
"There are four Memory Care residents who were living alone before, for instance, but now they hang out at meals together," she says. "It's just so rewarding to see seniors bonding, as well as the empathy and compassion that Amica team members bring to their work with Memory Care residents. It's all about creating a better quality of life."
Book a virtual or in-person tour to find out what it's like to enjoy living on your own terms in an elegant Amica residence with outstanding dining, amenities, activities, best-in-class Memory Care and safety measures.