Step inside Amica Peel Village, the newly opened senior living residence in Brampton, Ontario, and you'll see a beautiful, comfortable, tastefully designed building. Residents can live fully independently, asking for care as needed in the privacy of their suites. Those who require more care are offered assisted living and memory care services within distinct, beautifully-appointed and thoughtfully designed neighbourhoods within the residence. What's more, Amica Peel Village features dozens of innovative, discreet, senior-friendly details that allow residents to flourish while living there.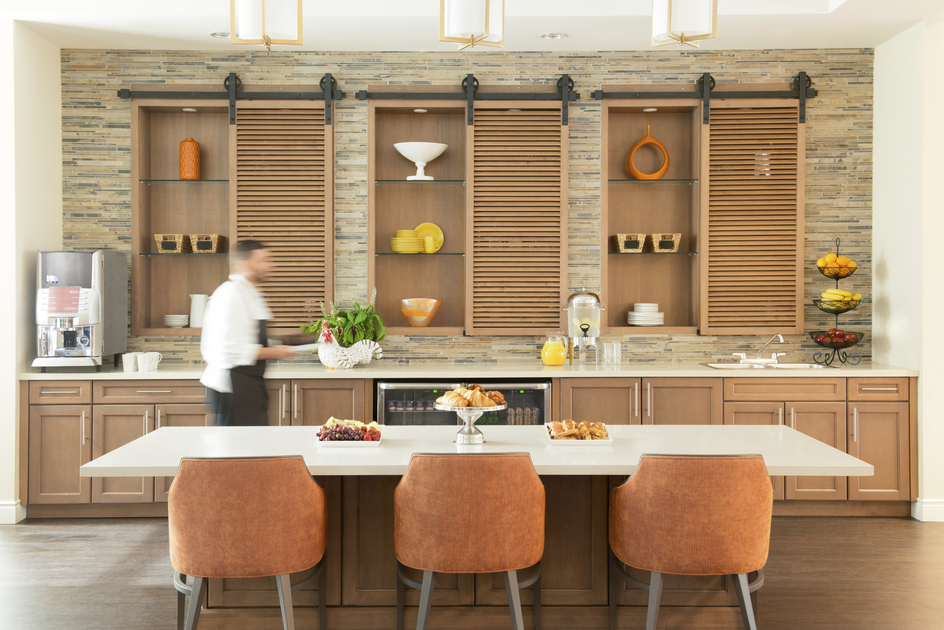 Creating smart spaces that make life better for seniors is both a passion and a calling for Claudia Salgado, Vice President of Design and the award-winning licensed architect behind Amica residences. After her mother was diagnosed with dementia, Salgado and her sister coordinated live-in care remotely: their mom lived in Central America where there were no supportive environments. "It was a very difficult time for our family," she says.

Figuring there must be a better way to support seniors and families, Salgado pursued a Master's in Dementia Studies. "Understanding the journey that dementia takes on the individual and the family gives me a completely different perspective," she says. "Designing for seniors is extremely personal for me."

Her number one goal? To create a beautiful environment that feels comfortable and inviting to residents, families and staff, while enabling and supporting seniors in a dignified way. "For example, if you walk down the corridor at Amica Peel Village, you'll see a chair rail that seniors can use to support themselves as they're walking down the hall, but it's discreetly designed to look like wainscoting."

Here are 10 more ways Amica residences are designed to make life comfortable for seniors as they age:

Social spaces
As seniors age and their abilities decline, they may stop going out and become isolated. "Our environment is meant to promote that social element that's so crucial for healthy aging," says Salgado. Residents enjoy a variety of gathering spaces meant for coming together to play cards or have coffee as well as quiet environments that allow for privacy, reading and enjoying a nice vista. Common spaces feature doors that open automatically to make it easier for seniors to congregate.

Lightweight hardware
Specialized door hardware operates with a minimum amount of pressure to enable residents to easily open their suite.

Spacious corners
Every suite's doorways and corners are designed to be easily accessible to accommodate residents and guests with walkers and wheelchairs.

Supportive washrooms
Suite washrooms are carefully designed to ensure appropriate support for both independent seniors and those who request assistance. Grab bars in all the right places help residents as they undress. The layout has room for a five-foot turning radius, which allows for wheelchairs, walkers or for support with bathing, grooming, etc. "When we're designing, we imagine the movements the residents will go through and we confer with resident councils and committees to get feedback," says Salgado. There's also a nurse call system in every washroom with the option to add a pull cord for those who prefer additional support.

Climate control
We know that every resident has unique needs and that certain medications can make seniors feel warm or chilled, so each suite features its own temperature control for heating and cooling.

Accessible toilets
Each suite has an accessibility approved toilet that's higher than average, which helps seniors maintain their independence.

Lower windows
Amica residences feature glazed windows that are low enough to provide a nice view when residents are sitting in a chair or on their bed.

A warm welcome
If you walk down a corridor at Amica Peel Village, you'll notice every suite door has a sconce light, a doorbell and a colourful inset. "We designed the entries to feel like the front entrance to a home," says Salgado.

Good lighting
We understand how important vision is to aging eyes, which is why Amica suites provide appropriate lighting levels for reading, watching TV, doing crosswords, etc.

Curated art
"We are very disciplined about the art selection in memory care neighbourhoods," says Salgado. "We avoid abstracts in favour of graphic, realistic images designed to prompt recollections and encourage seniors to reminisce. We also know from research and evidence that warmer colours like reds and yellows are easier to identify by the aging eye."

At Amica, Salgado hopes seniors and families will experience all the comforts of home as well as a sense of belonging to a community. "By having seniors living together, we can provide a safer environment that allows everyone to move more freely and enjoy new friendships. I hope it injects a second wind into a person's social life to be enabled in this way."

Claudia Salgado, OAA, MRAIC, LEED AP, oversees all aspects of the design of Amica's premium senior living residences. She has multiple architecture degrees, an extensive professional career in architecture and a Master's in Dementia Studies. She is a member of the Ontario Association of Architects, a member of the Royal Architectural Institute of Canada, a LEED Accredited Professional and a member of the Royal Architectural Institute of Canada's Age Friendly Housing Options Task Force.

Find out how residents are enjoying great amenities, activities, flexible dining and personalized service at Amica residences. Book a personal visit today.