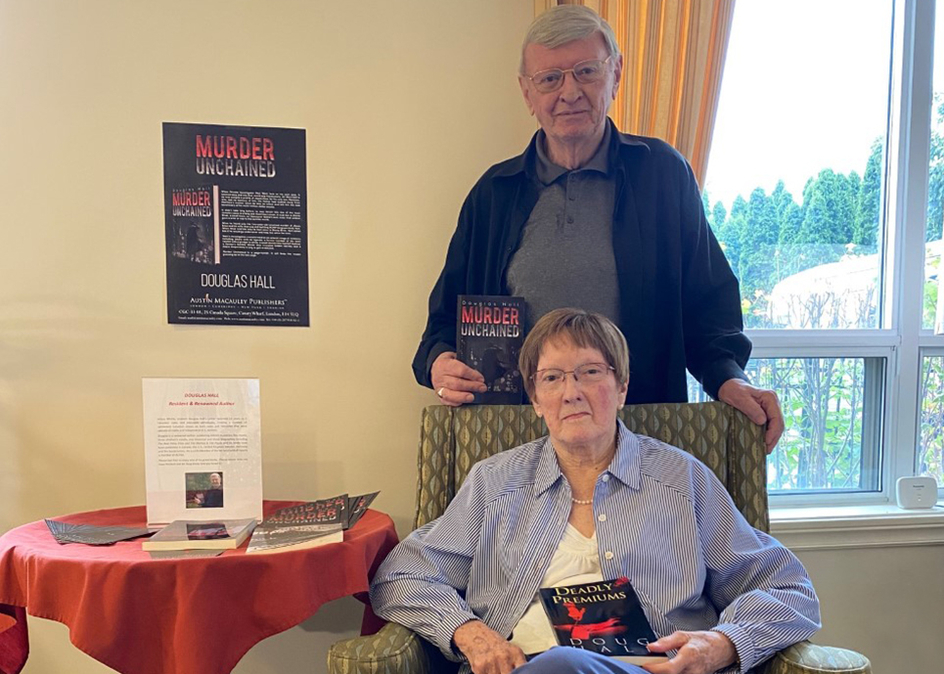 Douglas Hall may write mysteries and biographies, but he's living a love story. The 94-year-old Amica Whitby resident and author of 29 books credits his wife, Joyce — a former nurse — for encouraging him to start writing and for editing his work over the years. While Joyce's Alzheimer's diagnosis three years ago was difficult, Amica's outstanding dining, services, personalized care and safety measures allow the couple to focus on writing and enjoying life. Each day, Douglas drafts new pages and Joyce relaxes on the balcony of their two-bedroom suite before doing some editing, followed by a little television and dinner prepared by a Red Seal Chef.
"Amica has given us security, so we don't lie awake worrying," says Douglas, who extols Joyce's love and editing skills. "Joyce's short-term memory is gone, but she's retained her long-term memory. As an editor, she still has a wicked eye for syntax, spelling, punctuation, continuity and structure."
A new chapter at Amica Whitby
Douglas and Joyce have led a full and interesting life, thanks to his career in television and radio and book writing, as well as Joyce's nursing work. After retiring, they travelled, worked together on Douglas's books — available on Indigo, Amazon and elsewhere — and lived in a beautifully appointed high-rise condo. When Joyce's health declined, they initially organized a nurse to visit three times a day, but that didn't provide 24/7 peace of mind. After Joyce was found wandering outside the building one evening, Douglas knew that it was time for a change.
"Her doctor said, 'You have a choice: You can stay in your condo or find a place with care and live a happy life together,'" says Douglas, whose daughter toured seven to eight residences on their behalf before recommending Amica Whitby, just 15 minutes from her home. "It's been a godsend."
Living the good life
Douglas and Joyce savour their happy routine at Amica Whitby each day, with delicious lunches and dinners in the main dining room as a particular highlight.
"The food is exceptional," says Douglas. "I sent my grandson, who is a master chef at a restaurant in New York, some of the Amica menus and he thought they were excellent. Plus, our table is always ready and set with the drinks we like. It means a lot."
Douglas and Joyce also appreciate the security that Amica care and emergency response pendants provide, and how team members are always looking out for them.
"Amica is worth every dime," says Douglas. "I couldn't imagine being any other place than here. The staff are amazing. For example, I recently received a box at the concierge desk and by the time I got to the elevator, a team member was there offering to take it up for me."
An uplifting tale
Moment by moment and day by day, Douglas and Joyce are creating a life that they love. They're finishing the final pages of Mystery In Season, Douglas's latest book that will be published this fall. Their family calls every day, and they look forward to weekly lunches and dinners out with their daughter and son-in-law. It also feels good to know that the family and Joyce's doctor were on side with their move to Amica Whitby. (Amica's personalized professional care and nurses on-site 24/7 made it an easy sell.)
"I would move heaven and earth to keep Joyce happy," adds Douglas, who advises others to embrace the move to senior living when the time is right. "It's a total change of life, but you can take advantage of that change to make your life good."
Book a virtual or in-person tour to find out what it's like to enjoy living on your own terms in an elegant Amica residence with outstanding dining, amenities, activities, senior care and safety measures.