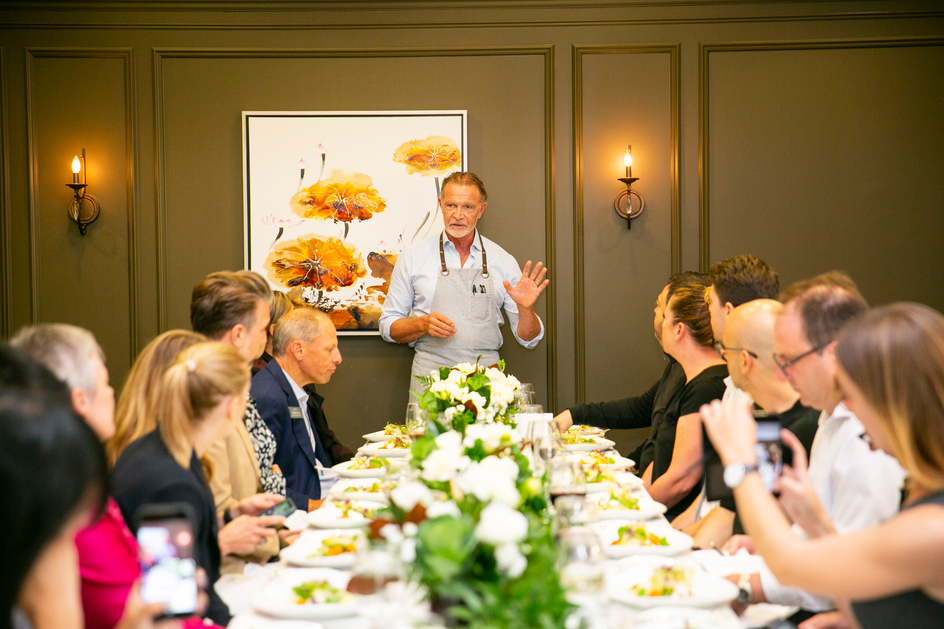 Foodies, celebrities and business leaders already rave about the cuisine in Chef Mark McEwan's restaurants around Toronto. Now he's creating a gourmet lunch menu for new discerning clients — seniors living at Amica.
Thanks to an innovative partnership, residents at Amica Senior Lifestyles residences will be dining on a menu imagined by chef Mark McEwan, a Toronto restaurant icon, head judge on Food Network Canada's Top Chef Canada and creator of McEwan gourmet grocery stores. Prepared by Amica's own top chefs, the three-course lunch includes roasted butternut squash and burrata salad and pan-seared rainbow trout with chanterelle mushroom and sweet corn risotto with citrus beurre blanc. Chatelaine Editor-in-Chief Maureen Halushak moderated the launch of the collaboration, where guests sampled McEwan's menu prepared by Amica chefs in the private dining room at Amica Bronte Harbour in Oakville, Ont.
We partnered with Chef McEwan to highlight our cuisine as part of our commitment to shifting dated perceptions about senior living and setting a new standard for service and care in Amica residences. Chef McEwan collaborated on the special menu with Gary McBlain, Amica's National Director of Culinary, to show how Amica is creating exceptional food that addresses today's seniors' elevated expectations and changing nutritional needs.
"Seniors are demanding more when it comes to quality of life," says chef McEwan. "The culinary offering at Amica Senior Lifestyles is reflective of this, featuring a rotation of premium menus all expertly curated to meet the unique dietary requirements of seniors without compromising taste or quality."
While this particular menu is a special treat for residents, the reality is that Amica's in-house certified chefs are creating standout meals every single day from fresh, seasonal ingredients. "I think it says a lot that one of the top chefs in Canada is not afraid to put his name on this one time menu and quality we're producing," says Chef McBlain. Here's Amica's secret to creating a five-star dining experience for seniors.
Start with talented chefs
Inside the gleaming kitchen at every Amica residence is a culinary team led by passionate chefs who've cooked for luxury hotels, renowned restaurants and movie shoots in Canada and Europe. Every culinary director is certified by Red Seal, a coveted endorsement given only to those who've achieved the highest standard of culinary training and excellence.
Cook fresh daily
Every residence's culinary team works with vendors and farmers to source the best fruits and vegetables at the height of freshness. "Our chefs have a lot of flexibility preparing foods their residents like, but they're all using fresh, local ingredients with nothing frozen," says Chef McBlain. "We cook from scratch with fresh ingredients for the simple reason that it tastes the best. We're buying some premade desserts but even the majority of our baking is done in-house."
Make dining flexible
Don't expect to be told when, where or what to eat at Amica: we take care of cooking, serving and clean-up but residents are free to make their own dining decisions. Each residence offers a variety of dining venues, a wide selection of made-to-order dishes and the freedom to choose when, where and with whom to dine.
Balance nutrition and taste
As aging decreases the metabolism and appetite, seniors need smaller portions that pack more nutrition. "My personal experience with my parents really opened my eyes to the real need for better crafted food for seniors," says Chef McEwan. "Seniors and loved ones who may be caring for them need to ensure they are preparing fresh fruits and vegetables and including plenty of fibre, vitamins and minerals as well as healthy proteins for muscle retention, for every meal." Amica chefs offer an abundance of colourful produce add flavour without additional sodium or unhealthy fats by using spice rubs, citrus, fresh herbs; and use a small amount of olive oil to sauté lean proteins. Says Chef McEwan, "Just because our dietary and nutritional requirements change as we age, it doesn't mean we need to compromise on the taste or quality of the food we're eating."
Learn more about how residents are enjoying excellent amenities, activities, flexible dining and personalized care at Amica residences. Schedule a private tour today.