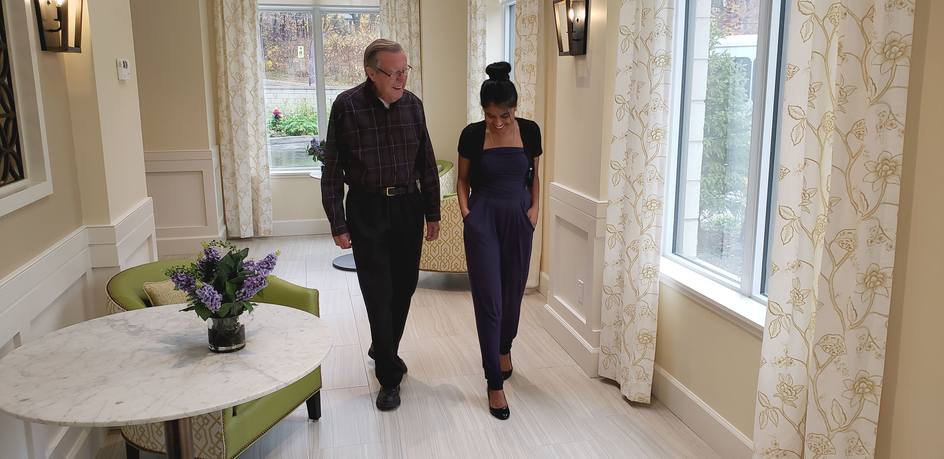 Tuneeta Persaud has more experience than most people with moving to a retirement residence. As a Move in Coordinator, she's helped almost 200 seniors move to brand new retirement suites at Amica Georgetown and Amica Peel Village over the past two years. "We know this is an emotional time for residents, so from the time they put down a deposit until after they move in, we try to make every day as seamless and worry-free as possible," says Persaud. Here, she shares her tips for helping seniors move.
#1 Find a point person for the move
As a leading Canadian owner and operator of senior lifestyles residences, Amica has decades of experience welcoming new residents and families and supporting them through the moving process and beyond. Long before they move in, Persaud introduces herself personally and gets to know to every senior. When she discovers their interests, she can share practical info on how seniors can keep their favourite hobbies and routines while meeting people and starting a new life at Amica. "After 30 minutes on the phone or in person, I can tell their anxiety has gone down just by sharing their experiences and being reassured that I am here to help, that I'm patient and I can answer any question no matter how big or small," says Persaud.
She also solves problems. One panicked family called Persaud the day before they'd booked an elevator for their mother's move. The moving company was at the senior's house pressuring the family to complete the move that day. Instead of sticking to the original reservation, Persaud secured them an elevator. It was a huge relief for the new resident and her family.
#2 Get details about the moving process
Persaud helps support every step of a resident's move, from letting them know when and where to pick up keys to getting a wellness assessment to coordinating with a resident's moving company and arranging for phone and Internet. She also shares a detailed move-in package that reassures families and clarifies next steps so they can divide and conquer the tasks.
TIP: If you're helping a parent who's overwhelmed by their move, ask their new senior living residence for a list of forms and tasks to complete. Taking action in small ways can break down a huge job into realistic steps. Download this free guide to downsizing or start by sorting clothing.
#3 Talk about uncertainties
Sure, Persaud helps families arrange cable hookups and monthly payments to pay for senior living, but she says the biggest concern for seniors is imagining life after the move. Seniors worry if they'll like their suite, if they can sit wherever they like for meals, if they'll fit in, if it's true they can just borrow a book from the residence library whenever they like (absolutely). Adult children wonder when they can visit, if their parents will like participating in residence activities or if they'll hide in their room pining for a former home. "Families come in with biases about other retirement homes or nursing homes that just don't apply here at Amica," says Persaud. For example, there are no seating arrangements or visiting hours: seniors dine and have visitors whenever and wherever you like. "From beginning to end, it's all about what works for you," she says.
TIP: If you're supporting your parent, ask what's making them feel nervous. Instead of dismissing their concerns, listen, make a list and get their questions answered by their new residence.
#4 Be available
One resident was so nervous about her move that she was physically shaking when she met with Persaud the first time. Persaud listened to the woman's concerns and asked her to call anytime. "I said even if it's 7 p.m. or 6 a.m., call me. If she needed to go for a drive and she wanted to come see me, just show up. You don't need an appointment, you can just come in, walk around, measure your suite — I can even arrange lunch or dinner for you. We know that moving is a big deal. I've learned I can make someone's day 10 times better just by sitting and spending time with them. We'll do anything we can to help residents feel supported."
#5 Enjoy the next chapter
Amica Georgetown welcomes new residents with a housewarming basket. It contains plenty of practical goodies such as a cozy blanket, a motion-sensitive night light, new address cards to give to loved ones and a gift card to try the in-house salon/spa. Persaud adds a personalized item that reflects each resident's unique interests, such as a deck of cards or a puzzle. The basket also includes a monthly calendar of recreational programs and excursions to show seniors how they can choose to get involved, meet people and stay as busy as they like. Biographies for the residence leadership team help new residents understand who to contact when they need help or have questions after the move.
One thing families may not expect is a renewed relationship after helping their parents settle in. "I love seeing residents' loved ones regain their own lives," says Persaud. "Suddenly instead of being a caregiver, they're able to enjoy being a son or daughter and just talking or sharing a meal together."
Learn more about how residents are enjoying excellent amenities, activities, flexible dining and personalized care at Amica residences. Schedule a private tour today.