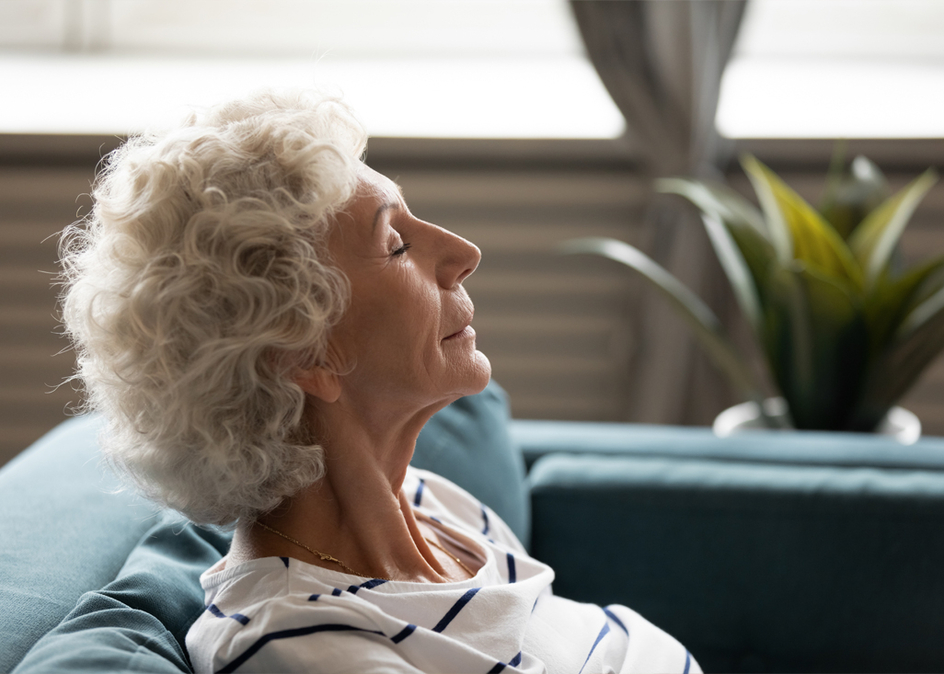 Would you like to feel better during the day and sleep better at night? Review these six strategies for seniors and caregivers who want to find out how to relax, meditate and practice mindfulness.
"Meditation and mindfulness have benefits from the top of your head to the tips of your toes and everything in between," says Carolyn Plater, co-founder of Hoame meditation studio. "Physically, there are heart, gastrointestinal and other benefits, and mentally it helps manage anxiety and more."
Watch a recent Amica webinar that includes a guided meditation, as well as tips from Plater and Hoame co-founder Stephanie Kersta, an instructor at McMaster University and Durham College.
Tip 1: Understand the difference between mindfulness and meditation
Mindfulness is about paying attention to your sensations, thoughts and feelings — non-judgmentally — in the present moment, whereas meditation is a practice that often involves timed techniques like focusing on your breath or visualization. So you can walk, eat and live mindfully, and you can also use the practice of meditation to develop mindfulness.
Tip 2: Get motivated
Putting time aside for mindfulness and meditation is easier when you know why you're doing it. Aside from improving your physical and mental health, it can also boost compassion and empathy and may help prevent cognitive decline. One study found that individuals who practiced mindfulness for about 20 minutes a day saw an increase in grey matter, which keeps our brains young, says Kersta.
Tip 3: Start with 5 minutes
You don't have to totally change your lifestyle — just begin with five minutes a day and build up from there. Research suggests that consistently dedicating 10 to 12 minutes a day to meditation or mindfulness delivers mental and physical gains.
Tip 4: Experiment with different approaches
Some people think they're incapable of meditating or focusing, but if you try different techniques, you will find ones that work for you. Plater and Kersta suggest trying a mindfulness exercise, a daily gratitude practice or a guided meditation in our webinar, YouTube or in apps such as Calm, Headspace, Insight Timer or Aura.
Tip 5: Unwind before sleep
Not all meditation is done seated — lying down before bed and trying a yoga nidra exercise or a body-scan meditation can help you drift off to sleep.
Tip 6: Keep learning
As an Amica resident, you'll have a choice of activities that support your emotional and physical health, from yoga or meditation to pet therapy, creative workshops and safe social gatherings. Amica team members also use LifeSpeak, a web-based platform with events, podcasts and videos on a variety of well-being topics like meditation and mental health, says Katrina Mulholland, Amica's Senior Director of People Development.
Watch our webinar for a guided meditation and to learn more about mindfulness and mindful leadership. Be sure to follow Amica Senior Lifestyles on Facebook to hear about other upcoming Webinars for Seniors with nationally recognized experts. From learning how to combat isolation to the health benefits of music, Amica helps seniors and their families stay informed and engaged.
Schedule a tour to learn more about inspiring lifestyles for seniors including exceptional dining, amenities, activities and flexible, personalized care.