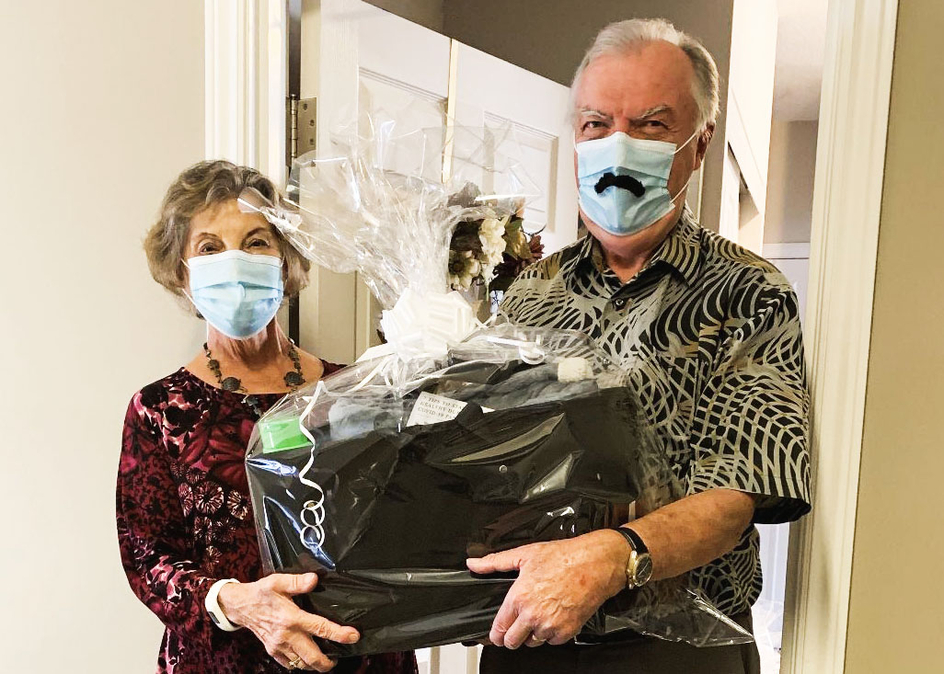 'Tis the season for charitable giving, and while there are so many worthwhile causes to support, isolated and low-income seniors need extra help this year. Not only has COVID-19 impacted those seniors directly, it's also resulted in lower charitable donations and the cancellation of seasonal fundraising events for local causes.
That's why Amica team members and residents are working harder than ever to help the Amica Helping Hands Charity. Established in 2003, Amica's not-for-profit provides goods, funds and services to seniors in need, as well as holiday baskets filled with non-perishable foods, gift certificates and hand-knitted items created by Amica residents. These baskets may be the only gifts underprivileged seniors receive all year, so please donate today.
Says Doug MacLatchy, CEO of Amica Senior Lifestyles and Chair of the Board of the Amica Helping Hands Charity, "We're going to top 28,000 gift baskets this year, and recipients are so moved. One year I received a ragged thank you note in shaky handwriting. The sender listed everything in the basket and how she was going to use every piece of it. You just knew it was meaningful to her, and that's why we do this."
All donation dollars help seniors
It's easy to find incredible organizations that support seniors on Canadahelps.org and elsewhere, but it's also nice to know that every dollar you donate to Amica Helping Hands Charity goes to supporting seniors. "Nobody gets paid by the charity, so all corporate and individual donations go to people in need," says MacLatchy. Amica covers all administrative costs for the Amica Helping Hands Charity and delivers goods and support to vulnerable seniors identified through local nonprofits and community service organizations.
Supporting seniors through hospital foundations
Beyond the holiday baskets delivered each year, the Amica Helping Hands Compassionate Fund also gives hundreds of thousands of dollars to nonprofit seniors' and healthcare organizations such as Lions Gate Hospital Foundation in British Columbia and William Osler Health System Foundation in Ontario. Those funds result in invaluable assistance for individual seniors, from covering the costs of dentures or dental work to paying for therapy equipment, mobility devices, nutritional supplements and more.
"A social worker at Lions Gate Hospital told me the touching story of an elderly woman he supports," says MacLatchy. "He's one of the only people she sees, and he brought her some food and had her bedding cleaned. He didn't know how long it had been since she'd had the money or ability to get to the coin-operated laundromat — and he couldn't tell the story without shedding tears. Even $10 or $20 can help someone get a prescription or take a cab to the doctor. It's direct-to-consumer assistance."
How 85-year-old residents are supporting Amica Helping Hands
At Amica, we encourage seniors and team members to live with purpose and optimism, and part of that is by facilitating residents' volunteer efforts. Not only do Amica staff and residents personally support a wide range of registered charities, they also make food for local missions, raise money for hospitals, collect donations for food banks and donate hand-crafted items to go into Amica holiday baskets. (Read Seniors helping seniors and Helping seniors a cherished tradition, plus see thoughtful Amica residents and team members in action on social media: just search on the hashtag #AmicaHelpingHands.)
Says MacLatchy, "To be a part of the Amica team, you have to have a caring heart. Our residents want to give back and do things that matter, too, so we build it into the culture. These are people who are 85 or 90, who are masked and standing in a socially-distanced line to stuff baskets of goodies for somebody else. That's real heart."
Giving in the time of COVID-19
Amica has been taking rigorous safety measures to mitigate the transmission of the novel coronavirus throughout the year and our holiday volunteer efforts have been equally vigilant. Surface disinfection, masks and social distancing have all been part of holiday basket assembly, for example, plus baskets aren't delivered until 48 hours have passed.
You can still make a difference. As more and more seniors live in isolation under the poverty line, your donation to the Amica Helping Hands Charity will offer meaningful care, funds and goods to those who need it most. Whether you celebrate Christmas, Hanukkah, Kwanzaa or another holiday, or are simply moved to help those in need during a particularly tough winter, your donation is truly a gift that keeps on giving. Thank you.