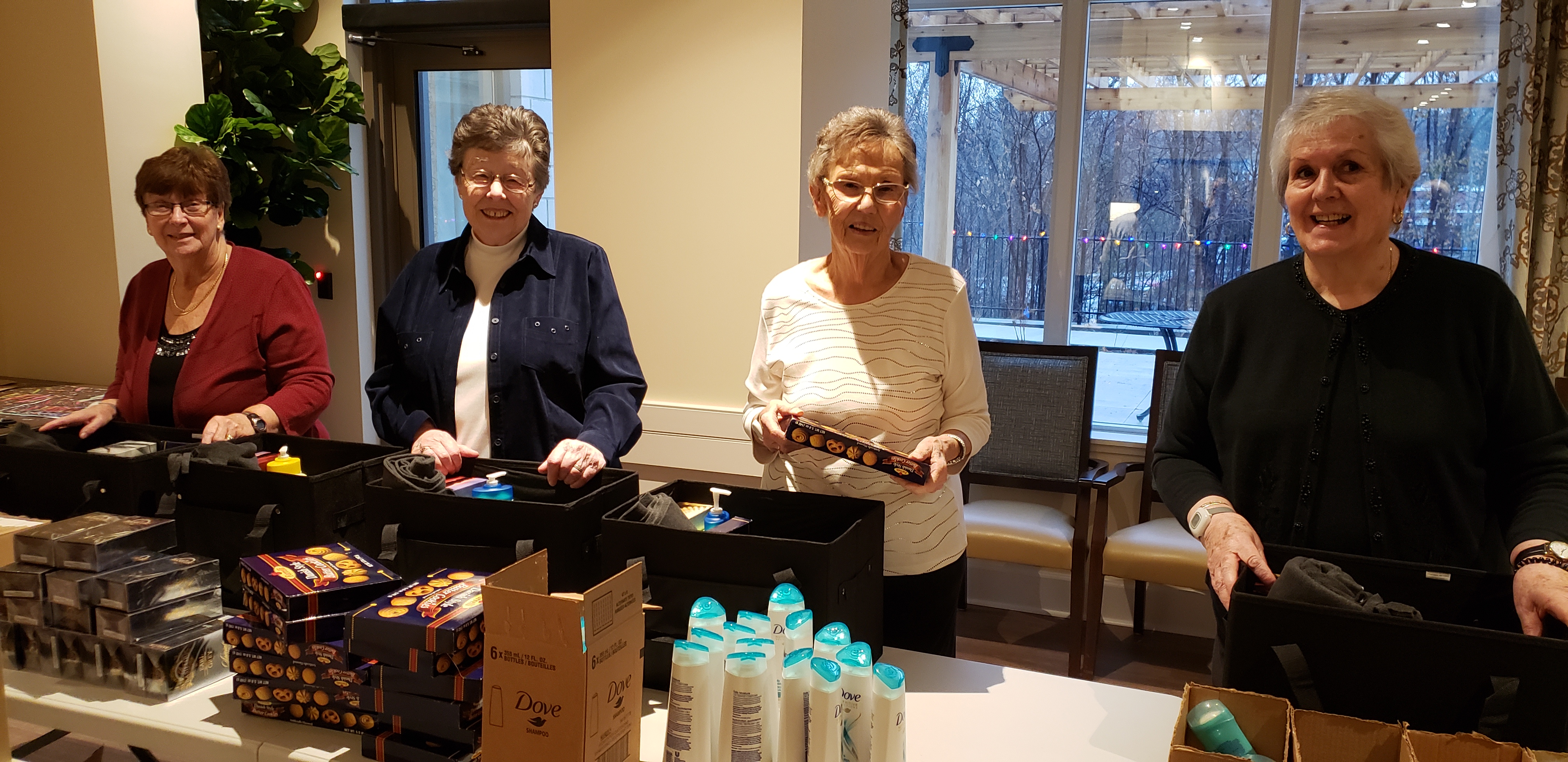 Judging by numbers alone, the 2019 Amica Helping Hands holiday basket campaign in support of underprivileged seniors was another huge success. The annual gala dinner raised more than $550,000 helping volunteers to generously fill 2,500 gift baskets. Over the holidays, thousands of seniors living below the poverty line received a parcel stuffed with nonperishable foods, personal care items, pharmacy and grocery gift cards and a warm blanket, scarf or hat. For many, it was the only gift they received.
Of course the true success of the annual campaign lies not in the numbers, but in the impact it has on those who are touched by it, from recipients to residents to team members.
One of the baskets went to a senior we'll call Mary. She was so moved by the gesture that she left a grateful voicemail for Amica CEO Doug MacLatchy, who signed the note tucked into every gift. "I am the recipient of one of one of the baskets. I just want to say that I'm terminally ill and your basket has brought me so much happiness. I just wanted to say thank you so much."
The basket campaign starts and ends with seniors. In fact, Amica residents showed one of the many benefits of senior community living when they came together to start the grassroots campaign in 2001; their commitment to helping others inspired us to incorporate the Amica Helping Hands Charity two years later.
As we've seen every year since then, volunteering as a Santa's helper has no age limits for Amica residents in independent living, senior assisted living or dementia care. After attending church, Edna and Albert, Amica Unionville residents in their late 80s, joined a group filling baskets. Muriel, a 90-year-old fellow resident, helped tie ribbons on the parcels. "It's rough going for some, especially for those who are alone," she said. "I want to make someone's Christmas better, as much as I can." Hundreds of seniors make a difference in the campaign, whether by packing, making deliveries, selling cookies and donating the proceeds to the Amica Helping Hands, or by knitting warm items that will be opened by a senior in need.
Amica team members lend support year round, from hosting fun fairs to raise funds for the charity, to organizing volunteers and partnering with community organizations to deliver the goods. For everyone at Amica, it's a great feeling to make a difference in the community by helping seniors in need.
You'll be surrounded by great amenities, flexible dining, activities and personalized support at Amica residences. Schedule your personal visit today.