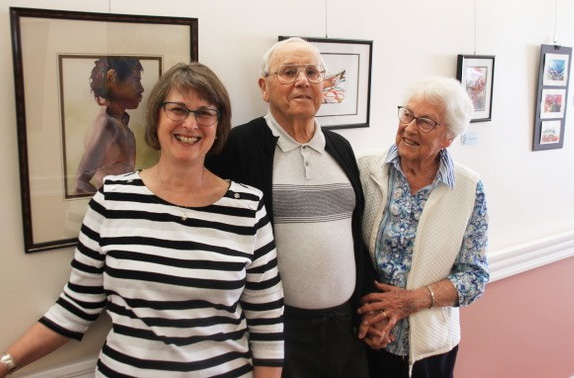 When Amica Somerset House retirement residence hosted an acclaimed art show featuring paintings by a resident named Alan, he surprised everyone with a confession. Due to a series of strokes suffered in 2017, the self-taught artist and former architect is now legally blind — an adjustment for anyone whose gift is seeing the world through creative eyes. While he spent two months recovering in hospital, doctors doubted he'd ever return to the retirement home in Victoria, much less paint again. But while the strokes caused significant losses in his memory and vision, they haven't dimmed Alan's passion for painting or his outlook on life.
Alan was 10 when he first glimpsed the magic of watercolour painting when a teacher brought her paints on a school picnic. His grandparents were working as missionaries in China, where he was born and attended school. "I watched her put the paints on the paper and I was fascinated by the brilliant colours and the way the pigments mixed and mingled." His grandfather bought him a tin of watercolours, and he read everything he could about painting. "I got so much joy from applying the pigments and making puddles of colour," remembers the self-taught artist. He took his watercolours wherever he went, sketching and painting still lifes, portraits and landscapes.
In 1941, his family was attempting to flee China to return to Canada when the Japanese bombed Pearl Harbour. When they were interned in a prison camp, 14-year-old Alan sold his paintings to help buy food for his family. They were released two years later, thanks to a prisoner exchange, and they landed in Vancouver.
After his family returned to England when Alan was 18, he joined the British Air Force and served three years in the Middle East. "He used his paintbrush as a means of recording his experiences," says his wife, Evelyn. "We have quite a lot of his sketches from his time in the Persian Gulf." He used his keen eye to sketch (and photograph) his travels over the years with Evelyn and their five children.
His skill with a paintbrush helped tremendously in his career as an architect, whether he was designing homes, schools, theatres or the Victoria airport. He was able to portray buildings in perspective, which gave his clients a remarkably accurate rendering of how the finished design would appear. When work was slow, he relished spending time in his studio exploring and experimenting with his painting style and refining his palette of pigments. Just as his buildings stand throughout BC, his art is displayed in the homes of friends, family and strangers, given as gifts or purchased through galleries and art shows.
When the couple first downsized and moved to Amica Somerset House, Alan scaled down his art to match his new, smaller living space. Instead of large paintings, he drew accolades at the independent living residence in Victoria for his watercolour paintings on small cards — a change that would prove as helpful as an earlier transition toward abstract interpretations from representational work. When the strokes attacked his sight and frayed parts of his memory, Alan didn't know if he'd ever paint again. With virtually no peripheral vision, his sight is like looking through a funnel about three inches wide, slightly wider in the distance. But in his own way, he could still see.
With assistance from his daughter Diana, Alan started to paint again in shorter sessions. A hobby painter herself in another medium, Diana visits regularly to set up her father's paper and paints and change the water while connecting over their shared love of art — a silver lining they are both enjoying. This new series of paintings by Alan are treasured by his family.
By letting go of the past, changing his expectations and with tremendous support from his wife and family, Alan is finding new joy in a passion that's lasted him 80 years. "You either accept what you've got or you go crazy," he says. "I am very lucky that I have enough vision that I was able to take up painting again. I'm having a lot of fun doing the small ones. I like sending them out to our friends to enjoy."
Read more personal stories about remarkable residents enjoying great amenities, activities, flexible dining and personalized care at Amica.