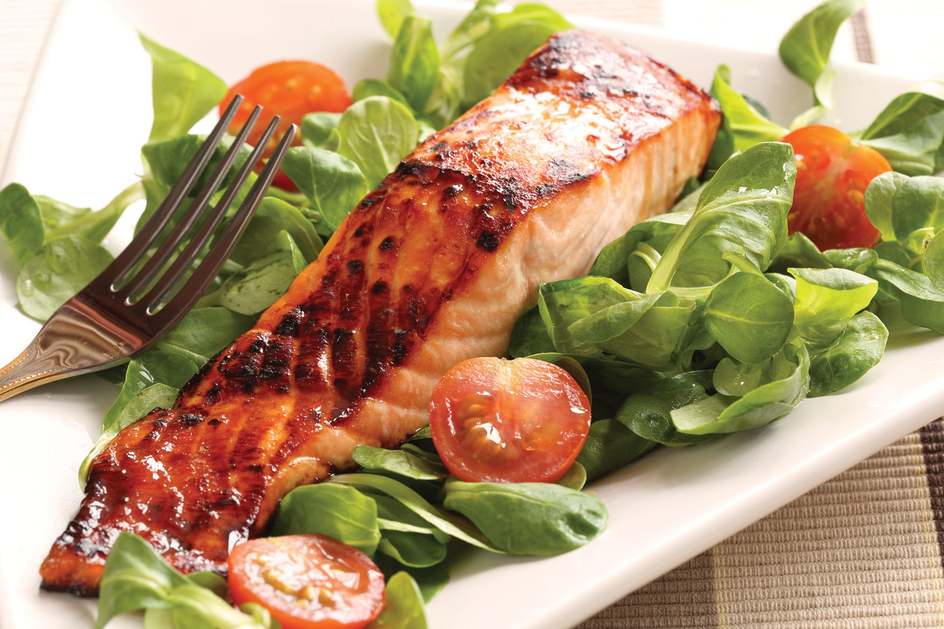 Since Amica residents are more interested than ever in healthy aging, you can expect to see lots of heart-healthy choices on the menu. The expert culinary teams at Amica senior living residences, led by expert Red Seal chefs who are experienced at cooking in restaurants and hotels, are meticulous about meeting the highest standards for freshness, quality and nutrition. Chef Gary McBlain, Amica's National Director of Culinary, shares eight heart-healthy tips on cooking for seniors. In case you missed it, you can also hear McBlain sharing his expertise on cooking for seniors in his interview on Canada Now with SiriusXM host Jeff Sammut.
#1 Make healthy food delicious!
That's a given for our chefs, says McBlain, although we also work with a registered dietitian to ensure dishes meet strict nutritional standards. "We know that when we make nutritious food that's also flavourful, people are going to enjoy eating the meals and be healthier for it." Seniors living at Amica retirement residences know they can look for a heart icon to find healthy choices on their menus. While residents may choose from a selection of dishes at every meal — from comforting favourites to healthy choices — they also know the culinary team caters to individual dietary needs, such as requests for low-sodium or low-fat meals for seniors living with cardiovascular disease, diabetes, etc.
#2 Pack more goodness into small portions
It's a fact that seniors generally have reduced appetites. "Younger generations may be counting calories and trying to eat less," says McBlain. "For seniors, we know they're eating smaller portions so we want them to be getting more from every meal." This recipe for a Peanut Chicken Power Bowl is a great example of how Amica chefs combine good taste with healthy ingredients at ever seniors' residence.
#3 Limit unhealthy fats
Amica's menus feature fresh poultry and fish and the leanest cuts of beef and pork to minimize saturated fats and trans fats. They also look to plant foods for a good source of healthy protein, including soybeans, pinto beans and lentils, and minimize processed meats and high-fat dairy foods such as cream.
#4 Try foods with healthy fats
Try to eat fatty fish twice a week, such as salmon and arctic char, with heart-healthy omega-3 fatty acids. Consider adding flaxseed or walnuts to cereal or muffins; avocado to salads; or adding flaxseed oil to a salad dressing. Menus in every dining room at Amica — including those dedicated to independent living for seniors, senior assisted living or dementia care — offer the freedom of choice at every meal.
#5 Add flavour with smart cooking
Steaming vegetables is better for the heart than adding rich buttery sauces high in saturated fat. "We like to add flavour with spice rubs, fresh herbs and citrus," says McBlain. "Instead of deep frying, we'll saute fresh, unprocessed poultry in a small amount of olive oil to bring a lot of flavour without adding sodium or unhealthy fat."
#6 Reduce sodium
Prepare fresh foods at home so you can control the amount of salt in your meals. When cooking, you can often cut at least half the salt from a recipe without compromising results. Don't keep a salt shaker on the table to help remove the temptation to salt food after it's cooked.
#7 Eat a rainbow of colours
Amica chefs know that we eat with our eyes first, so we offer high-quality proteins, cover half the plate with veggies or salad, and limit starches to half-cup servings to make room vitamins and minerals from seasonal fresh produce.
#8 Stock up on healthy snacks
Residents appreciate that they can help themselves to snacks at Amica's self-serve bistros. If you're not feeling like a cookie or a croissant with your coffee or tea, you can choose heart-smart options like fruit and low-fat yoghurt.
You'll be surrounded by great amenities, flexible dining, activities and personalized support at Amica senior living residences. Schedule your personal visit today.