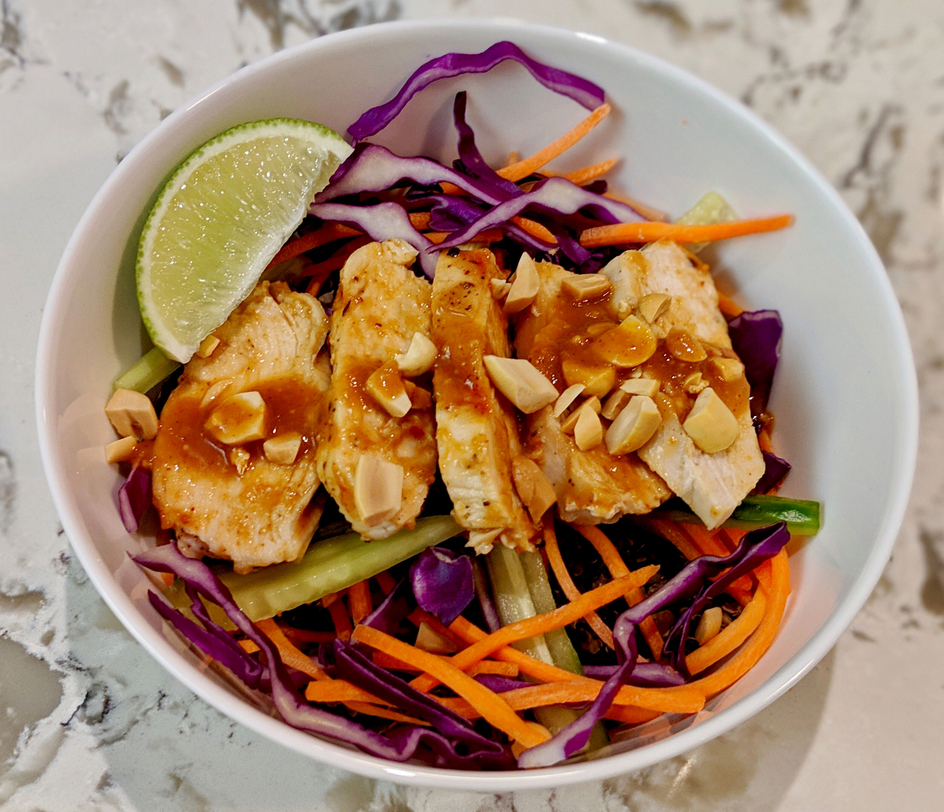 Take a break from soups and sandwiches and try this vibrant quinoa bowl made fresh by the Red Seal chefs at Amica Senior Lifestyles. Created by Chef Gary McBlain, Amica's Director of Culinary, this power bowl tops protein-rich quinoa with grilled chicken, colourful shredded veggies and a tasty peanut sauce so it's bursting with flavour and nutrients. It's one of the healthy choices on the winter menu at our seniors' residences for independent living, assisted living and dementia care, where it satisfies our residents' high standards for taste, our chefs' passion for freshness, and nutritional guidelines for sodium, calories, protein and other micronutrients.
Ingredients

Peanut sauce
1 tablespoon sodium-reduced soy sauce
2½ teaspoons freshly squeezed lime juice
1¼ teaspoons rice vinegar
2½ teaspoons honey
¼ teaspoon sambal oelek sauce or hot sauce
2 tablespoons peanut butter
2 teaspoons sesame oil
Quinoa bowl
1 cup cooked quinoa (or cooked brown rice, if you prefer)
3 oz grilled chicken breast
1 cup shredded purple cabbage
½ cup shredded carrot
⅓ cup cucumber, chopped into matchsticks
1 tablespoon finely chopped fresh cilantro
2 tablespoons chopped peanuts
Directions
1. To make the peanut sauce, whisk together soy sauce, lime juice, rice vinegar, honey and sambal oelek sauce in a small bowl. Add the peanut butter and sesame oil and mix until well combined. If you prefer, toss all sauce ingredients into a blender or food processor and blend until smooth.
2. Toss cooked chicken with peanut sauce and set aside.
3. Divide quinoa into two bowls. Top each bowl of quinoa with chicken, cabbage, carrot, cucumber then drizzle with remaining peanut sauce. Sprinkle with cilantro and peanuts.
Makes 2 servings.
________________________
You'll be surrounded by great amenities, flexible dining, activities and personalized support at Amica seniors' residences. Book your personal visit today.