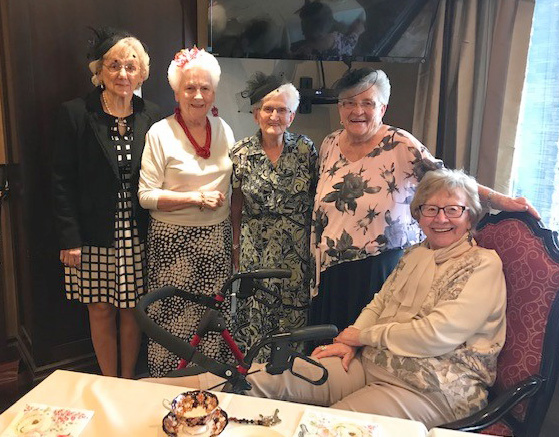 We know that tea time is a cherished social ritual that brings people together at Amica senior living. Now, many of the whole-leaf premium teas steeped at our retirement residences in Canada deliver wellness benefits along with a great-tasting cuppa.
Thanks to our passion for creating exceptional dining experiences for seniors and their guests, we've added the highest quality teas to our new menu, including Chamomile, English Breakfast and Earl Grey. Even better: some of our specially selected organic, herbal, green and black teas also include health perks, such as improved digestion and anti-inflammatory properties. The teas are served in our full-service dining rooms and available in self-service bistros.
"Tea is a very healthy beverage and our functional teas have been blended with a certain purpose in mind," says Hannah Vandergrift, Flavorist at The Metropolitan Tea Company, with whom we partnered to supply Amica residences with its exceptional line of Metz Tea. "Cold B'Gone is great for those days when you're feeling under the weather. Ayurvedic Balance was blended with digestion in mind."
Tapping into the healing powers of plants and herbs, Vandergrift created the custom blends for Metz, Metropolitan Tea's premium collection of whole-leaf teas available exclusively to the hospitality industry. Amica partnered with the leading Toronto-based tea company for its commitment to quality: it keeps an eye on social and environmental responsibility, while purchasing teas from only the top 10% of producers in 29 countries.
"We knew which herbs we wanted to feature because of their health properties," says Vandergrift, who is a Level One Tea Master. "The challenge was to create blends that appeal to all the senses. Some herbs, like peppermint, taste fine on their own. Others have great health benefits but need a little help from other herbs to look and taste great." Seniors agreed that Vandergrift mastered these blends. The nine teas available at Amica, located in the best places to retire in Canada, were selected by residents at a tasting. Have a cup when you schedule a private tour at Amica and enjoy these wellness benefits of the teas on our menu.
The digestion booster
Ayurvedic Balance is an herbal tea that includes a variety of herbs and flowers, such as rose and calendula, to restore balance in the body. Peppermint and spearmint are great for stomach cramps and reducing bloating. Honeybush is an excellent source of polyphenols and antioxidants: it stimulates the metabolism and has calming properties. Hibiscus and camomile promote relaxation and help relieve indigestion and bloating.
The inflammation fighter
The black tea leaves in Organic Turmeric Ginger Peach is rich in polyphenols and flavonoids, which support heart health. Turmeric, known for its anti-inflammatory properties, is high in vitamin E, which is great for relieving nausea. Ginger has similar perks for digestion and inflammation, while it also helps the body absorb iron. Calendula is another anti-inflammatory herb shown to help with detoxification and speeding up repair in the body.
The cold warrior
Battle the sniffles with Cold B'Gone: it's brimming with ingredients like apple, which is rich in vitamins and antioxidants; and lemon, an antiseptic containing vitamin C that's been found to reduce fevers and help joints. Ginger has antiviral properties and promotes circulation, digestive health and iron absorption while reducing inflammation, cramps and nausea. Lemongrass is a mild sedative that also helps relax muscles and reduce fevers, and hibiscus is a relaxation-promoting herb that contains antioxidants to reduce bloat.
The multi-tasker
Cucumber Melon Green tea brings a variety of promising boosts including better focus, high antioxidants and the ability to lower LDL or bad cholesterol. Cucumber is hydrating, rich in nutrients and antioxidants and has been shown to lower blood sugar, while cornflower supports digestion and liver health.
Find out how residents are enjoying great amenities, activities, flexible dining and personalized care at Amica residences. Book a visit today.