Did you know that more than 1.3 million seniors in Canada suffer from chronic loneliness? Studies also show that isolation can double a senior's rate of health deterioration and increase the risk of an earlier onset of death.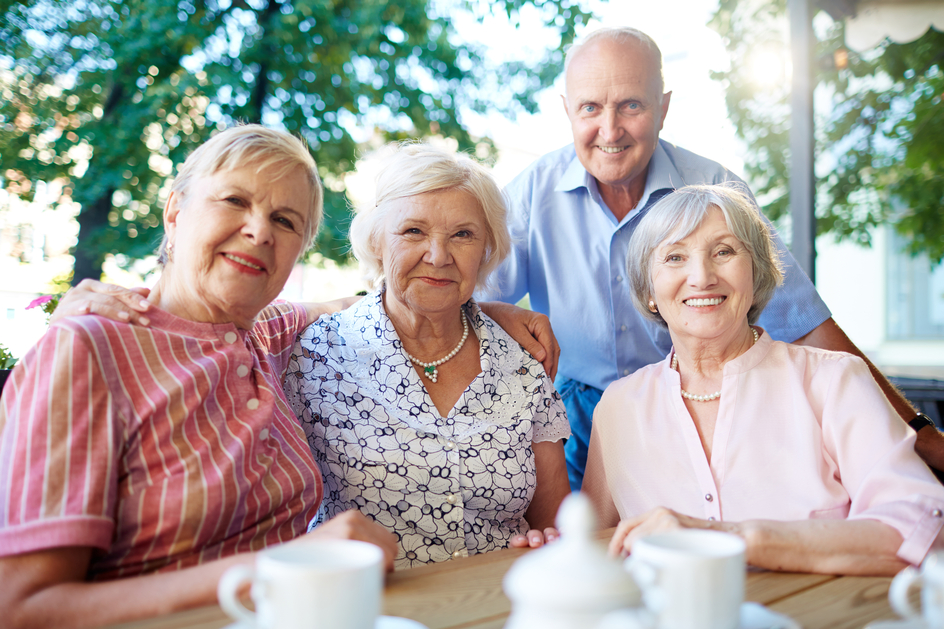 At Amica, we don't need statistics to tell us that having choices and building meaningful relationships are essential to happiness at any age. That's why we provide opportunities for residents to connect with each other, with our team members, with their families and friends and with the community at large. "Those interactions may look different for everyone." says Erica Clarke, the National Director of Life Enrichment and Wellness Amica. "They might include large group events, connecting a few residents who go out for lunch, a team member playing cards with a resident, or inviting family and friends into the residence or on outings to share fun experiences with their loved ones." The nice thing is we leave it to residents to spend their day however they like. Participating in activities is 100-percent voluntary, which gives seniors the freedom to choose company when they feel like it or to relax in their suites. Here's how everyday life at Amica provides plenty of ways to connect.

Company at Mealtimes
One of the most timeless ways to get to know someone is sharing a meal together, and that's what happens every day in Amica dining rooms. There's no assigned seating, so residents can try different tables and visit with neighbours while they enjoy a choice of delicious entrees prepared by Red Seal–certified chefs. They also get to know their servers, and vice versa, which is how our staff knows that Sam likes his coffee with his lunch while Christine takes her tea afterward. Some residents are in the dining room for every meal; others prefer to wake up slowly and eat breakfast in their suites, then head to the bistro for a coffee later in the morning. Residents tell us they look forward to mealtimes so much more at Amica than they did when they were cooking and dining alone.

Common Areas for Socializing
While all Amica residents have their own private suites, each residence is like a well-designed neighbourhood with plenty of shared spaces for gathering in small or large groups. Instead of heading out to the local pub, coffee shop or community centre (though our seniors do that too!), neighbours wander down from their suites to shoot billiards in the games room, swap recipes in the kitchen, watch movies in the on-site cinema or chat about current events in the lobby lounge.

Staying Active
Some residents have kept an active lifestyle for decades and appreciate how Amica makes it easy to keep up their routines, whether that means daily walks in the neighbourhood or using our fitness centres for the treadmills or stationary bikes. Others discover they enjoy daily on-site exercise classes as a nice way to socialize while trying new activities (chair volleyball, anyone?!) or maintaining or regaining mobility, without having to worry about getting to an off-site gym. (Find out more about how we make it easy and fun for residents to stay active in winter.)

Regular and Special Events
On top of regular daily programs aimed at giving our residents ways to enrich their lives physically, intellectually, socially and spiritually, we also fill our monthly calendar with weekly, monthly and seasonal events. That might include an evening of dancing, a carnival day, a special themed dinner, a guest lecture, a live performance by visiting musicians or an afternoon sharing cinnamon buns and hot chocolate. Every residence listens to the wishes of those that live there and plans accordingly. Routines are comforting, yet we find everyone enjoys having a little something special to look forward to.

Clubs and Hobbies
What's better than spending time nurturing a hobby? Sharing it with others. There's a good chance you'll find others in every Amica residence who share your passion, whether it's reading, baking, playing games or crafting. We've watched residents bond over everything from bridge games to ballroom dancing to book club discussions.

Outings and Bus Trips
While you can't beat the convenience of having lots of amenities under the Amica roof, we love getting out as much as our residents, which is why we organize regular bus trips around the neighbourhood and beyond. That includes routine outings to local shopping malls, churches, temples and restaurants, plus special trips to museums, theatres, conservation areas or beaches.

You'll be surrounded by great amenities, flexible dining, activities and personalized support at Amica. Book your personal visit today.