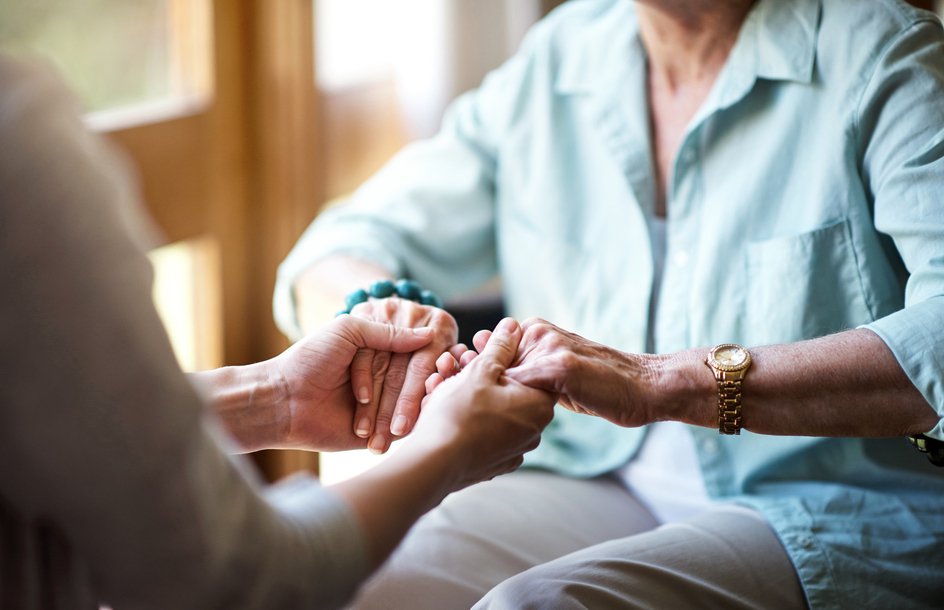 Is your loved one showing signs of dementia or Alzheimer's disease? You might be wondering what's next. How long can your parent safely live alone? How long can your mom care for your dad?
There are no easy answers. Age-related changes in memory affect everyone differently.
When does a person need memory care?
There's no singular sign someone with dementia or Alzheimer's needs memory care. Even after a medical diagnosis, they may not be ready to move into a new home right away. Yet, memory care does become inevitable over time.
There could be small signs at first, but, as they become more frequent, you may consider the health and safety of your loved one.
At Amica, our trained staff maintains and adjusts individualized memory care plans to cater to the unique and specialized needs of those living with dementia and Alzheimer's. We provide a supportive environment where our residents are safe to thrive.
Throughout this post, renowned expert Dr. Heather Palmer, national director of cognitive well-being for Amica Senior Lifestyles, offers guidelines to help families decide when it may be time to consider retirement living for a parent or loved one with dementia or Alzheimer's.
Understanding the signs it's time for memory care
The signs of age-related memory decline may appear minor at first. Over time, these tendencies can form patterns that may overlap with one another, such as safety concerns around wandering or eating. As you weigh whether your loved one needs memory care, think about whether you've noticed the following signs.
1) Safety
"Evaluate if the parent can go about daily life without harm or injury," says Dr. Palmer. For example, can mom manage the stove? If not, what safety precautions enable her to freely come and go to the kitchen, and play a role in the cooking, without facing danger?
Safety factors in every room should be considered when evaluating when it's time for mom to move," says Dr. Palmer.
2) Wandering
Is mom waking at 3 a.m. and going out? It's common for people with dementia to confuse day and night. So, it's possible at 3 a.m. Mom thinks it is 3 p.m. and feels she needs to pick up the children from school.
"We often see this type of wandering and exit-seeking in our residences, so it's likely occurring in the home environment as well," says Dr. Palmer. "When a resident is feeling anxious, because he believes he's late for work, our team members offer support by safely redirecting and reassuring."
3) Eating
Is your parent getting adequately nourished? Adult children, or other caregivers, often prepare meals for their cognitively declining loved ones, but is anyone checking dad can safely heat the food, is actually eating it or can tell if it's gone bad?
"Eating habits in someone with dementia can change quickly," says Dr. Palmer. The loved one may not feel hungry, forget to eat or have changing taste preferences. Others may require ongoing prompting and/or be confused about how to use utensils.
A memory-care residence offers a different experience. Mom or dad will eat in a beautiful dining room filled with residents who provide company. There's also delicious food, prepared by chefs, and served by friendly staff. You may discover your loved will eat twice as much!
4) Socializing
If you're loved one is very comfortable at home, they may "not bother" going out. If that's the case, how are social opportunities being maintained? Are there daily visitors? Is he or she getting out with friends or waking up and staying home with very little interaction?
Research points to the importance of social interaction in slowing cognitive decline. It's tough to compete with a premium senior-living residence, which caters to resident needs through various life-enrichment activities.
5) Hygiene
Can your loved brush their teeth, comb their hair, bathe and care for themselves? If they're living with a spouse, can the spouse help?
"A residence is staffed with people skilled at helping with those tasks," says Dr. Palmer. Not only that, but, at Amica, staff help according to the wishes of the resident and family. If a resident likes to sleep until noon, or relax in a bath before dinner, we'll happily make those preferences a reality.
6) Caregiving services
If there's no capable spouse at home, does your parent have a caregiver, whether privately or government-funded? Perhaps you've progressed to six hours a day of help with shopping, cleaning, cooking and other tasks. Are you comfortable with mom alone for 18 hours a day?
"If you're looking at bringing someone in 24-7," begins Dr. Palmer, "you're keeping your parent in a familiar setting, but you need to evaluate if quality of life is being sacrificed. You'd need a very special, very skilled caregiver to compare with the level of expertise in wellness, life enrichment, fitness and dining your parent would experience in a premium memory-care residence."
7) Family
One of the biggest signals it's time to move is based on how the family is being affected. Is supporting and caring for your mom or dad becoming a significant challenge to your personal life? Are you struggling to manage everything? As a result, is your relationship with your parent negatively affected?
"At a residence, we take care of everyday chores so time you spend with your parent is happy and enjoyable," says Dr. Palmer. If moving would benefit a parent with dementia, imagine how it will benefit a spouse working overtime as a primary caregiver.
8) Diagnosis
"It's time to explore moving and dropping the idea into conversations when you know there's a diagnosis or a likelihood that the person is in decline," says Dr. Palmer. "Too many people wait until they're in crisis before moving to memory care.
Having your parent cognitively involved in the process is always going to be better. Involve them in the decision-making. It will increase the likelihood they'll have the cognitive resources to learn about their new environment and adapt to it."
When do you need 24-hour care?
It's difficult to suggest a specific "right" time for 24-hour care. Certainly, if you've noticed one or more of the above signs, it's worth considering a move. Once there's a decline, or after a diagnosis has been confirmed, acting quickly will reduce the likelihood of reacting to a crisis.
Memory care is inevitable as signs and symptoms of cognitive impairment progress. And, introducing a parent with dementia or Alzheimer's to the right retirement living neighbourhood assures 24-hour care.
At Amica, treating residents with respect, and understanding how their condition has uniquely affected them, is part of our commitment to the highest standards of care.
Learn more about cognitive decline by reading our Memory Care Guide today.
About Dr. Heather Palmer
Dr. Heather Palmer, national director of cognitive well-being at Amica Senior Lifestyles, is a cognitive aging and dementia specialist with more than 30 years of clinical and scientific experience.
She helps individuals improve the way they think, feel and function. At Amica, she develops cognitive well-being programs with a heightened focus on memory care and assisted living.
Find out how residents are enjoying great amenities, activities, flexible dining and personalized service at Amica residences.
Book a visit to Amica today.