As adult children, we want the best for our loved ones who are living with dementia, which is why many families choose senior living with memory care. Not only do we want the staff at a senior living residence to have the professional skills to assist Mom or Dad, we want them to care for our parents with love and respect. So, how do you judge the quality of memory care at a residence you're considering? Dr. Heather Palmer, Amica's National Director of Cognitive Well-Being, recommends asking these questions when you tour a memory care residence.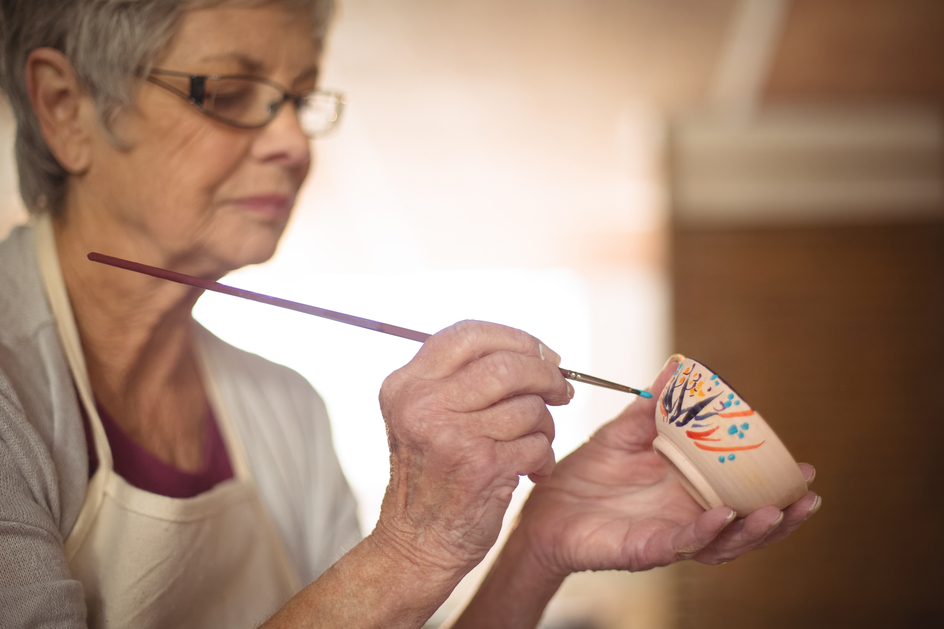 What's the building like?

Look for signs of good upkeep in common spaces and individual suites, such as fresh paint, furnishings and carpeting. Does the building smell fresh and clean? Outside, is there an inviting green space for residents? Are the patios and walking paths easy to navigate? Do you notice any raised flower beds, which would be accessible to someone in a wheelchair who wanted to indulge their love of gardening? Is there a BBQ for fun outdoor meals? Are there properly shaded areas and is the furniture in good repair?
How's the ambiance

Is the residence vibrant? Do seniors seem engaged in organized and informal activities that help enrich their lives? Says Palmer, "I like to look beyond the perfectly staged environment to see evidence of the life of the residents, such as artwork they've done or photos of them smiling, laughing and having fun together, building relationships and forming bonds."
How rich and diverse is the activity calendar?

Is there range and variety in the life-enrichment activities and the times of day they're offered? If exercise only happens at 10 a.m., says Palmer, it excludes those who sleep until 11 or who have care services at 10. Is every outing scheduled for the afternoon? "What about residents who like a nap in the afternoon?" says Palmer. "They can never sign up or the outing is never enjoyable for them."
How stable is the management and team?

How long has the management been in place? A stable management team usually makes for a stable residence. Lower turnover usually speaks to greater staff satisfaction, continuity of programs and services for residents and the chance to build relationships in a "family-like" manner—all of which contribute to resident satisfaction and quality of life. This is especially important in memory care, because residents feel comforted and safe around people they "know" even if they are unable to communicate how they know them or for how long.
How do the residents look?

Are the ladies dressed and wearing earrings and makeup if that's their norm? Are gentlemen shaved and is their hair combed? Do they appear happy? If they're well put together in a way that is typical for them, it shows that staff are treating residents with utmost respect and they care about the service they're providing. "It's important to me that residents are dressed in a manner that's important to them," says Palmer. "If I noticed a resident with one red sock and the other blue, I would be inclined to ask about that. The answer I would be looking for is something like, 'I know it may appear that we haven't taken the care to match the socks but the reality is that this is the way the resident wants to be dressed so we are more than happy to accommodate.'"
How engaging are the staff?
Try to attend an activity during your tour to assess the skill of the team member in engaging residents. Ideally, the staff member is giving attention to those who can communicate as well as those who can't, and is modifying the activity for a diverse range of abilities. In a fitness class, for example, how are residents supported and included even if they have difficulty comprehending or following along?
How do team members communicate with residents?

Do the staff interact with residents on their way from point A to point B? "I would want to see that they take the time to stop, say hello, comment on what the residents are doing," says Palmer. "Taking a moment to engage the residents makes their day. You don't want residents to feel valued one day and ignored the next day simply because staff are in a rush."
"I'd also want to see team members who are skilled at promoting resident-to-resident interaction," says Palmer. That could mean connecting residents who have something in common (telling Paula and Sally they're both teachers, for example). "I look for staff to be helping residents to interact with each other through connecting and conversing rather than just sitting and listening to others.
Who designed the memory care program?

"I'd want to know about the program's philosophy, who designed it and how, and the degree to which it encompasses recent research and best practices," says Palmer. Does the community have a specialist in memory care who trains, guides and supports the memory care staff?
Amica's memory care program was developed by Dr. Heather Palmer.
Finally, follow your gut. You'll get a good feeling if a community you visit seems like a warm, enriching and safe place for your parent to call home.
Dr. Heather Palmer is a cognitive aging and dementia specialist with more than 30 years of clinical and scientific experience. She focuses on helping individuals improve the way they think, feel and function. As Amica's National Director of Cognitive Well-Being, she develops cognitive well-being programs for Amica with a heightened focus on memory care and assisted living.
Find out how residents are enjoying great amenities, activities, flexible dining and personalized service at Amica residences.
Book a personal visit today.