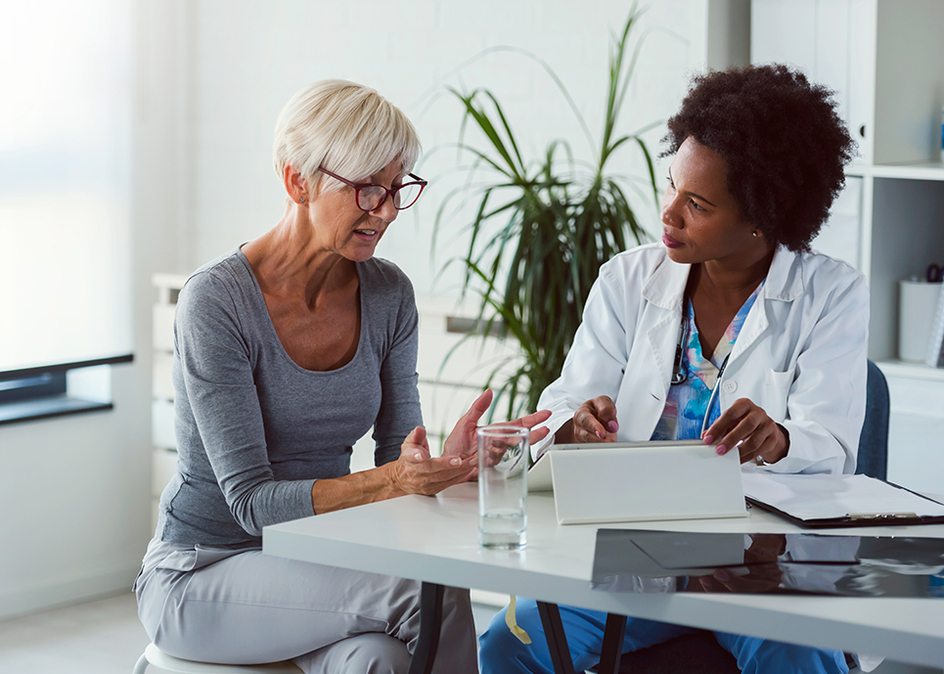 Have you noticed that your senior parent needs more care and support lately? With your parent's permission, it may be time to start accompanying them to doctor's appointments or proactively reaching out to their primary physician or healthcare provider. Senior health challenges can be sudden or progressive, so your parent may be unaware of changes that you're observing. Keeping communication open between you, your loved one and their healthcare team helps ensure that your parent doesn't miss any important appointments, follows ups on healthcare recommendations and plans for current and future care needs. Use the list of questions to ask your parent's doctor below as a helpful guide.
"Some seniors may not want to raise questions with their doctor or 'complain,' but advocacy is key to ensuring optimal health and wellbeing," says Jennifer McNeil, Amica's National Clinical Educator. "It's especially important to get involved if your parent is experiencing health changes such as falls, decreased mobility, pain, weight gain or loss, or cognitive changes."
Talk to your parent first
Your mother, father or loved one may have concerns about their privacy and independence, so share your reasons for wanting to attend their appointments or connect with their doctor. If they aren't comfortable with you speaking to their physician, ask if there's another trustworthy person or family member who could advocate on their behalf.
Your parent's physician will likely ask your parent for verbal permission, a consent form or proof of medical power of attorney or a healthcare directive before they speak with you or others. Read will and power of attorney tips to understand why it's important to get this paperwork started as soon as possible. In addition, coordinate with any siblings or loved ones to develop a plan about Power of Attorney or who will be the main point of contact with doctors (in addition to your parent) to avoid confusion or duplication of efforts.
Review your senior parent's medications and health issues
Work with your parent and family to create a list of known health issues and current concerns. If your parent is starting to experience memory lapses or gets nervous, writing down what they hope to discuss at upcoming appointments can jog their memory and keep you informed, as well. Prepare a list of medications and supplements that your parent takes (including dosages), so you're aware of them when asked at appointments or in case of a future emergency.
Questions to ask a senior's doctor
In addition to any specific queries relating to your parent's symptoms or concerns, consider asking the following questions. Be sure to take notes so that you, your parent and other family members can refer to them over time.
What existing diagnoses does my parent have, and are there any new conditions? How will these impact them physically and mentally in the short and long term?
What changes or symptoms should we be watching for?
Do any of my parent's medications increase their likelihood of falling, or have other adverse effects? (Falls are the leading cause of injury-related hospital admission among Canadian seniors, so download our Home Safety for Seniors Guide to help prevent them.)
Are there any medications that they no longer need?
Is there any specific nutrition or exercise advice that you have for my parent?
How is my parent's cognition?
Should I/we accompany them to all doctor's visits?
Can specialists share their notes with my parent's primary physician, so everyone is in the loop?
Are there any local services or therapies that would benefit my parent, such as occupational therapy, physical therapy or speech therapy?
What senior care needs should we be planning for, now or in the future, such as home care, Assisted Living or Memory Care at a retirement residence?
Appointment-specific questions to ask
If you're setting up an appointment for your parent or attending an appointment with them, you may want to raise some of these questions:
Is there anything my parent needs to bring or prepare for the appointment?
Will lab work or screening tests be done at the appointment?
Can you explain my parent's diagnosis or condition?
What do we need to know about any prescribed medications, in terms of when and how to take them and any side effects they may have?
Are there any follow-up tests required?
When will test results be available, and how can we access those results?
What should we work on for the next visit?
When should we schedule the next appointment?
Senior care concerns to share
If your older parent lives alone and is starting to show signs that they need more care, such as if they're falling more often, eating poorly or not paying the bills, be sure to let their physician know. These may be signs of an underlying health condition or indicate that it's time to consider Assisted Living at a private retirement residence or long-term care. Read our Senior Care Options Guide to better understand which red flags indicate when a parent needs more care, and the benefits of enriching activities and social life in senior living.
Helping your parent navigate their appointments, health and senior care journey can be time consuming, but is so beneficial. "New information can be overwhelming or difficult to process and understand, so having a caregiver or family member involved is really helpful," says McNeil.
Book a virtual or in-person tour to find out what it's like to enjoy living on your own terms in an elegant Amica residence with outstanding dining, amenities, activities, senior care and safety measures.