When Amica Stoney Creek Dairy reopened to the public this spring, it become one of the newest — and arguably one of the oldest — spots to get an ice cream cone in Stoney Creek. That's because the popular ice cream parlour is housed inside Amica Stoney Creek, a retirement residence for senior living built on the former site of the Stoney Creek Dairy. After the Stoney Creek Dairy closed in 2012, Amica Stoney Creek opened its ice cream parlour in 2018 as a tribute to the beloved landmark, a popular destination for family fun, date nights, sports teams and first jobs for more than 70 years.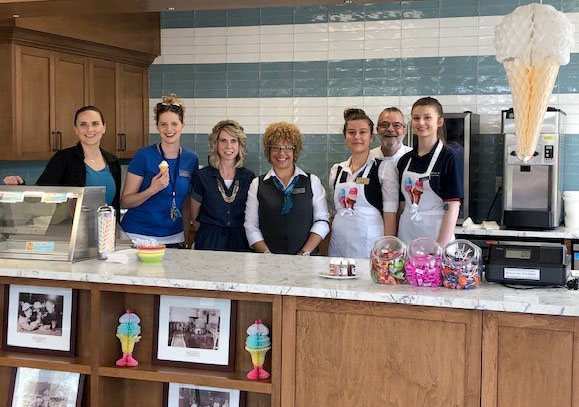 Premium Ontario ice cream
The Amica Stoney Creek Dairy on King Street East serves everyone's favourite summer treats including a rotating selection of 10 flavours of premium ice cream, soft serve ice cream, sundaes, milkshakes, ice cream bars, fruit bars, cones and candy. After taste-testing premium ice cream from Central Smith, the residents selected it for their ice cream parlour. They knew it was a long-established Ontario creamery based just outside Peterborough and they wanted to support another family-owned local brand with plenty of great-tasting flavours and products.
A taste of history
Inside, the dairy bar showcases mementoes and framed memorabilia salvaged from the old Stoney Creek Dairy including serving trays, giant milk drums and marketing materials. The walls are adorned with old newspaper clippings, historic photos of the historic Stoney Creek Dairy, plus the jerseys of sports teams once sponsored by the former local business. Every season, the ice cream shop receives mementoes and memorabilia donated by the public, including this year's addition: colourful sundae spoons.
"It's always been our promise that we would honour the dairy and here we are," General Manager Jennifer Sarkis told Laura Lennie, a reporter for Hamilton News. "We're hoping the parlour will serve as a destination to reflect on the past and a place where new memories can be made for many more years to come."
Social hub for seniors
While the ice cream parlour is closed to the public throughout the week it becomes a social destination for residents at Amica Stoney Creek retirement home, which offers hospitality and optional care for seniors in independent living, assisted living or memory care. The seniors reminisce together while enjoying make-your-own sundaes, gelato tasting events, ice cream socials and free soft serve ice cream. A special public fundraiser called "The Summer of '42" brought back five-cent cones to raise money for the Amica Helping Hands Charity, a registered Canadian charity that supports seniors in need. Stay tuned for more special events open to the public at Amica Stoney Creek Dairy.
At the parlour's grand opening, an Amica resident named Eleanor recalled trips to the dairy bar for ice cream and sundaes with her late father, a farmer who supplied milk to the original Stoney Creek Dairy. In a conversation with the Hamilton News, Eleanor remembered lineups at the dairy bar when she returned for treats with her own children and grandchildren. "I believe people will really enjoy this parlour and I think it will spark a lot of fond memories for everyone."
"We have so many residents who worked at the dairy, had their first date there or even just remember it when they were little," says Carly Gagnon, Community Relations Director for Amica Stoney Creek. "Our goal is to provide the community with a place where they can come enjoy a special treat and take a walk down memory lane."
Amica Stoney Creek Dairy location and hours
Staffed by members of the Amica Stoney Creek culinary team and local students, Amica Stoney Creek Dairy is open on weekends from Victoria Day weekend to Labour Day weekend from 1 to 7 p.m. The Amica Stoney Creek Dairy is located at 135 King Street East in Stoney Creek, Ont. For more info, please call 905-664-8444.
Find out how residents are enjoying great amenities, activities, flexible dining and personalized care at Amica residences. Book a personal visit today.