New residents may arrive at Amica both nervous and excited about the same thing—the food. On the one hand, they're happy to be relieved of all the chores associated with cooking. But they may be wondering if handing over the apron means sacrificing choice or taste. So we marched straight into the kitchen to ask our top chef to correct five common misconceptions about the meals at Amica.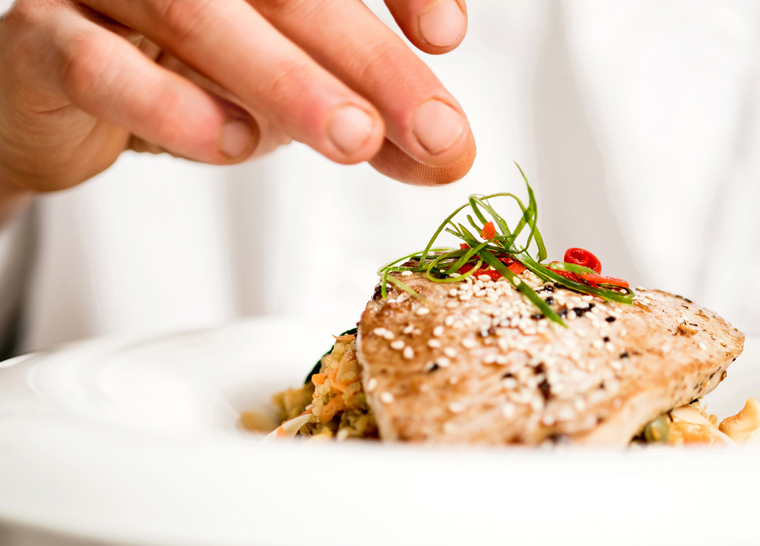 Myth #1: I won't have a say in when I eat
At Amica, you can eat just about whenever you feel hungry. In many residences, the dining room is open from 7 a.m. until 7 p.m. "You can come down anytime in that window, sit in the dining room and have something to eat," says Amica's National Director of Culinary, Gary McBlain. Open seating means we don't decide where you sit—you do: You can choose your table and your company. Most residences also stock a bistro kitchen so you can help yourself to drinks and snacks throughout the day. Since suites also have kitchenettes, residents tend to shop for a few supplies.
Myth #2: I won't have a choice of what to eat
Every day we serve something different. Each month our residents chose from 112 different entrees, 52 soups and just as many desserts. That means you can select from two mains at lunch and two different mains at dinner every day. If you're not keen on the daily selections you can order from the à la carte menu. "Imagine eating at the same restaurant every day for several years," says McBlain. "We go to great lengths to offer variety because we recognize that people don't always want to eat the same things." What if you just want a grilled ham and cheese and it's not on the menu? "If you want it and we have the ingredients, we will make it for you," says McBlain.
Myth #3: I'll have to give up seasonal favourites
We completely change up the menu four times a year. First, we know that appetites change with the seasons: you may not feel like a hearty stew in August but those braises are certainly on the menu in February. Second, we love fresh foods in season! Our spring menus might feature local asparagus and in summer we're serving berries, corn on the cob and barbecued ribs or chicken. "It's not a one-size-fits-all approach to menus," says McBlain. "Each community's chef customizes the menu to make sure the residents are happy with it."
Myth #4: I won't like "institutional" food
Some seniors move in assuming the meals must be prepared off-site and reheated—then they taste the food and fall in love! The truth is all our delicious soups, meats and fish are freshly prepared in house. The same goes for vegetables and salads, which are made from fresh, local and in-season produce whenever possible. "We run our kitchens like restaurants: we do prep during the day and then finish the dish as residents order the food so a freshly cooked meal comes to the table just for them," says McBlain.
Myth #5: I'm eating food prepared by unqualified people
All Amica chefs are Red Seal–certified (or the equivalent). That means they've had formal training, an apprenticeship and at least 6,000 hours of hands-on experience. Says McBlain, "We give them the freedom to create great food." The same goes for our servers, who are trained to provide classical restaurant etiquette combined with friendly and compassionate service. "In surveys, the residents always give our servers very high scores."

Gary McBlain is a Red Seal certified chef who has a passion for creating healthy meals using fresh ingredients. After years in the restaurant industry, he transitioned to retirement living. Over the past 15 years, he has worked with more than 150 retirement communities with the simple goal of providing wonderful food and great service.

You'll be surrounded by great amenities, flexible dining, activities and personalized support at Amica residences. Book your personal visit today.