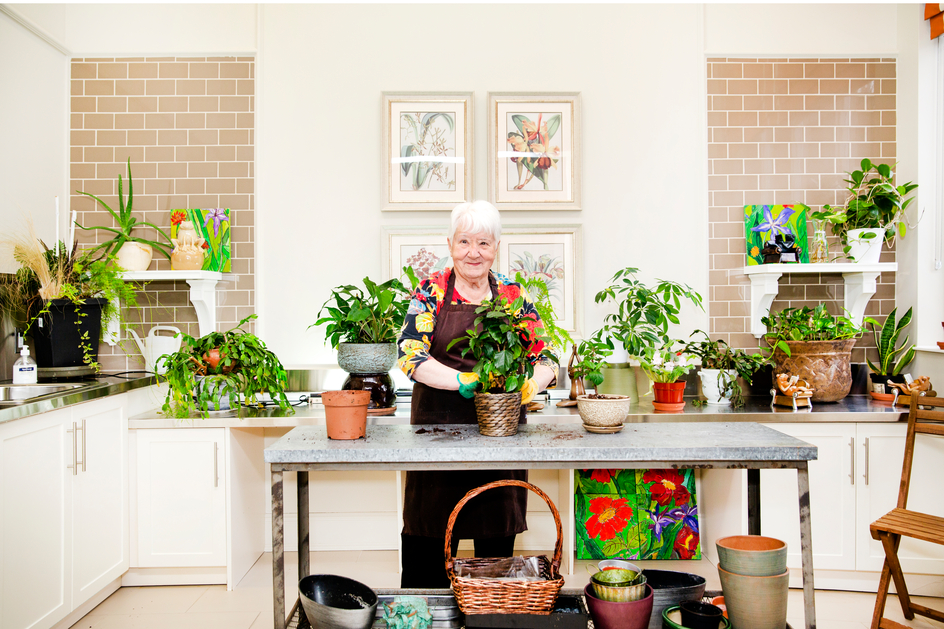 It's tough not to smile when Joyce speaks glowingly about all the things she appreciates about her life at Amica Bronte Harbour, a residence for seniors in Oakville, Ont. "The building is wonderful, we love our suite, we love the view from our apartment. The management we find very pleasant, very cooperative, knowledgeable, always ready to assist if you have a problem. All the people that work here, from the cleaners to the maintenance staff, are absolutely wonderful: friendly, accessible, helpful, accommodating — just wonderful. The service staff are as wonderful as the management is."
Once upon a time, downsizing from the family home to retirement living wasn't exactly a choice seniors were eager to make, much less endorse. With Amica leading in creating lifestyle residences that blend hospitality, care and amenities to reflect the discerning tastes and evolving needs of modern seniors, it's no wonder residents like Joyce are raving about the upsides of retirement living. "Moving here was an unanticipated joy," she says. Before the move, her husband had serious heart surgery. "We were quite happy to move because then I wouldn't have to do everything. I had been looking after him, the house, the garden, everything. It was crucial that we get out of the house — it had become a burden." Here are five reasons this resident loves retirement living at Amica Bronte Harbour:
#1: Central location
The couple chose Oakville to be closer to family, and visited seven or eight retirement options in the area. "We picked Amica because it's a beautiful building near the lake. We'd lived on the lake before so it was important to us to maintain that connection," says Joyce. "We can walk to shopping, a pharmacy, doctors and the supermarket. We have a car at the moment but I don't know how long we'll be driving. Public transportation goes right by the front door. Everything around here is bright and cheery: lots of light, elegant and everything about it is really nice. I couldn't be more pleased."
#2 Excellent activities
"I like to go to water fit classes and I use the fitness centre," says Joyce. "I'm an avid reader so I use the library and it's nice not to have to leave the building to do that, or I can take the residence bus once a week to the public library. I go to watch movies after supper whereas my husband likes watching sports in our suite. I go on excursions with the group. I'm kind of a busy person so I do all kinds of volunteer work. There's a solarium and a roof garden and I'm on the gardening committee. I'd never played cards before but I learned to play bridge and euchre so that's a whole new experience for me. You can be as busy or non-busy as you want to be, and I really enjoy keeping busy."
#3 Building friendships
Says Joyce, "We've made wonderful friends here. Many of our former neighbourhood friends were either dying or moving away. Coming here we've found a whole new group of friends and people we have things in common with. There are people here with double PhDs, people who have lived or worked in countries around the world. You can learn about anything just by talking to people!"
#4 Staying in control
"We chose to come here so that makes a big difference. People who've been sent here by their families are not nearly as happy," says Joyce, whose children were supportive of their decision. (You can download our guide to starting a conversation about senior living). "They miss their homes, their stuff, their lives. We got past all that: it was our choice to move to Amica so I think that made it easier for us. We miss the dining room suite and some of the big stuff but we brought things that were precious to us and we're content to see them, they're like old friends." Download tips on choosing what to take to senior living in our downsizing guide.
#5 Embracing a new life
"I don't miss anything about the house. We were losing our social circle, so even if I was still living there I wouldn't have my friends. When I hear people complaining about missing their old life, I say 'You know what? That book is closed. Now you've got a new book: you might be surprised by what you're going to find on the pages.' If you've got a husband or a wife, that's important. If you've got a family, that's important. The rest that you've left behind is just stuff — it's not important."
Learn more about how residents are enjoying excellent amenities, activities, flexible dining and personalized care at Amica residences. Schedule a private tour today.