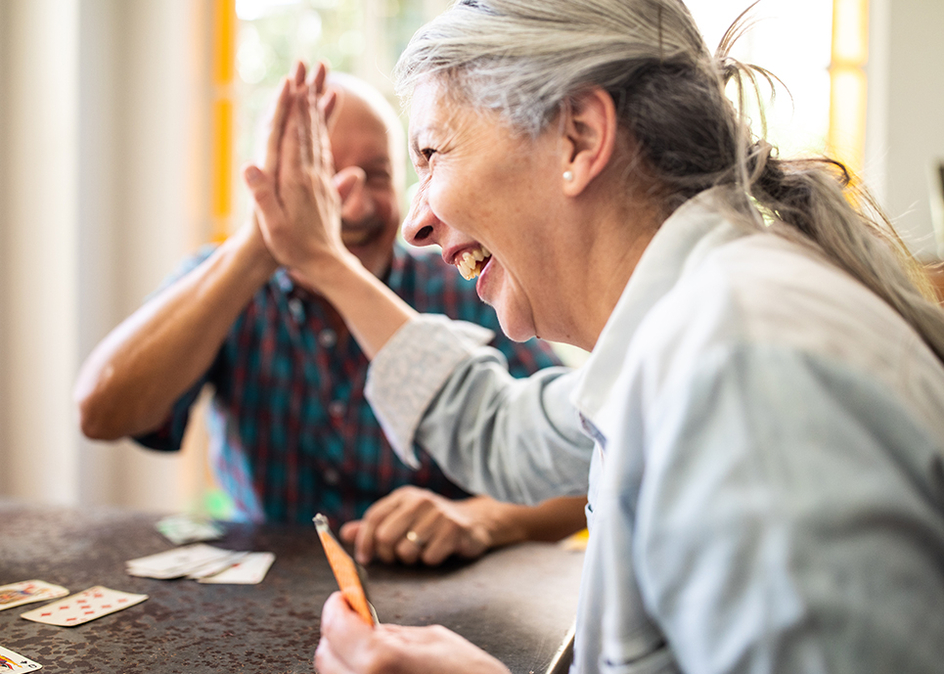 Is there anything better than laughing and spending time with friends? Social interaction doesn't just feel great — experts confirm that the power of friendship does your mind and body good, too. While losing friends as you get older is a common and difficult reality for many, seniors who make the effort to stay social reap the benefits of friendship. Friends keep us active, make us feel heard and supported and provide companionship. Social support, reduced stress, better health and self-esteem are just a few reasons why friendships are important for seniors.
"Connecting with others increases mental health and well-being, decreases loneliness, boosts motivation and stimulation and so much more," says Amy Lee, Amica's Life Enrichment Specialist. "At Amica, our Life Enrichment teams organize fun, informative and meaningful opportunities to socialize, creating a sense of belonging and connection between residents, team members, families and our community."
1. Friendships are good for seniors' physical health
Numerous studies confirm the beneficial power of friendship and social activity. Older people with social support and meaningful relationships are more likely to live longer and are at lower risk for long-term health problems such as obesity, high-blood pressure and heart disease.
2. Friends help us avoid loneliness and isolation
Thirty percent of Canadian seniors are at risk of isolation and 24 percent would like to be involved in more social activities, according to recent data. That's concerning because social isolation is linked to depression, dementia, disability, falls and other negative health impacts. One study found that isolation's impact on premature death risk was equivalent to smoking 15 cigarettes per day. Learn about the differences between loneliness and isolation and how family members and caregivers can help older adults stay connected in our article, 5 tips to combat social isolation for seniors.
At Amica, we help isolated seniors find companions and facilitate friendships among like-minded peers. As Lee says, "Our discovery process helps us find out residents' interests and backgrounds. At one residence, for instance, we invited two seniors to meet over dinner. They realized that they grew up in neighbouring small towns in England, delivered their children at the same hospital one day after each other, and their husbands were in the same field of work. They became inseparable."
3. Social connection reduces stress and boosts cognitive health
Friends offer caring, support, a listening ear and assistance, plus they encourage us to have fun, do new things and learn. These things decrease stress and increase our ability to cope when troubles do arise. It's no surprise, then, that older adults who socialize tend to enjoy better cognitive function and may even have more gray matter in their brains, according to research published in the Journal of Gerontology.
Another study from University College London found that 60-year-olds who only saw one or two friends every few months were 12 percent more like to develop dementia than those who visited friends almost daily.
To enjoy the benefits of friendship, of course, it helps to know how to be a good friend in return. Reaching out regularly, listening non-judgmentally, being supportive and spending time together can help you maintain healthy friendships new and old.
4. Strong social networks enhance your self-esteem and personal development
Friendship and being part of different social groups gives us a sense of belonging and purpose,
which researchers link to self-esteem. Plus, spending time with other people exposes us to new information, activities and different points of view, which expand our interests and opportunities to grow as a person.
If you're looking for new ways to connect with people, consider volunteering, taking a class, joining a community group or reaching out to neighbours and acquaintances and going for a coffee or a walk together.
5. Friendships can be as important as family
Family members and caregivers offer crucial support, yet these relationships can also be a source of tension and obligation. One study from Michigan State University surveying 280,000 older people determined that friendships were more reliably strong predictors of health and happiness than family relationships.
6. Friends support us through tough challenges and grief
Support and friendship can be particularly vital to healthy aging after a difficult setback, divorce or the death of a spouse or loved one. A 2021 study in the PLOS ONE journal, for example, found that both in-person and online support from friends was highly beneficial in improving quality of life for bereaved people.
Mobility challenges and proximity can become barriers for seniors to connect with friends, so Amica ensures that residents stay in touch. Learn about how Amica hosts game events and socials that include friends and local seniors in the community in our article, How Amica builds a connected community.
7. Friends may encourage healthy behaviours
While we are all responsible for our own lifestyle choices, research indicates that friends and neighbours influence us. James Fowler, a professor of global public health at the University of California, has noted that being friends with people who lose weight or exercise increases your likelihood to do the same. Spending time with people who take care of their health, volunteer and stay socially connected can motivate us to make similar choices.
8. Friends make us happy
It's a simple and seemingly obvious fact. Clearly there are many health benefits of friendship for seniors, and it's also a main driver of happiness and well-being for older adults. One study from the Sol Price School of Public Policy determined that high-quality, healthy friendships are the most beneficial. That underlines the importance of putting in the work to hold on to true friends, in addition to staying open to meeting new people, especially if you lose friends. At Amica, we understand the importance of social connections for seniors, from facilitating new introductions to staying in touch with long-time pals.
"We create experiences for seniors that build new and old friendships, confidence, connection, opportunity and purpose," says Lee. "When we learned that two friends of 20+ years wanted to move into a new Amica residence, for example, we arranged to have their suites directly beside each other. The team then invited the two friends to join our grand opening event to represent the community and cut the ribbon!"
Book a virtual or in-person tour to find out what it's like to enjoy living on your own terms in an elegant Amica residence with outstanding dining, amenities, activities, senior care and safety measures.