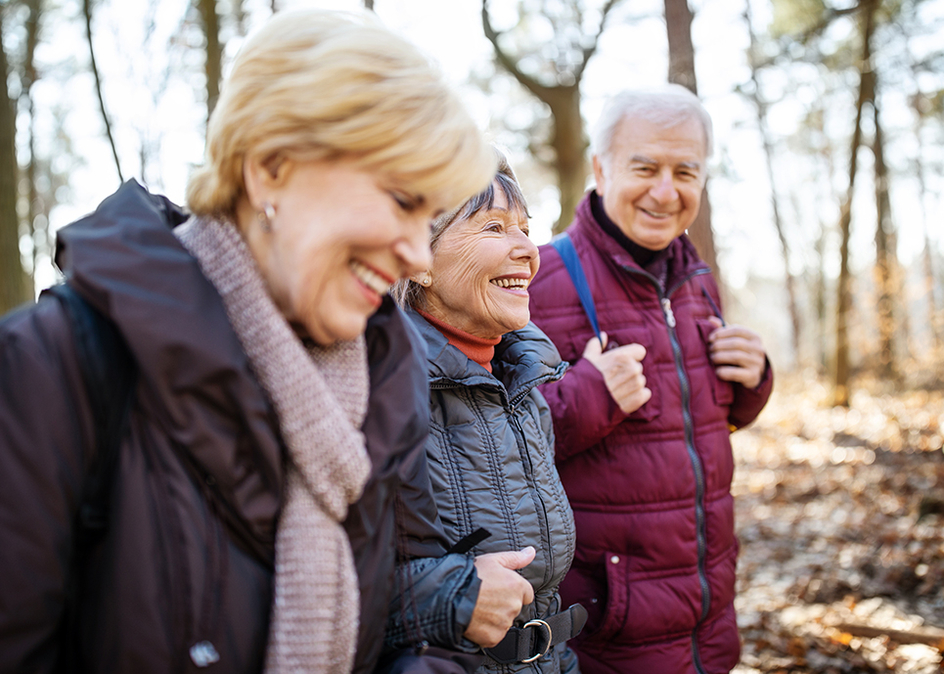 Wondering how you can boost your brain health and lower the likelihood of Alzheimer's disease and dementia? It can be as simple as taking a 20-minute walk, calling a loved one or playing a game of Bridge — whether you're in your 60s, 70s or your 80s. Today, researchers and senior care experts agree that socializing, physical activity, playing games, learning and doing brain exercises are some of the best cognitive activities to reduce dementia risk for seniors.
"At Amica Somerset House, we switch up exercise routines to keep residents thinking and play brain games such as sudoku, trivia and cribbage," says Terry Wong, a Life Enrichment Coordinator. "Activity and learning boosts neurological connections, and the social aspect is motivating."
What is dementia?
While most older adults experience some age-related memory lapses, dementia isn't a normal part of aging. Dementia refers to brain function symptoms caused by different disorders. It's a chronic condition that becomes more severe over time, resulting in memory, judgement and language declines. Dementia symptoms can also involve changes in behaviour, mood, physical coordination and muscle control. Many people wonder what the difference is between dementia and Alzheimer's disease, when in fact Alzheimer's is a type of dementia, along with Lewy body disease, vascular dementia, frontotemporal dementia, mixed dementia and Korsakoff dementia.
Can you prevent Alzheimer's disease and dementia?
At this time, there is no proven treatment or method for preventing dementia. Understanding risk factors may help you manage its likelihood, however. Risk factors don't cause dementia, but they do increase the chances of developing the condition. Some can't be controlled, such as if you're over 65, female, have certain genes or a condition that increases the likelihood of dementia, such as Down syndrome, chronic kidney disease, HIV, multiple sclerosis or Parkinson's disease. The majority of dementia types are not inherited, but some cases of Early-Onset Alzheimer's disease or frontotemporal dementia may be hereditary or genetic.
Which dementia risk factors can you control?
The Alzheimer's Society of Canada notes that about 40% of dementia cases are linked to risk factors that you can manage, such as obesity or isolation. Ways to reduce your risk of dementia and cognitive decline with age include:
Staying active (while avoiding sports that increase the likelihood of head injuries or falls)
Quitting binge drinking and smoking
Being social and avoiding isolation
Lowering stress
Taking care of your hearing
Learning and challenging your brain
Treating depression and anxiety
Getting 7-8 hours of sleep a night
Maintaining healthy blood pressure, cholesterol and blood sugar levels
Eating healthy and avoiding obesity
Play your way to better brain health
If you're trying to avoid dementia and cognitive decline, consider playing a game of Scrabble or doing mental exercises on Luminosity. Challenging solo and group games rely on problem-solving skills, counting, memory and other strategic and cognitive skills that benefit your neurons. Frequency matters, too. A study of 65 to 89-year-olds from Simon Fraser University determined that playing games, doing hobbies, baking and spending time with friends all lowered dementia risk.
"Our study results show that cognitive decline can be reduced through a combination of active, daily activities — things like using a computer and playing word games," said study co-author Sylvain Moreno, an associate professor at SFU's School of Interactive Arts, in a press release. "With age, your choice of daily activities is more important than your genetics or your current cognitive skills."
Work your body and your brain
Learning some new Zumba moves, trying a Qigong routine on YouTube or doing a walking meditation are all ways to combine dementia-fighting exercise and learning. Discover how exercise reduces dementia risk, boosts blood flow and enhances cognitive function in our recent article, 16 ways for seniors to boost brain health.
"Learning something new is almost always rewarding," says Wong. "Many residents try our Cardio Drumming class even though they have no musical experience, for instance. After a short time, they are usually surprised how well they've picked up the skill, even when I switch up the speed or cadence of movements."
Make plans with friends and family
Did you know that social isolation can increase dementia risk by as much as 50%? (Read 5 tips to combat social isolation for seniors to learn about other health impacts and prevention strategies.) Togetherness pays, so go ahead and bake cookies with a loved one, meet a pal for dinner or do a crossword puzzle with your spouse to give your brain cells a jumpstart.
At Amica, residents enjoy some of these activities to reduce dementia risk, among others:
Mastering new art techniques inspired by famous Canadian painters;
Trying to beat each other's Wordle scores;
Memorizing the fun-yet-complex steps of line dancing;
Joining the walking club and hiking local conservation areas together;
Playing hangman, family feud, chess and other social games;
Engaging in learning classes, from beekeeping to meditation;
Learning to play poker;
Finding out how to make elegant recipes and artfully arrange flowers; and
Volunteering at fundraisers for local causes.
Discover even more ways that we exercise our brains (and you can, too), in our article, 8 mind-stimulating activities to stay mentally sharp as you age.
"It's all about being social, getting new perspectives and interacting to stimulate the mind," says Wong. "We also have a program to help anyone who is feeling isolated find companions."
Slowing cognitive decline
Engaging activities benefit seniors who have been diagnosed with dementia, too. Download our Memory Care Guide to find out how Amica's best-in-class Memory Care programs offer fitness, meaningful crafts, social events, live entertainment, excursions and more to bring seniors joy and purpose while easing the progression of Alzheimer's disease or dementia.
Book a virtual or in-person tour to find out what it's like to enjoy living on your own terms in an elegant Amica residence with outstanding dining, amenities, activities, senior care and safety measures.