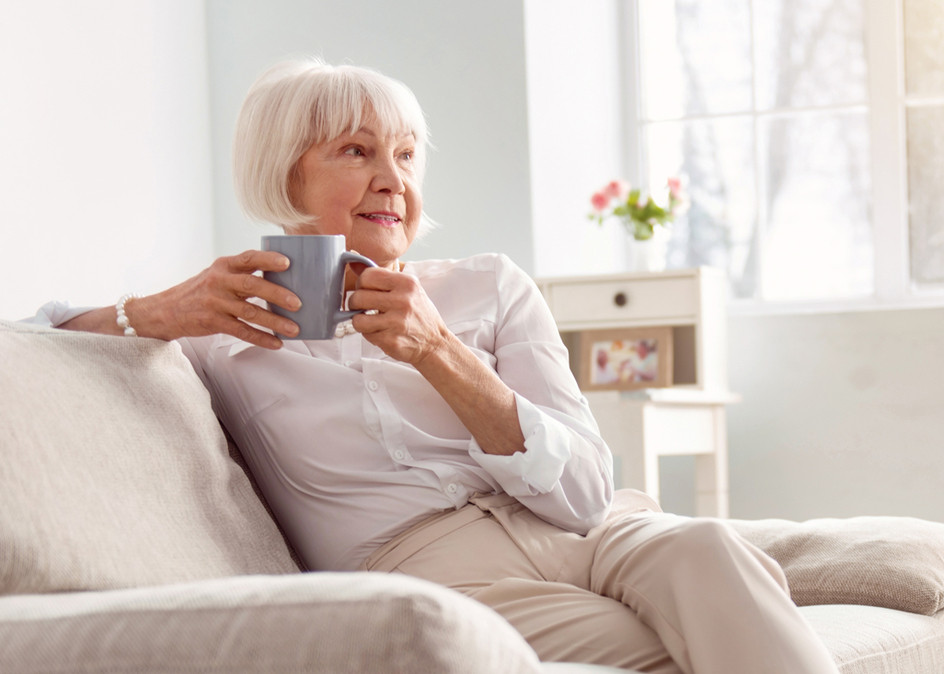 Are you interested in helping a senior age at home for as long as possible? One of the best things you can do is help reduce the risk of falls by improving safety and removing potential hazards. Find senior safety tips and tricks for outdoor and indoor spaces — including hallways, living rooms, kitchens, bathrooms and bedrooms — in this home safety for seniors' checklist. It's one thing to provide basic fire safety with smoke and carbon monoxide detectors; it's another to learn about safety and accessibility equipment and discover interior design changes that enhance senior mobility and reduce falls. After all, 50 percent of falls that lead to hospitalization among seniors happen at home. When seniors can't properly recover from a fall, which is harder as our bodies age, they may lose their independence.

That's one of the reasons we launched this Home Safety for Seniors Guide, complete with safety-first home decor advice, information on the latest senior tech, monitoring systems and security devices and guidelines to create safe spaces for seniors with low vision, hearing impairment and dementia. Download the full guide today.
Be proactive and use this room-by-room checklist to make your space more accessible and prevent injuries, based on expertise from the Public Health Agency of Canada, The Canada Safety Council and other sources. Keep in mind that many of the tips in specific sections below apply to your entire home: removing area rugs is a good idea in all rooms, not just hallways, for instance. You'll find many helpful safety products in your local seniors' safety or medical supply store. Be sure to consult with your healthcare team to find out about additional design and safety recommendations based on your individual needs and assistive devices.
Improve outdoor safety
Install outdoor lights for each entrance and along pathways
Install railings and textured surfaces on outdoor stairs, pathways and decks to prevent falls
Repair uneven steps and walkways and keep them clear of leaves, snow and clutter
Salt and remove icy patches on your porch, steps and walkways
Download our Home Safety for Seniors Guide for information about indoor and outdoor home security systems designed with seniors in mind.
Boost safety in entrances, hallways and stairwells
Install additional lights for improved visibility, where needed, and switches at the bottom and top of stairs
Install and test smoke and carbon monoxide detectors on each level of the home and mark your calendar to replace the batteries every six months
Choose non-glare, slip-resistant flooring throughout the house
Remove area rugs or throw rugs throughout — they are tripping hazards
Add a chair or bench by the front door to sit on while putting on or taking off shoes
Fix broken stairway steps and railings and replace torn carpets with non-slip rubber treads
Remove items on the floor and unnecessary furniture to clear a path for walking and mobility devices.
Update living rooms and other common spaces for safety
Keep a list of emergency phone numbers in all rooms and on all floors of the house
Coil or tape down electrical cords, cables and wires throughout the house
Keep space heaters away from flammable materials and substances
Replace outdated extension cords with new ones or indoor power bars with certification marks, such as CSA, cUL, or cETL, to prevent overloading electrical outlets
Replace candles with battery-operated candles or electric lights
Put stickers or bright tape on glass doors leading to the backyard or balcony.
Enhance kitchen safety
Keep a first aid kit in the kitchen or bathroom
Install a fire extinguisher on a wall away from the stove, and check it monthly to ensure it's in good working order
Keep staple foods, canned goods and pots and pans in a location between knee and shoulder height
Store heavy items in lower cupboards and light items in higher cupboards
Invest in a high-quality stepping stool with a safety rail
Keep oven mitts within reach of the stove – these are safer than potholders.
Improve safety in bathrooms
Plug in a night light for evening bathroom trips
Set the temperature of your water heater to 49°C (120°F) and install an anti-scald mixing valve
Test the water temperature with your elbow before getting into the bathtub or shower
Install properly placed and well-anchored grab bars to your shower or bathtub wall and non-slip strips or stickers to the floor
Buy a bath seat for the shower if standing/balancing is a challenge
Ensure that bathmats close to the shower or tub have a rubberized backing or are secured in place
Buy a raised toilet seat and properly install a well-anchored grab bar by the toilet.
Increase bedroom safety
Install and test smoke and carbon monoxide detectors outside of bedrooms and sleeping areas (or inside if you keep bedroom doors closed while sleeping)
Keep a phone and a list of emergency contacts beside the bed
Install light switches near the entrance of bedrooms (and by the bed, if possible)
Place lamps and assistive devices like walkers close to the bed so they're easy to reach
Plug in a night light before you go to bed or use a model that turns on automatically in low light
Clear any obstacles or tripping hazards between the bed and bathroom
Consider buying a new bed with short bed rails and a safe height that makes getting in and out easy.
Update laundry rooms, garages or basement workrooms for safety
Install additional lights for increased visibility
Remove leftover lint in clothes dryers and exhaust pipes
Place heavy items on lower shelves and use a stable stepping stool with a safety rail, if required, to reach things
Safely store tools, equipment, chemicals, and flammable materials (propane tanks should be stored outside for example, not in a garage or basement).
Safety by design



If senior proofing at home seems daunting and you're already thinking about your future social and care needs, you may want to consider moving into an Independent Living or Assisted Living suite at Amica. Aside from the connections, amenities and outstanding dining that you'll enjoy, our beautiful residences are purpose-built with safety in mind. From wide hallways to excellent lighting to supportive bathrooms, Amica residences are thoughtfully designed for your current and future care and mobility needs. Plus, the sooner you arrive, the sooner you can take advantage of engaging activities, strengthening exercise classes and fun events that will boost your emotional and physical well-being for years to come.
Book a virtual or in-person tour to find out what it's like to enjoy living on your own terms in an elegant Amica residence with outstanding dining, amenities, activities, senior care and safety measures.