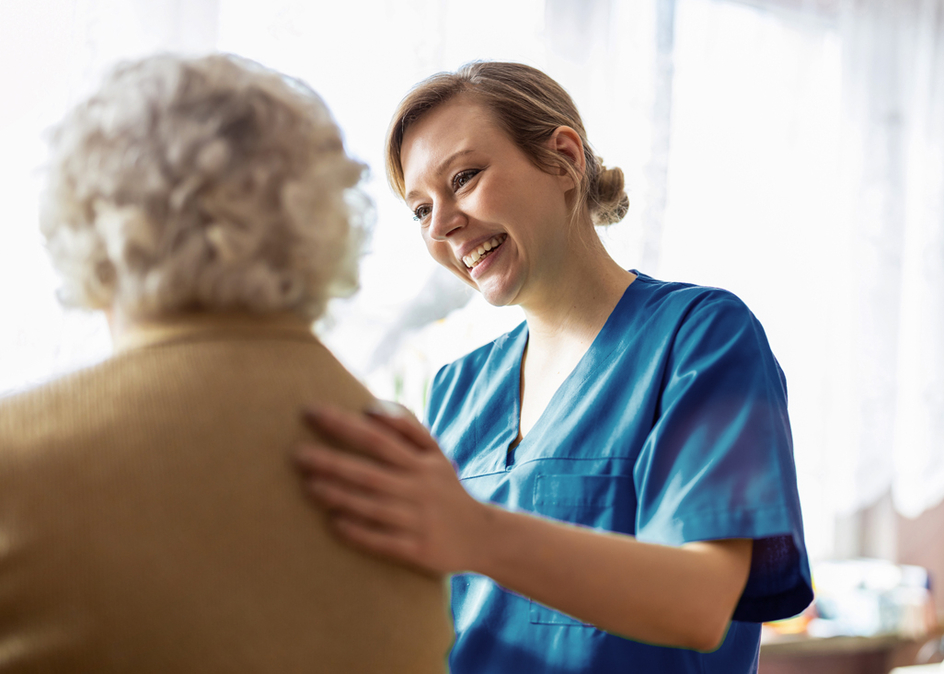 When you love a senior with Alzheimer's, you want to find senior care that offers professional and specially trained staff where your loved one will have an excellent quality of life with social opportunities, activities and amenities they enjoy. Researching the wide variety of Memory Care options available can be overwhelming, since there's much to choose from and consider. To help, try these tips for finding the right Memory Care community that will make your parent or spouse feel cared for, happy and safe, based on expert advice and one family's personal journey.
Mara knew that her mom was showing signs of dementia. Her 86-year-old mother — Marg, a lively former graphic designer and animal welfare volunteer in Mississauga — had been diagnosed with cognitive impairment, likely due to Alzheimer's. She was living alone in her home of six decades but had started losing weight and was often confused and frustrated. She was leaving the door unlocked, calling family in the middle of the night, and didn't like dealing with visiting home care workers. It was clearly time to move to a safe place with care. Mara and her family toured several retirement residences, but knew they'd found the right fit as soon as they visited newly built Amica Georgetown.
"It was just so warm and inviting," says Mara. "As we toured the building, we felt strongly that Mom could be happy there, and that has proven true. The staff are such kind and loving people, who show great compassion and respect to the residents. So that's been a big load off my mind. I no longer have to run from house to house doing errands anymore — I can just go and enjoy visiting with Mom."
Tip 1: Research different senior care options
Mara didn't hear much about dementia care from her mom's geriatrician, so she attended some helpful Alzheimer's Society seminars. She learned a fair bit about long-term care but less about private retirement residences, so she recommends doing your homework to find about all the dementia-care options in your region.
The following resources can help you learn more about how dementia may progress, how Memory Care can help, and available residences with dementia care in your area:
Tip 2: Choose the right Memory Care location
Senior living options abound in Mississauga, Milton and Burlington, but ultimately Mara chose Amica Georgetown because it's a short drive from her home. Her mom also appreciates the beautiful view of the woods and the creek from the Memory Care terrace.
"The building is beautifully situated in a mature area of Georgetown, and has a comfortable, small-town feel," says Mara, who recommends a homey retirement residence. "The area reminds my mom of her backyard and old neighbourhood."
Once you've narrowed down your search to a few Memory Care residences that could be a fit, organize tours armed with the right questions. For instance, are staff trained to provide specialized cognitive aging care, including immersive training to help them understand how individuals with dementia experience the world, as Amica team members are? You'll also want to ask about costs, safety, amenities and dining options and design features that help enhance seniors' mobility and lifestyle. Read Questions to ask on a Memory Care tour to find out more.
Tip 3: Ask about Memory Care activities for seniors
Marg likes to help others and stay busy, chatting with fellow Memory Care residents, participating in art or exercise classes and attending musical singalongs, says Laura Casey, the Memory Care Coordinator at Amica Georgetown.
Many residences offer quiet activities like bingo and card games, but Amica Senior living also organizes engaging recreation options such as memory-box making, music therapy and excursions. These boost cognitive stimulation and coordination and offer joy and friendship. (Learn more about why meaningful activities are so important for seniors living with dementia.)
"We take scenic drives and get treats at the local ice cream parlour," says Casey. "Marg is a big animal lover, so she really enjoyed patting the horses on a recent visit to a horse farm."
Tip 4: Ease the transition into Memory Care
Mara had initially considered starting her mom in Assisted Living, but based on their assessment, the team recommended Memory Care from the outset. (Read more to understand the differences between
Assisted Living
and
Memory Care
.) That worked out well, but Mara still helped Marg through the initial transition period by reminding her that it was a trial, and that they wouldn't sell her house until they knew it was a good fit.
"I said Mom, you agreed to try it,' and so she slowly started to get involved in activities and meet a few people," says Mara. "The staff learned what makes her tick and that she likes to be needed. So now she's the one encouraging a new resident to come to the common room."
Tip 5: Make your Memory Care visits meaningful
When visiting, Mara has learned how to maximize engagement and minimize anxiety for Marg. "It took a while, but I stopped correcting her or asking what she had been doing, because she couldn't remember, and it agitated her," she says.
Marg enjoys the seasonal decorations and artificial flowers and plants that Mara brings for her room, as well as new photos to pin on her memory board. "I bring photos of when she was young, of the family when we were kids, and of memorable events over the years," says Mara. "Plus, I print out photos from the Amica app of events and excursions and write out what she was doing and who she was with. Mom may not recall what she did during the day, but the photos remind her of good times and give her reassurance. As long as she's happy and content, that's a good day."
Casey agrees that bringing photos or a picture book can uplift even non-verbal seniors with dementia. "If your loved one used to go to Scotland every summer, for instance, look at a photo book about Scotland together."
Get even more strategies for visiting seniors with dementia so that you're prepared for a positive and supportive get together.
Tip 6: Stay informed and connect with other families affected by dementia
Amica Georgetown and other Amica residences organize monthly support meetings for family members and caregivers of Amica Memory Care residents. "We share information on different topics and talk about how they can best communicate and connect with their loved ones," says Casey.
Mara found the meetings particularly beneficial during the pandemic. "We would meet on Zoom, get helpful info about dementia and also get to talk to other families," she says.
Tip 7: Avoid caregiver burnout
Casey understands why family members want to keep their senior loved ones at home as long as possible but recommends keeping the focus on thriving and not just surviving. (Read "How to prevent caregiver burnout" to find out more about the triggers and symptoms of caregiver stress, plus get ideas to offset fatigue and tension.)
"My best advice is to plan for care before you're completely burned out," says Casey. "We often find that people wait until the situation is dire and then their relationships are diminished, because they can't handle it anymore. It's always harder at that point."
As for Mara, she's grateful that she found Amica Georgetown for Marg early on. "It's been almost two years since she moved in, and it's been so good for mom and the family."
"It's been the greatest relief to me to know that the fundamentals are taken care of," she adds. "She's safe, cared for, and responds well to her regular routine. The staff are really special people. They're always engaged with the residents, whether chatting, braiding someone's hair or doing a puzzle, and it's lovely. Mom and I really treasure our visits, often enjoying a hot chocolate downstairs and saying hi to people. There's always something going on."
Book a virtual or in-person tour to find out what it's like to enjoy living on your own terms in an elegant Amica residence with outstanding dining, amenities, activities, senior care and safety measures.