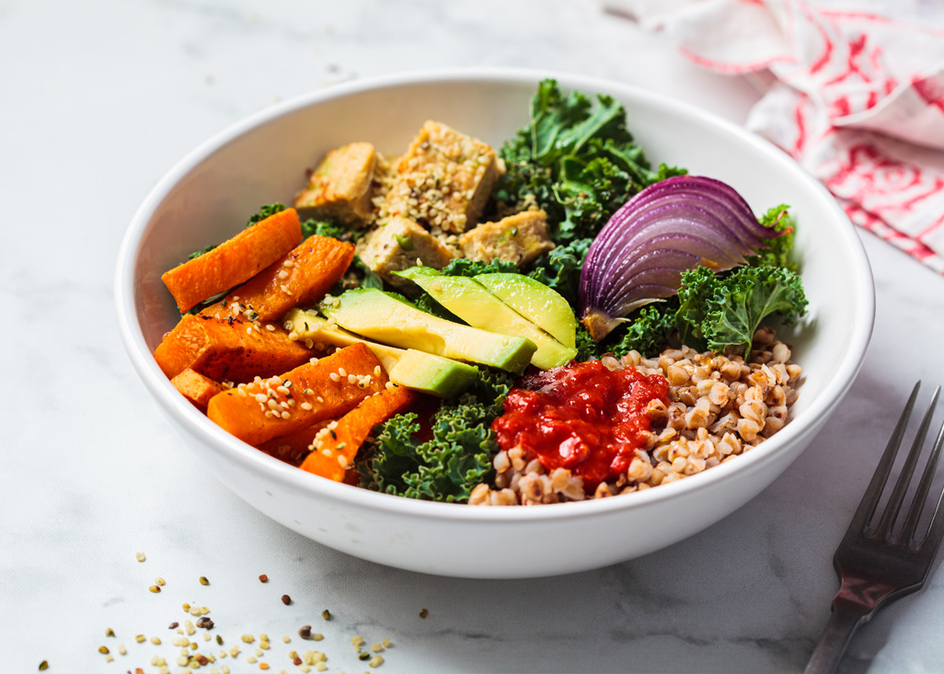 Have you taken a closer look at Canada's Food Guide since it was updated in 2019? A LOT has changed since these national nutrition guidelines were launched in 1942 and even since the 2007 reboot. During Nutrition Month and beyond, we know that smart food choices help seniors stay energized while helping reduce bone and muscle loss, heart disease and type-2 diabetes, so there's no better time to take a fresh approach to your daily meals. Try some of these nutrition tips for seniors today.
TIP 1: Really savour homemade foods
An interesting twist in the January 2019 Food Guide is the focus on eating slowly and mindfully, cooking more and consuming fewer processed foods that are often high in unhealthy sodium, saturated fats and sugar. So, choose to enjoy some homemade soup instead of Starbucks treats or Tim Hortons or McDonald's combos.
TIP 2: Eat plenty of fruits and vegetables
Yes, you've definitely heard this one before. What's different about the Food Guide now is that instead of a specific number of daily servings, Health Canada recommends a balanced plate approach — so half of each meal should be veg and fruit. Add banana, mango, apple slices to breakfast, snap peas or cucumbers to snacks, roasted cauliflower and sweet potato to dinner and try new vegetable-forward recipes.
Gary McBlain, National Director of Culinary Services at Amica, loves creating veggie-rich dishes with seasonal local produce for residents, for instance. "Instead of a whole-wheat sandwich for lunch, we'll offer a power bowl filled with kale, avocado, brown rice and nippy cheddar."
That's the beauty of living at Amica, where you get to choose between 112 different entrees, 56 soups and 56 desserts served each month. All Amica menus focus on healthy eating for seniors and are dietitian-vetted and Red Seal chef-prepared, so you know each dish will taste amazing and meet your nutritional needs.
TIP 3: Buy products with whole grain in the ingredients list
A quarter of your balanced plate should be grains, according to the food guide, but make sure they're good whole grains. So, swap the chocolate chip muffin for blueberry bran, make sure that your bread has "whole grain" rather than "enriched flour" at the top of the ingredients list and try quinoa, whole grain pasta or brown rice instead of white pasta. It's worth the switch: the fibre in whole grain can reduce your risk of colon cancer, type-2 diabetes, heart disease and stroke.
TIP 4: Choose lean or plant-based proteins over fatty, fried or skin-on meats
Do your heart a favour and fill the final quarter of your balanced plate with healthy proteins such as nuts and seeds, beans, lentils, peas, eggs, fish and shellfish, lower-fat dairy and soy products. Eating a black bean burrito, scrambled eggs or grilled salmon in lieu of fried chicken or battered fish means you'll consume fewer harmful saturated fats. Amica residents love McBlain's heart-smart three-bean salad with mushrooms, extra-virgin olive oil and vinegar, for example.
TIP 5: Drink more water and choose tender foods
Our sense of thirst can decline as we age, so keep a drinking glass nearby to remind you to stay hydrated throughout the day. Sparkling, still and unsweetened, flavoured waters are all healthier than sugary or alcoholic drinks. Preparing a wide variety of tender dishes with zesty sauces can also help offset some of the eating challenges seniors face, such as dry mouth, diminished taste and difficulty chewing. (Find out more about this and how to manage specialty diets in our articles, Fabulous food for seniors and Chef's secrets for delicious special diets for seniors.)
"There's also a new movement toward having smaller portions of real foods versus specialty products, like enjoying a half scoop of regular ice cream versus two scoops of diabetic ice cream," says McBlain.
TIP 6: Make good food and memories together
If you haven't already embraced the pandemic trend of baking banana bread and homemade sourdough loaves together, there's no better time to start. At Amica, seniors love creating and decorating seasonal treats in craft kitchens during activities or chef demonstrations. (Check out our Facebook and Instagram pages to see what you could be experiencing.) It echoes McBlain's philosophy of serving small sweets made with high-quality ingredients, as well as the new Food Guide's suggestion to cook and eat more often with loved ones.
For older adults eating alone, it can be easy to cut nutritional corners, so consider a meal delivery service like Goodfood or HelloFresh. Or alternate cooking nights with a neighbour, dine on low-fat takeout with a friend or eat with family. (Even if it's a virtual dinner party over video call.)
TIP 7: Surprise your taste buds
Researching new recipes online can be a real source of healthy diet inspiration. It's also a great way to make sure that you're getting a range of different foods with the vitamins and minerals seniors need each day.
McBlain and his teams love to mix up the menus with dishes like lamb fricassee with lentils, shrimp scampi and penne with sausage, spinach and mushrooms. All Amica meals are prepared by Red Seal chefs, who revel in the challenge of making exceptional cuisine that tastes great and meets Food Guide requirements, along with options for diabetic, vegetarian, gluten-free and heart-healthy diets. Actually, if you're looking for a break and tired of cooking, an Amica respite stay could be just what the dietitian ordered.
Schedule a tour to learn more about inspiring lifestyles for seniors including exceptional and creative dining, amenities, activities and flexible, personalized care.