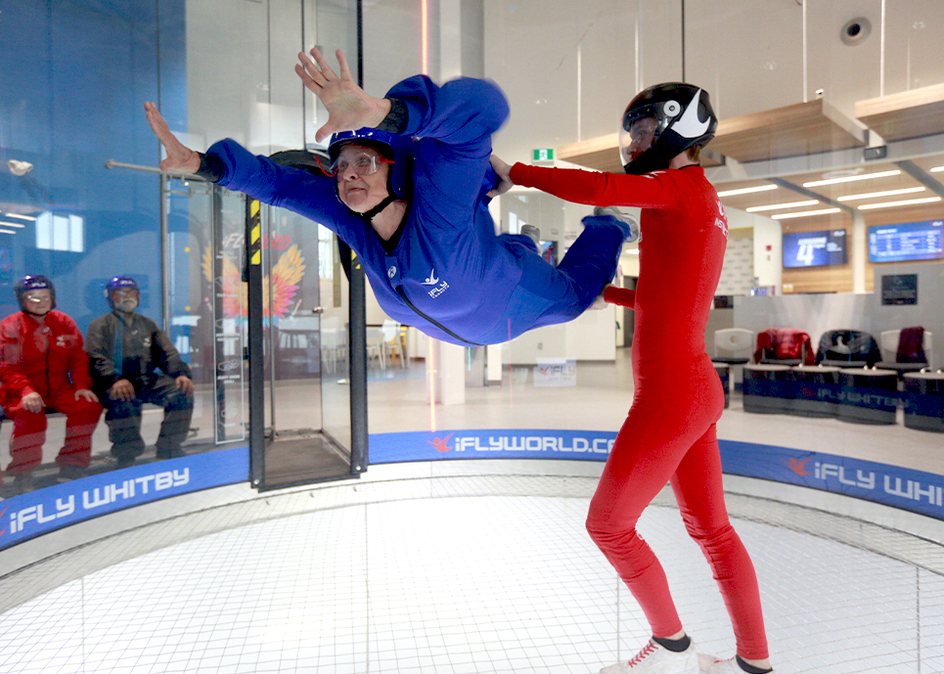 Making the move to senior living is a big decision. We understand many considering the transition would ideally dip their toe before jumping headfirst into this new life chapter. At Amica, we're trying to make this a reality by giving future residents a window into life at Amica as if they're already a part of our community.
In 2019, two team members at Amica Little Lake created "Worth the Wait." The program invites seniors on our waiting list — or those who aren't quite ready for the move — to engage in residence activities that connect them with current residents and team members while learning more about life at Amica.
Residence teams also plan exclusive events for "Worth-the-wait-ers," in which local seniors enjoy high tea, garden parties, elegant dinners, lunch-and-learn presentations, holiday celebrations, day trips to local attractions and more. This way, by the time seniors move in, they're already familiar with Amica's culture; in many cases, they've already built relationships.
Some residences, such as Amica Unionville, have taken the program a step further. They've created a "bucket list" of activities that future residents have requested.
There's an active effort to organize these activities and tick off as many items as possible. So far, groups have participated in thrilling adventures such as indoor skydiving, treetop trekking, zip-lining, visiting Ripley's Aquarium, and braving the CN Tower Edge Walk — with many more to come!
Seniors feel seen and special when participating in excursions specifically planned for them. It's helpful to see and anticipate the personalized support and enriching lifestyle offered at Amica.
Amica Unionville's Liz Coome shares how the "Bucket Club" changed her life
"At the age of 72, I find myself in a different stage of life and looking at establishing new lifestyle goals. In the past few years, I was widowed, sold my house and moved to a condo. The many changes, and steep learning curve of taking responsibility for many things I had never dealt with, was overwhelming.
One of the most important things that helped me through this difficult period was the Amica Bucket Club.
I was always very shy and not much of a risk-taker or adventurer. On a local senior's club trip, sponsored by Amica, I met the amazing Disiree who told us about the bucket-list adventures [she helps create as part of the Amica team].
I signed up for the indoor skydiving and thought I could always cancel. Instead, I went and met 12 people at Amica. We set off … already feeling a bond. I went first, and as I went up in the air, for the first time in my life, I felt a sense of exhilaration. I could see my group waving at me, cheering, and enthusiastically sharing in my experience. Then, for the first time since I became a widow, I felt a momentary sense of joy.
Much to my surprise, I discovered I wanted to seek that exhilaration again, and, most importantly, that I wanted to find things that would bring me more joy. It was a turning point in my grief, and my life. I never knew there was a risk-taker inside [of me].
Instead of saying no to many things I was invited to do, I started saying yes and decided to just see what happens. Disiree coordinated trips to do treetop trekking and zip-lining, Maid of the Mist, 1,000 Islands cruise, and the CN Tower Edge Walk. I did them all!
Regardless of who came to each activity, I felt part of a group of friends. The photos of each adventure provided me with an opportunity to reach out to friends and share moments in my life that clearly reflected a desire to create a fulfilling and interesting life for myself. Everyone would send back uplifting and supportive comments, which helped me sustain very important social connections.
I would not have tried most of these adventures on my own, and the coordination made a huge difference in my participation. All I had to do was show up and enjoy! I have not found any other group that provided these types of adventures and this level of organized support. I will always be grateful for these activities, and I look forward to continuing my life as part of the Amica family."
If you're interested in joining our Worth-the-Wait program, please contact your nearest Amica location.