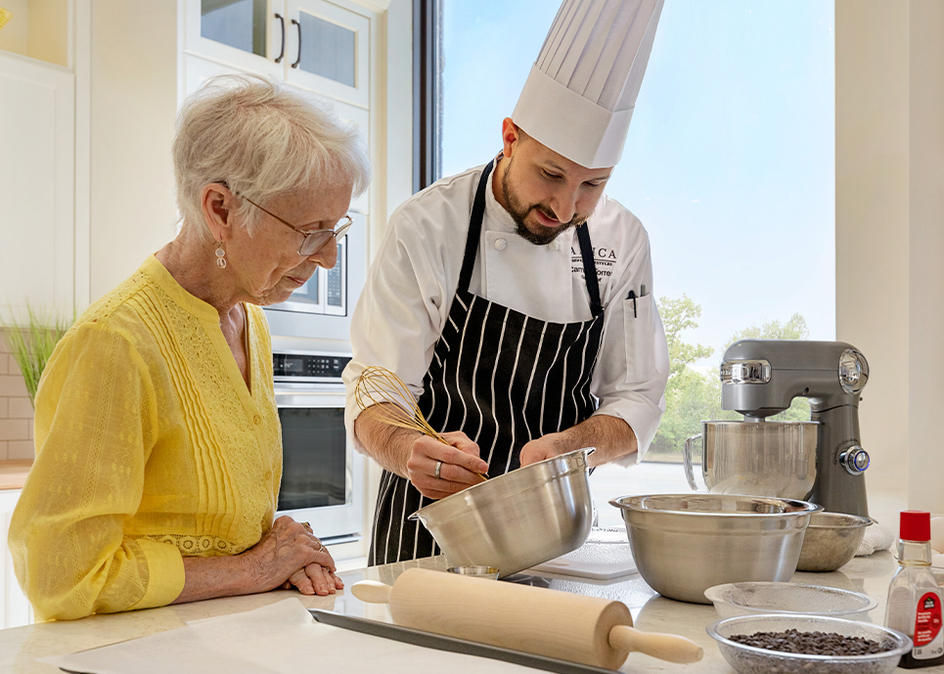 "What's the food like?" is a common question from prospective Amica residents — and for good reason. Food and nutrition play a significant role in our lives, and it can be a big adjustment for seniors to transition from preparing their food, to having meals made for them.
How important is the culinary experience at Amica?
Amica places special emphasis on elevating the resident dining experience through its culinary program, with attention to taste, presentation and the vitamins and minerals needed for a healthy life.
Ahron Goldman, director of culinary services at Amica Riverside, explains, offering an example: "Dishes like meatloaf bring back memories for people as comfort food, and that's very personal to everyone in different ways."
Every residence kitchen is managed by a team of on-site chefs who use fresh ingredients to prepare delicious, dietitian-approved meals for discerning palates and special diets.
What's more, the culinary teams make a point of taking residents' thoughts and preferences into account through official food councils or forums.
What's a food council, and how does it improve dining at Amica?
At Amica Riverside, the food council is made up of the director of culinary services and five to six residents who discuss the following at monthly meetings…
resident comments, both compliments and areas for opportunity are gathered through in-person interactions
seating, service, ambiance and wait times in the dining area
monthly tasks — for leadership, kitchen or dining-room teams — to ensure changes are made based on feedback
Afterward, meeting minutes are posted for residents to see, building trust and showing comments are taken seriously.
How have Amica Riverside food council meetings improved culinary experiences?
Past comment: Residents shared food they enjoyed, including glazed duck leg, portobello mushroom crêpes, coconut curry chicken, seafood Newburgh, burgers, eggs benedict and stir-fry.
Action: A plan was made to prepare these resident favourites more often.
Past comment: Coffee was not always hot enough.
Action: Leadership coached dining staff about brewing times and quantities so coffee is always fresh.
Past comment: Meatloaf was not always well-received.
Action: The recipe was altered, and the new versions are being enjoyed.
The attention-to-detail pays off as residents at Amica Riverside often thank the culinary staff for their excellent dishes, cultural cuisines and diligent effort to please taste buds at every meal.
Other residences have a similar feedback process — contributing to Amica's reputation for an exceptional, Red Seal-standard dining experience.
Now, we just have one question… What's for dinner?!

Good food prepared well is important at Amica. Learn more about eating right by reading our complimentary "Guide to Healthy Eating for Seniors" today.