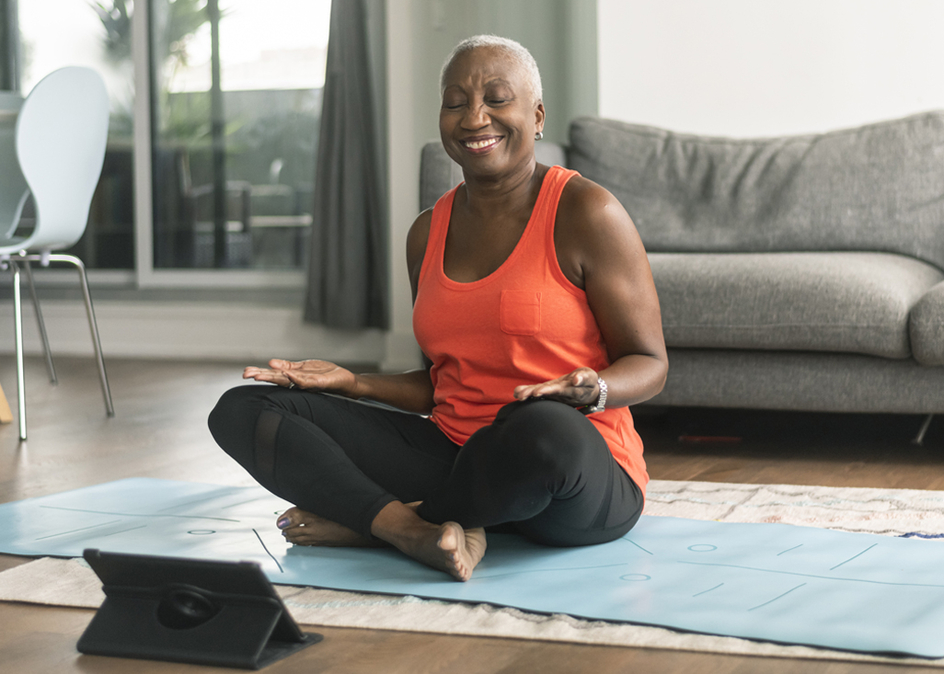 Winter weather conditions and COVID-19 stay-at-home advice means there's no better time for seniors to exercise indoors. (February's Heart & Stroke month reminds us how vital it is to maintain our health, too.) At Amica, we've been developing innovative virtual and distanced senior fitness programs including stretches, yoga, aerobics, cardio and more to boost health and social connection – moves that seniors and caregivers can definitely try at home.
"Maintaining functional fitness is key for seniors to sustain their confidence and independence," says Ashley Sumler, Amica's Manager of Life Enrichment, noting that Amica's personalized approach helps residents reach their goals. "For some people, that's being able to dance with their granddaughter at their wedding. For others, it's having the mobility to get on the shuttle bus so they can get to appointments."
Exercise is also customized to physical and cognitive ability. Sumler explains: "We offer a variety of options each day such as a socially-distanced after-dinner dance party, seated Tai Chi or a more active cardio routine."
Exercise and senior living
Staying active every day isn't just encouraged at Amica, it's woven into daily fun and social activities. It helps that all Amica Life Enrichment Coordinators are certified fitness instructors, of course. That expertise, combined with Amica's proactive, above-and-beyond approach to minimizing coronavirus transmission, has resulted in smart new ways to exercise safely in accordance with local public-health guidelines.
In Ontario, for instance, masked and distanced doorway fitness and virtual workouts keep residents moving, while in BC – where small, distanced group classes are allowed – they broadcast the workout to an even larger group so more residents can participate. (All fitness equipment such as chairs, bands, weights for strength training and exercise bikes are disinfected between use.) In regions where pools are still open, residents can book an individual time to swim, and disinfected change rooms have capacity limits.
"In the summer and fall we also had residences doing balcony fitness," says Sumler. "The team would visit residents ahead of time to ensure their balcony was free of hazards and give them a list of exercises. The instructors did the exercises on the ground across the street, so the whole side of one building was participating together. Some days there was themed music and costumes, so it was great fun."
Keeping seniors active at home
Variety keeps fitness fresh, so Amica is always mixing up exercise options such as ballroom dancing, Zumba, DrumFIT, pedaling Cubii ellipticals and more. (Follow Amica Senior Lifestyles on Facebook and Instagram to see what we get up to.) Sumler recommends a similar approach and the following tips to help seniors stay fit at home, too:
Get recommendations from your health care provider and ensure that rooms are safe for fitness by removing trip hazards and having a sturdy chair for balance nearby
Incorporate short activity periods into each day, such as dancing to music for 10 minutes (even grooving waist up in a chair is beneficial)
Lift light weights during TV shows or get up and move during commercials
Search "seniors fitness" on YouTube to find free video workouts, some of which are seated for different mobility levels
Consider using a fitness tracker to encourage longer indoor or outdoor walks
Look online to find virtual fitness and fun activities in your region
Get more ideas from articles such as Winter fitness for seniors and The many benefits of yoga for seniors
Most importantly, remember that it's never too late to start. "We have a resident in her nineties who was doing individual Pilates every morning before heading to the pool," says Sumler. "But even residents who come to a fitness class and just tap their toes to the music are getting social benefits from participating."
Schedule a tour to learn more about inspiring lifestyles for seniors including exceptional dining, amenities, activities and flexible, personalized care.