Getting out for a walk is a popular way for seniors to get their daily fitness in May, June and July, but strolling is not so appealing in January, February or March. Worries about falling or bundling up against the wind-chill factor keeps many older adults cooped up indoors and prevents them from enjoying the many benefits of exercise. Not only that, but seniors can feel isolated over the winter: if they're not meeting up with friends to walk, swim or play golf, they may be missing out on the valuable socializing.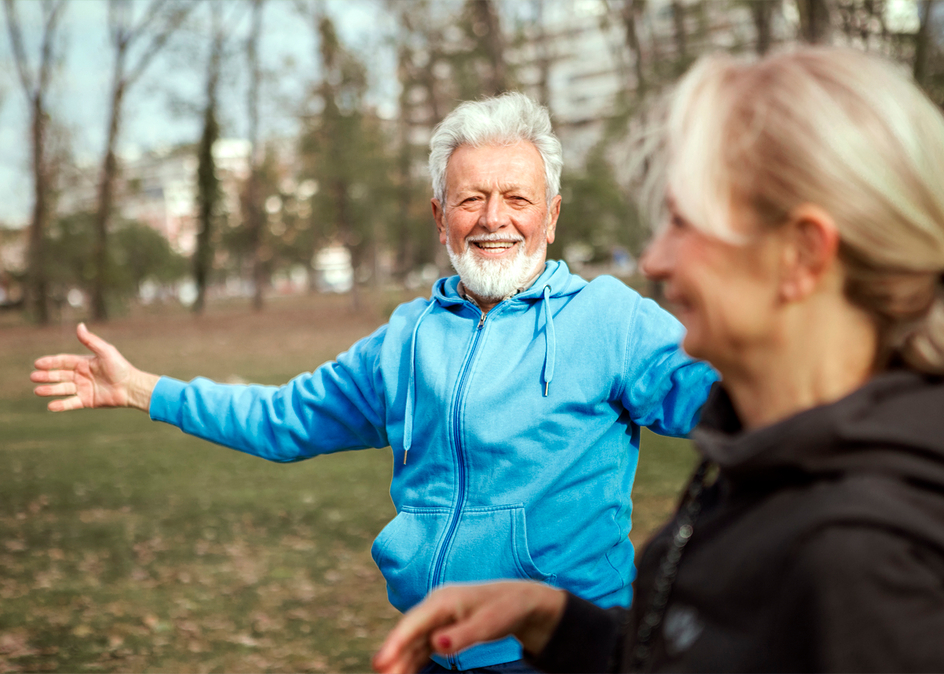 At Amica Senior Lifestyles, we can't control the frigid temperatures but we can make it a pleasure for seniors to stay physically active in winter. First, we remove a lot of the barriers by offering first-class amenities in house—from fitness centres to treadmills to exercise classes and, often, indoor pools. It's a lot easier to get moving when you don't have to leave home. And just like we take care of the groceries, cooking and maintenance, we also have trained staff and visiting instructors offering fitness classes based on the wishes of each residence. Here's how we make exercising in winter fun and easy:
Low-impact activities
Seated classes help seniors build body and core strength, balance and cardiovascular conditioning without leaving their chair, which makes the activities especially appealing for older adults who have mobility challenges or are recovering from surgery.
Amica Douglas House offers chair volleyball, where residents try to keep a lightweight ball afloat.
Personalized fitness
Some residents want to work toward fitness or recovery goals—strength, endurance, balance, etc.—using a program designed by a physiotherapist. Life Enrichment team members assist residents with completing their physio "homework" in the fitness centre.
Friendly competition
Some residences have walking clubs where members collectively track their mileage to see how far they can walk as a group. At Amica Stoney Creek, exercise enthusiasts who attend classes have a chance to be entered in a draw for prizes.
Lots of variety
Some residents visit the fitness centre to work out on their own using free weights or stationary bikes. Others prefer group classes led by an instructor. In Circuit Training at Amica Stoney Creek, residents learn how to perform exercises using resistance bands and free weights, moving from station to station for two-minute stints.
Something different
Seniors tell us they're interested in learning something new, so that's why you'll find classes at Amica in chair yoga, which offers gentle stretching, or Zumba, fitness movements set to music. Drums 4 Fun is a huge hit: residents tap out the beat of 50s and 60s tunes using drumsticks and stability balls.
Sense of connection
Men who live at Amica Stoney Creek look forward to regular games of billiards with Adam, the general manager. Hickey says the participants in her fitness classes build friendships that go beyond the lessons. "Exercise friends are the best—they help keep you motivated!"
You'll be surrounded by great amenities, flexible dining, activities and personalized support at Amica residences. Book your personal visit today.