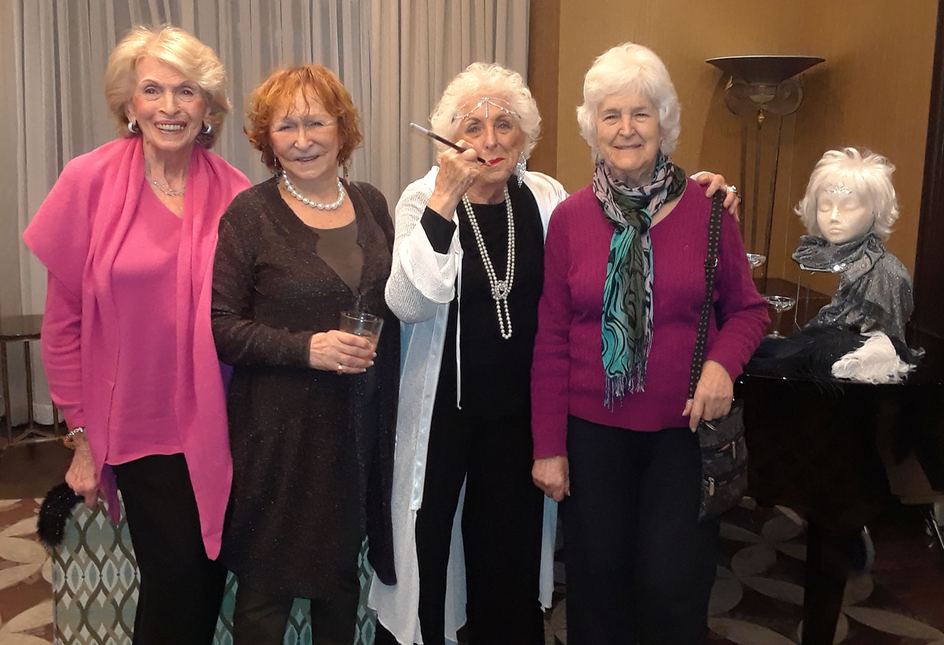 After an enchanted evening sipping bubbly and watching live performers in flapper dresses, Amica On The Avenue residents were still talking days later about a wonderful "Roaring '20s" party at their Toronto seniors' residence. "We celebrate birthdays every month with special themed parties like this," says Life Enrichment Coordinator Jackie Barron, describing one of the many advantages of senior living. "Celebrating this era brought back so many memories. The residents knew all the songs — they were singing and tapping along with the music."
Inspired by the glamorous style of the 1920s, Jackie spent weeks organizing the party details in collaboration with her colleagues at the upscale residence offering independent living for seniors. She set the tone with art deco–inspired decorations, draping the space in gold and silver accents and pouring sparkling wine into coupe-style champagne glasses purchased for the occasion. A talented resident added her special touch by decorating the piano and creating centrepieces for the tables. Chef Mark Goodman embraced the theme by creating a menu featuring shrimp cocktail, crudité and an elegant cheese board, along with a classic birthday cake. It's no wonder the exceptional cuisine is one of the top attractions at Amica.
On the evening of the affair, the women arrived wrapped in beads and boas provided by Barron, along with jewels from their own collections; the gentlemen wore gangster style hats and moustaches. Barron made her entrance dressed in a wig and flapper dress, and took photos of the residents hamming it up in their costumes.
Live entertainment was the final touch. Since Barron is keenly aware that the residents are accustomed to top-notch performances, she booked The Sparklettes, a talented duet who sang and danced in fringed dresses and sequinned headbands. The duo had everyone dancing: even residents who are showing signs of cognitive aging were tapping their feet and humming along. Says Barron, "These residents like to dance, they like great music, they like a good cocktail and good food and they love to enjoy themselves. That doesn't stop just because they're seniors."
As for Barron, she's already planning the next party with her colleagues to delight their residents. "Seniors are amazing — to me, they're my teachers," she says. "I know that many are coping with hearing loss, memory issues and other health challenges, so they're not always feeling well. We try to do things they don't expect to make them feel better, even if it's just for an evening. It's incredibly rewarding and fulfilling to have a career that touches the lives of these amazing seniors."
Find out how residents are enjoying great amenities, activities, flexible dining and personalized service at Amica residences. Book a personal visit today.