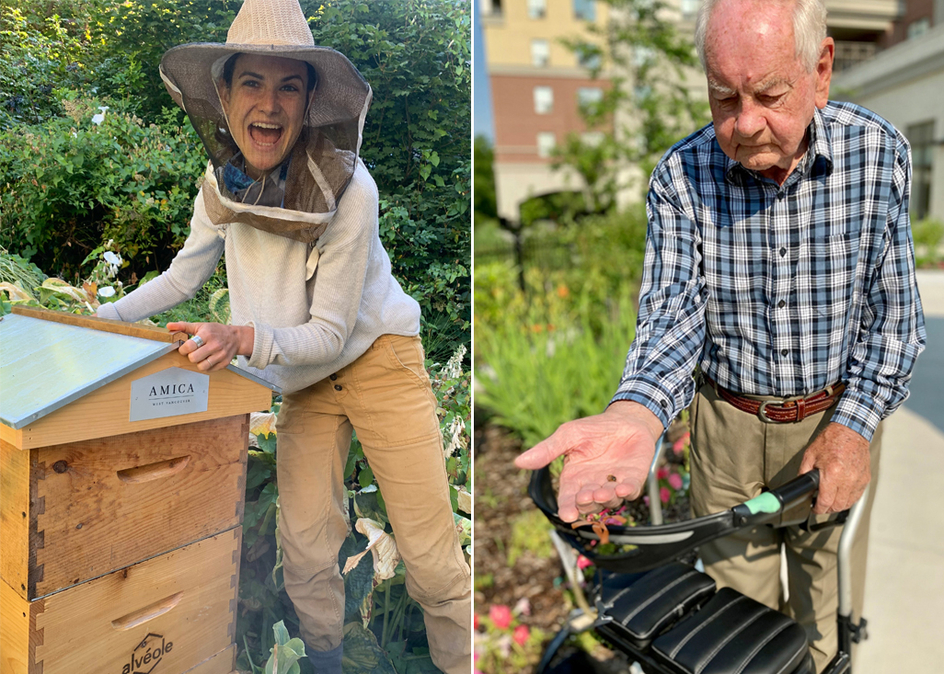 Amica West Vancouver residents have a sweet new hobby: checking on their new beehive. The hive installation and several workshops are part of a unique partnership with Alvéole, an urban beekeeping company that's installing honey-bee hives at seven Amica residences in total. The project offers residents a chance to find out more about pollinators, sustainability and beekeeping, as well as savour some delicious honey. (See the hive here.)

"It's amazing to see the residents' eyes light up at the workshops," says Jessie Collison, the Alvéole beekeeper who is maintaining the Amica West Vancouver hive. "There's no age limit to people becoming advocates for the natural world."

Seniors can help bring back the bees
Although pollinators are responsible for about a third of the food that humans eat, some populations are declining. Alvéole notes that North America has lost over 50 percent of its managed honey-bee colonies over the last decade. One way that active seniors at home can help save the bees is to plant pollinator-friendly native wildflowers. At Amica, meanwhile, Alvéole beehives will support sustainability while offering a terrific opportunity for residents to discover more about apiculture and the environment.

"Our residents love learning about the beehive," says Peter Christiansen, Life Enrichment Coordinator at Amica West Vancouver. "The program combines novelty, curiosity and biophilia."

Safety is paramount
The health, well-being and safety of residents is a top priority at any activity organized at Amica residences. Although many people worry about bee stings, honey bees are typically quite docile and unlikely to sting compared to wasps. The Amica West Vancouver hive is also strategically placed so it's at a distance from residents, with the hive entrance facing away. The bees typically forage five kilometres away, so there's no increase in bees foraging on the property. As it happens, fewer than one percent of people are allergic to bee stings. Nonetheless, Amica keeps a list of all residents with allergies to avoid incident and staff are trained to respond with either Benadryl or an Epi Pen in the unlikely event of a sting.

"We have installed thousands of hives across Canada and have never had an issue with a major stinging," says Collison.

Creating sweet memories
Most seniors that Collison works with are fascinated with the hives, which can grow from 10,000 to 50,000 honey bees over the summer.

"There's excitement and interest, plus, some participants tell stories of their father or grandfather keeping bees," says Collison. "They take real pride in how their colony is growing."

With additional workshops on making beeswax crafts and more, the Alvéole partnership is another great example of Amica's commitment to lifelong learning that helps residents age with optimism. Follow Amica on social to find out more about our daily activities and events featuring everything from music, crafts and art sessions to wine tastings and cooking classes using local, seasonal ingredients.

Book a virtual or in-person tour to find out what it's like to enjoy living on your own terms in an elegant Amica residence with outstanding dining, amenities, activities, senior care and safety measures.