Families often go to great lengths to keep Mom and Dad at home as long as possible, especially when seniors are more open to receiving in-home care than they are to moving. When a parent's need for support outstrips the family's ability to provide it, they may consider hiring a caregiver privately or through an agency. Be sure to carefully weigh the advantages and disadvantages of in-home senior care versus moving to a premium senior living residence. If you go the route of keeping your parent at home, be sure to monitor your loved one and be honest about how well the arrangement is supporting and enriching their life versus just helping them get by. "When parents feel like they're just making do, they may feel like a burden," says registered nurse Paulette Kinsella, a Regional Director of Wellness at Amica. "Some families don't find the peace of mind and confidence they're looking for from caregivers, which can make the situation stressful all around."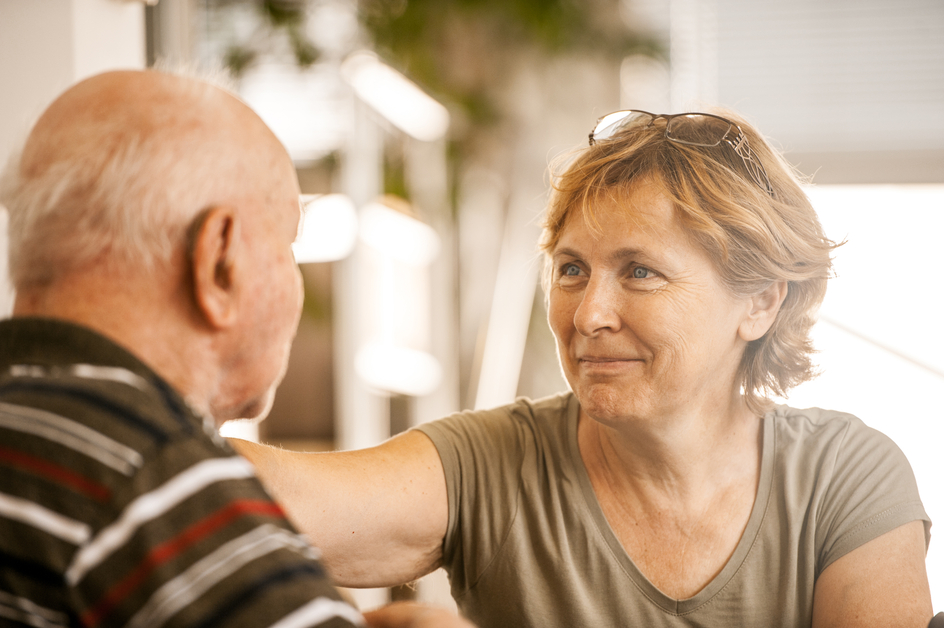 Benefits of hiring a senior caregiver
Older adults have the comfort and stability of staying in their home longer.
For the hours the caregiver is present, family members are comforted knowing their loved one is not alone.
Care can be flexible and provided at times of day when seniors need it, or when family members are not available.
Support is tied to need: caretakers might provide transportation, household help, cooking, cleaning, bathing/dressing/toileting, etc.
If families choose to work with an agency, the agency upholds standards in screening and training staff, finding substitute help, etc.
Depending on the care and hours required, staying at home can be more affordable than moving to a senior living residence.
Drawbacks of a senior caregiver
Unless you hire live-in care, your parent will not have help around the clock as they would in a residence for seniors. (Read more about personal alarm systems and other technology to keep seniors safe.)

The home may need to be equipped for accessibility with assistive devices, such as ramps and grab bars, which can be expensive to install.
While you may request care at specified hours, there's a chance the caregiver may not arrive on time due to unexpected events at a previous client, traffic, etc. This could prove challenging for a parent who needs assistance with continence.
If you hire a private caregiver (instead of using an agency), you become an employer. This means you're responsible for screening, hiring, training, establishing standards, covering absences and managing, as well as making deductions for CPP, taxes and employment insurance.
Local caregivers may not offer necessary services depending on where your parent lives.
If your parent has a medical emergency at home, chances are they will lack the emergency medical equipment commonly found at seniors' residences.
While some seniors may believe that staying at home is a victory and moving to a senior living residence represents some kind of defeat, the opposite is often true. At Amica, seniors enjoy an elevated standard of living: they have the freedom to live each day just as they would at home, yet they're supported exactly as they request, with a range of benefits that would be difficult to duplicate even with a live-in caregiver, including:
Delicious daily meals freshly prepared by certified chefs;
Self-serve refreshments and snacks available all day at the residence bistro;
Socializing and friendships with other residents, and a sense of belonging to a community;
Exceptional service tailored to every resident's unique needs and preferences, provided by a team of dedicated staff with specialized training and experience to support seniors in various aspects of life (wellness, recreation, dining, housekeeping, maintenance, etc.);
A personalized wellness plan for every resident, and 24-hour wellness staff on duty for those seeking added support and peace of mind;
A broad variety of optional, organized social events, educational workshops, visiting entertainment and recreational activities conveniently located in the residence;
Beautifully appointed buildings designed for accessibility and independence;
Top amenities and common spaces such as a fitness centre, private dining room, hobby kitchen, library/office, lounge/pub, cinema, salon/spa, indoor pool, etc.;
Transportation on the residence bus and regular outings for shopping, errands and excursions; and
Organized exercise and fitness classes accessible to all levels of mobility.
Paulette Kinsella has over 40 years of nursing experience and has specialized in retirement care since 2005. Her focus as a Regional Director of Wellness is to ensure all Amica residents receive professional, high-quality care personalized to their needs and preferences.


Find out how residents are enjoying great amenities, activities, flexible dining and personalized service at Amica. Book a personal visit today.