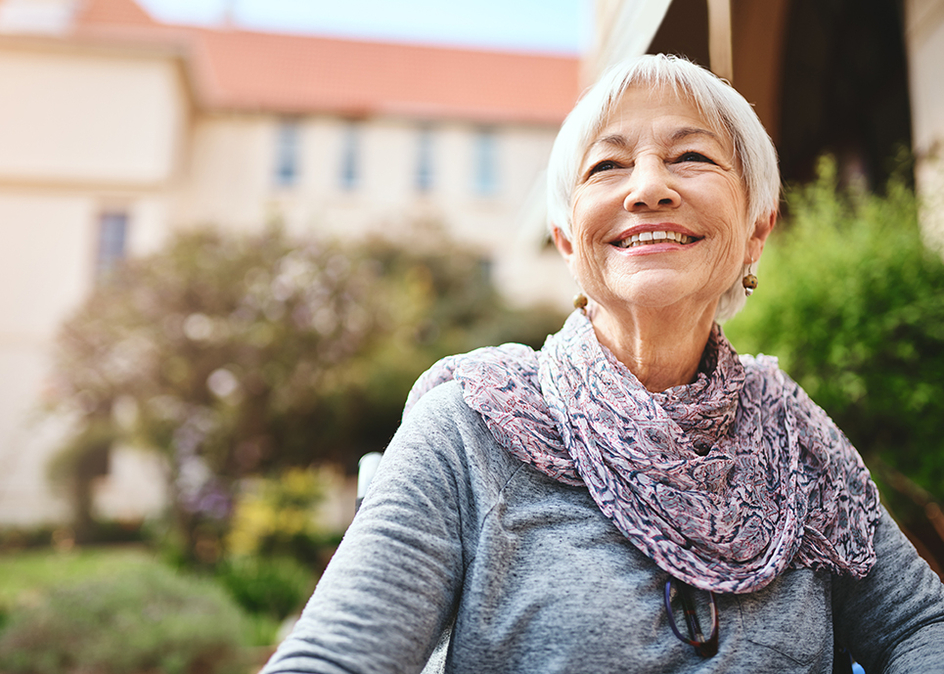 Finding the right retirement living option means coming home to an environment where you feel welcome and supported by everything you need to spend your days doing what you love.
Retirement living typically includes a private condo-style suite and a variety of services, like meals, recreation programs, cleaning and maintenance. On-site professional care options may also be available for an additional fee, ranging from personal assistance with dressing or bathing, to medical care, monitoring health conditions, wound care, medication management and more. As you're doing your research, think about the services and amenities that are most important to you, and prioritize those as you search, call and tour retirement residences.
If you're a family member helping your parent or loved one understand senior living, you can play a supporting role in helping the older adult in your life. "The most important person in this process is the senior. All of their feelings should be honoured and the final decision should be theirs," says Andrea Prashad, Senior Vice President of Resident Experience & Risk Management at Amica.
Here's what to expect from retirement living and how to take the first steps in making the choice that is right for you.
Is retirement living right for me?
"Seniors and their loved ones can take valuable cues from their current living environment to help decide if retirement living is right for them. Being proactive in identifying these signs and seeking support will go a long way in finding a retirement home on their terms," says Prashad.
Questions to ask yourself or your family member:
Are you interested or able to continue with household chores and yard work?
Do you know if your meals provide the nutrients you need?
Is it time to consider professional care for your health and safety?
Retirement living can offer solutions to all of these common concerns, but each retirement residence is unique: make sure to ask questions as you research seniors' residences.
Consider making a list of priorities for you to be able to maintain your current lifestyle and any medical assistance you may need to help filter through retirement living options near you. If you're an active senior that doesn't want to maintain a home anymore, make sure you will have access to on-site exercise classes and nature trails nearby. If you require assistance getting ready each day and love to paint, ask about senior care options and recreational programming available directly at the residence. If your loved one needs dementia care, be sure to ask questions about fees, care options and special accommodations made to keep you safe while still giving you recreational and social freedom.
Retirement living at Amica
Amica residences stand apart for offering a premium, safe and inspiring lifestyle in Canada's finest neighbourhoods where seniors stay in charge of all aspects of their day. Amica is also different from other brands for providing multiple levels of exceptional safe professional care under one roof so you can have the support you need as your needs evolve. Care options include Independent Living, Assisted Living (known as Long-Term Care in BC), Memory Care and Respite Care after illness or hospitalization. Each level of care offers the same excellent services, which means you are free to spend each day doing the activities and routines you love without the stress or responsibility of maintaining a home.
"At Amica, we do everything to best emulate what our residents' routines and lives would have been like had they never moved out of their home. We begin by personally getting to know each resident through our discovery process and from there we're able to deliver services and any care needs in a manner that fits their individual lifestyles," says Prashad.
What is included in retirement living?
Retirement residences offer different amenities, care and recreational programs, from basic to upscale. Be sure to look for the services and settings that support the quality of life you want. Ask about these and other amenities available (including any additional costs) at each retirement living residence you're considering:
Private suite: The size, configuration and suite cost will vary at each residence. All include accessible bathrooms, storage and living space. You might also have a choice of a kitchenette or a full kitchen, in-suite laundry, a den, multiple bedrooms or a balcony.
Care options: Once you know the level of care you need and want in retirement living, you can inquire about the residence's standard and additional care options and costs. Some residences, like Amica, offer several levels of care under one roof, while others cater only to active seniors and do not provide care. Request a tour of the building and suites you would live in based on your ideal care services.
Meals and dining options: While you will have a base meal plan included in your residence fees, there may be a chance to prepare your own breakfast and enjoy the meal plan for lunch and dinner. Some residences offer common and private dining rooms, so you can host intimate dinners or have your family join you for lunch.
Cleaning and maintenance: Retirement living typically includes services such as a weekly cleaning service or suite tidying, weekly laundry for linens, all indoor and outdoor maintenance and repairs, plus all planning, shopping, prep, serving and cleanup for meals.
Social or common areas: These multi-purpose rooms are perfect for meeting up with friends, hosting a club or group, playing games or joining in daily recreational activities. Residences may have a library, games room, fitness centre, craft room, cinema or lounge available.
Recreational programming: Activities are planned around seniors' common interests and hobbies, like music, painting or fitness classes, new skill workshops, gardening or knitting clubs, or holiday and milestone celebrations and parties.
Additional amenities: Many residences have other accessible amenities on-site, like a swimming pool with classes and free swim; a kitchen you can book to cook and bake or watch a cooking demonstration; a cafe or bistro to enjoy a cup of coffee just a few steps from your suite; outdoor spaces like gardens and terraces so you can spend time in nature; and trips and outings to see hot spots in your community, visit local destinations and explore natural spaces nearby.
Why should I consider retirement living?
Are you lonely? Are you getting the amount and kind of socializing that feels right for you? Are you engaging in your favourite activities? Are you able to get around in your home and out for errands and activities? Are you ready to let go of all the chores that come with meals, cleaning and home maintenance? Retirement living can be a great choice for seniors who wish to stay active, social and optimistic about life.
The social opportunities and activities at retirement homes are a primary highlight for seniors and their families. While you can enjoy the privacy of your own suite, there are also friends, neighbours and team members around to offer company, conversation, connection, and emotional, mental and physical support. Knowing you have that support nearby and social activities planned each day means you can choose how and when you want to be social while knowing you'll always have options.
"We are hardwired for connection, and with living in a pandemic, the reality of being away from the people, and everything else, for such a long period of time has re-emphasized the importance of connection. At Amica, seniors are never alone, and more importantly, purposeful connections are part of every day," says Prashad.
How much does a retirement home cost?
The average monthly cost of a retirement home is dependent on numerous factors, including:
The cost of real estate in the city and neighbourhood you've chosen;
The size of your suite, including the view, number of bedrooms, suite amenities and additional rooms;
Residence amenities, like the quality of dining options, frequency of housekeeping, access to upscale amenities like a swimming pool, fitness centre, theatre, and more;
The level of care you require and any additional services being provided.
This is why it's important to ask each residence for more information and a breakdown of retirement home costs as you research and tour different locations.
How do I find out more about retirement homes near me?
Make a list of needs and desires you're looking for in retirement living, such as professional senior care options, accessible amenities to enrich your life, social activities that improve daily living, and finding a residence that feels like home. Keep your priorities in mind when researching and visiting retirement homes near you.
If you're considering Amica, visit Find A Residence to locate a retirement residence near you. Once you're ready, book a virtual or in-person tour to find out more about retirement living so you can continue living a life full of possibilities, while receiving outstanding senior care in an elegant residence.