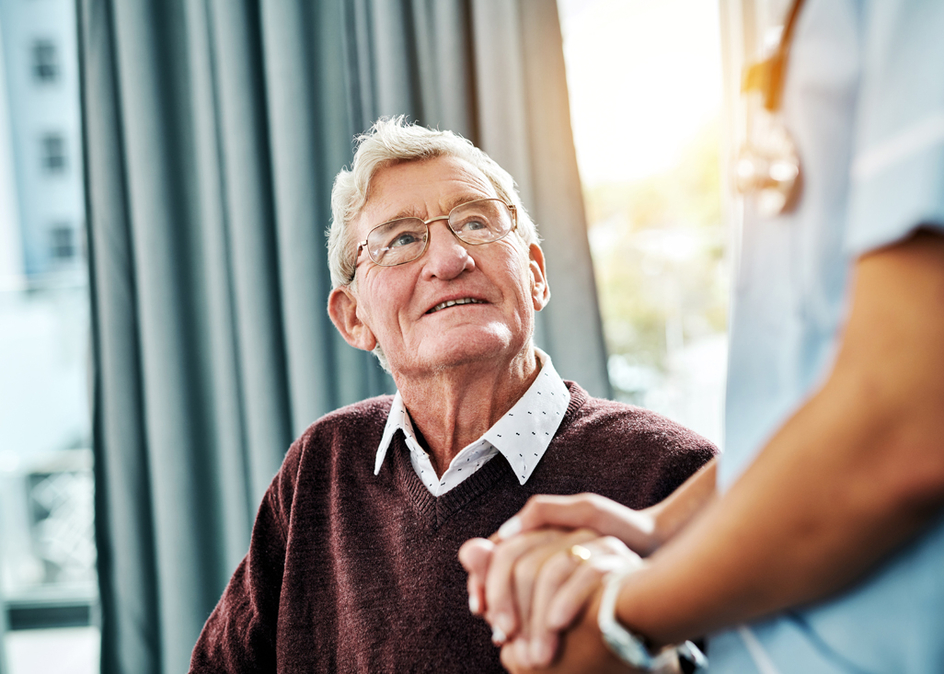 Whether you're a senior worrying about where to recover after an upcoming surgery or an exhausted caregiver who needs a break, respite care offers a solution. Respite care allows seniors to access relief caregiving at or outside their home, or via a short stay at a retirement residence or care home. At Amica, we offer short, all-inclusive respite stays that enable seniors to recuperate from an illness or surgery, get care when caregivers or family are on vacation, or simply enjoy a rest from cooking and household chores. Get answers for all your respite care questions below so that you can decide whether an Amica respite stay is right for you.
"Whether your spouse or family need to go out of town, or you need extra support post-surgery, a respite stay at Amica gives everyone peace of mind," says Nicole Andison, Community Relations Director at Amica Little Lake. "In fact, many seniors flourish and decide to become permanent residents because they're having fun, getting 24/7 support and their health and nutrition improve."
What is respite care?
Respite care is a short-term care solution when caregivers or loved ones are unavailable or unable to provide care, or a when a senior needs extra help for a limited time. Seniors and their caregivers can organize respite care at home, via adult day programs outside their house or at a retirement residence like Amica Senior Lifestyles.
The right respite care for you and your family will depend on your needs, but it's worth noting that home care support typically relies on sporadic daily visits. At Amica, meanwhile, you're independent but have emergency monitoring and a dedicated team outside your door 24/7, in addition to meals and activities with other like-minded seniors. Read Why book a respite stay and Supportive respite stays help seniors recover to better understand respite care. (Plus, hear what other seniors like Shirley, Sandie and Christine have to say about their Amica respite care experience.)
What is included in respite care?
Respite care offerings range, but typically involve personal support, homemaking and professional care. "An Amica Respite Stay includes full access to all amenities, services and care," says Andison. "While you're here, there's no difference between you and regular Amica residents."
That means seniors enjoy all-inclusive accommodation including a furnished private suite, three daily meals and snacks, customized professional care, cable and internet, housekeeping and more. You can also participate in all daily activities and use all the amenities in the residence, from the salon and fitness centre to the pool, theatre and outdoor terrace.
Is a respite stay at Amica safe given COVID-19?
Thanks to leading-edge vaccination rates and safety protocols, emergency monitoring, on-site nurses available 24/7 and enriching activities with peers, senior living at Amica is likely better for your physical and mental health than living alone at home.
"We're proud that by October 2021, 100 percent of our team members will be vaccinated nationally," says Andrea Prashad, Amica's Senior Vice President, Resident Experience and Risk Management. "Residents are free to live life to the fullest."
Is there a minimum or maximum length of respite care?
At Amica, typical respite stays last two weeks, but can extend up to 90 days — and many seniors decide to stay on permanently. (Review your provincial guidelines about qualifications and stay length for publicly funded respite care.)
What medical oversight is included in respite care at Amica?
An Amica Director of Wellness will oversee your professional care, from wound care and recovery exercises to assistance with bathing and managing medication. With nurses on-site around the clock and the ability to monitor your healing progress, Amica offers an ideal mid-point between hospital and home. "We can even provide complex support as well, such as feed tubing or colostomy support," adds Andison.
Is emotional support a part of respite care?
Respite care doesn't just include assistance with daily tasks, health care and chores — it's also about offering social connection and engaging activities. Whether you stay at Amica for two weeks or many happy years, we offer unwavering support for your safety, your physical and cognitive health, and all aspects of your emotional well-being. As Andison says, "Your personalized wellness plan includes all types of care, from helping you settle in to organizing video or phone calls with your loved ones. You'll also be welcomed by your Amica resident neighbours."
What is the difference between respite care and a trial stay?
"Respite Stays are typically required when a senior needs extra health support, or there's been a change in living arrangements," explains Andison. "Trial stays typically appeal to independent seniors who are thinking ahead. Similar to a respite stay, seniors can experience the Amica lifestyle first-hand and meet new people, which often helps them make a decision about their next step."
How can I find out more about an Amica respite or trial stay?
Visit the Amica residences page
to find the Amica location closest to you and then call and ask to speak to a Community Relations Director. "Many of our residences offer a full-continuum of care, from Independent Living to Assisted Living and Memory Care, so there's nothing we can't do," says Andison.
Book a virtual or in-person tour
to find out what it's like to enjoy living on your own terms in an elegant Amica residence with outstanding dining, amenities, activities, senior care and safety measures.