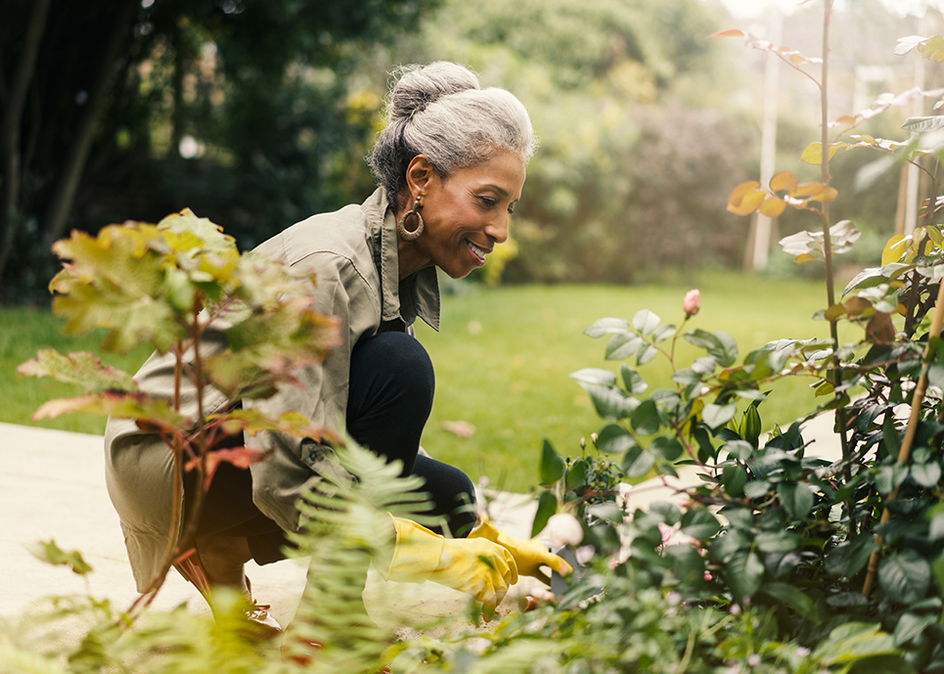 Curious about what Independent Living is like at an Amica senior living residence? Picture a day that starts with breakfast and coffee on the terrace, a fitness class, spa appointment or art workshop with friends in the afternoon and an elegant dinner prepared by a Red Seal-certified chef at night. The next day may be completely different because you're in charge of your schedule. Older adults and loved ones who research retirement living often have the same questions, such as "What is Independent Living?" and "What's the difference between Independent Living and Assisted Living at retirement residences?" You'll find answers to those questions and everything you need to know about Independent Living here, as well as the reasons why seniors choose Amica.
"'Your day, your way' is our motto," says Sarah St. Pierre, a Life Enrichment Coordinator at Amica Dundas. "Residents are amazed by how much is going on – with input from them – but know they can choose to take part or make their own plans."
That's one of the things that drew resident Pat and her husband to Independent Living at Amica White Rock. "Amica is the right fit for us — we didn't even look anywhere else," she says, highlighting the amenities and exceptional care. "The staff have worked with seniors and know how to listen. It's really a pleasure to live here."
What is Independent Living?
Active seniors who are debating whether to stay at home or move to a retirement home may not be familiar with terms like Independent Living, Assisted Living and Memory Care. Independent Living typically refers to a retirement residence lifestyle option for seniors with community and services. At Amica, Independent Living includes:
Your choice of elegant and private, condo-style suites in some of Canada's most sought-after neighbourhoods;
A wide variety of fresh, delicious and nutritious meals and snacks, prepared by Red Seal chefs, available from 7 a.m. to 7 p.m. each day;
The option to prepare food in your own in-suite kitchenette or kitchen (depending on the residence), or host a gathering in the residence's private dining room;
Premium amenities, such as an indoor pool, billiards room, garden centre, arts and crafts kitchen and more;
The freedom to set your own schedule, come and go as you please and invite friends and family over whenever you wish;
Your choice of optional entertainment, activities and excursions with like-minded peers, organized by Life Enrichment Coordinators with your interests in mind;
A wide range of daily fitness classes, clubs and gatherings;
Weekly housecleaning and linen laundry service; and
Support options such as personalized, professional care and emergency monitoring if your needs change.
Bookmark Find an independent living residence in Canada for even more insights and location information.
Who is a good candidate for Independent Living?
Independent Living is ideal for mobile seniors who require little or no care assistance and who want to maintain their independence, enjoy the social benefits of community and let someone else take care of cooking, cleaning and landscaping. Seniors who felt isolated or tired of household maintenance appreciate Independent Living at Amica, which lets them live on their own terms with an elegant lifestyle and vibrant social life.
What's the difference between Independent Living and Assisted Living?
These two senior living options offer different care levels. Independent Living residents typically need either no care or minimal assistance with day-to-day activities like getting dressed, bathing, eating or taking medications. Assisted Living at Amica offers the same premium lifestyle, amenities, activities and cuisine as Independent Living, but layers in emergency monitoring, 24/7 nurse access and personalized care by professional wellness staff. Your tailored care plan can include assistance with dressing, grooming, bathing, medication monitoring or transferring to mobility devices. Amica team members also organize optional events and excursions and handle housekeeping, laundry and maintenance. Find more details about Assisted Living (also known as supportive living) and how to find it in What is Assisted Living? and Find an assisted living residence in Canada.
How do you choose the right senior care level?
Amica's discovery process includes an individual wellness assessment, so you can choose between Independent Living and Assisted Living with confidence. Do your research, as well. Resources such as our Guide to Senior Living Care Options and What is Independent Living? offer guidance on how to choose the best care level for different seniors. With a range of care options at most Amica residences, couples with different care needs can often share a suite or have separate suites in Independent Living, Assisted Living or Memory Care.
Why do seniors opt for Independent Living?
If you or a loved one is considering moving to a retirement residence, you may be wondering about the benefits. More fun and companionship, having delicious meals prepared for you and getting care for a spouse are some of the more common reasons that Amica residents share. Read Why would anyone move to senior living to hear from seniors like Richard, who sold his home and moved to Amica Somerset House after his wife moved into long-term care. "It was one of the best decisions I've made," Richard says. "I'm most impressed by the attentive service, the ready help from wellness staff when I need it and the wide variety of activities."
What is the food like in Independent Living?
At Amica, you'll enjoy a delicious daily selection of seasonal, dietitian-approved meals and snacks prepared fresh by Red Seal chefs. Whether you dine in your suite, the elegant, fully licensed dining room, the self-serve bistro or outdoor patio, you'll always find something to please your palate.
"Residents are surprised and delighted by the quality and variety of the cuisine," says Gary McBlain, Amica's National Director of Culinary Services. "It's a different menu every day and every month we have 112 different entrees, 56 different soups, 56 different salads and many desserts to choose from. We offer a great mix of restaurant-inspired meals and homestyle classics."
Residents in Assisted Living enjoy the same assortment of meals in their dedicated dining room, suite or terrace, with optional assistance, texture-modified diets and other accommodations available as needed.
What do seniors do in Independent Living?
Anything they want! In Independent Living at Amica, you're in charge of every aspect of your day. You can relax, dine and entertain in your suite, go out to meet friends and family or enjoy the local parks, galleries, shops and restaurants. You can also choose to take part in optional clubs, events, activities and entertainments. You can do laps in the pool and talk novels in book club one day and join a cooking workshop or meditation class the next. Play billiards, learn about beekeeping, paint a picture in art class or join one of many regular excursions, such as sampling vintages at a local winery, touring a lavender farm or attending the symphony. Learn more about how Amica fosters lifelong learning and good times in Fun activities for seniors and Theme parties for seniors.
What does Independent Living cost?
Independent Living typically costs less than Assisted Living because there's less medical and personal care required. At Amica's private retirement residences, you pay a monthly fee that includes all meals and snacks, accommodation, amenities, entertainment, recreational activities, transportation, maintenance and more. Fees vary based on your residence location, suite size and whether you take advantage of a la carte professional care services, so you only pay for what you need. Read How to finance senior living to better understand how retirement residence fees compare to the costs of staying at home.
What if your care needs change?
Our professional care adapts to your needs, even when you're in Independent Living.
"The best part about Amica is the ability to receive care services from our wellness team in the privacy of your own suite," says St. Pierre, noting that residents can get all levels of care from any suite. Accessible buses with lifts mean seniors with different mobility levels can continue to enjoy excursions, too. Residents are welcome, but not required, to move to an Assisted Living suite if their needs change. Many Amica residences offer Independent Living, Assisted Living and Memory Care under one roof, so you'll always have the support you require without the need to change residences.
Making the most of every day
If you or a senior loved one want to enjoy an active and connected life without worrying about cooking, cleaning and home maintenance, Independent Living is a great choice.
"The top benefit of Independent Living at Amica is the flexibility to choose how to spend your days," says St. Pierre. "You can join an aqua exercise class, enjoy a coffee with friends in the bistro or jump on an excursion in the community. You get to live life to the fullest, and your loved ones have peace of mind, knowing that you're safe with our 24/7 support."
Book a virtual or in-person tour to find out what it's like to enjoy living on your own terms in an elegant Amica residence with outstanding dining, amenities, activities, senior care and safety measures.