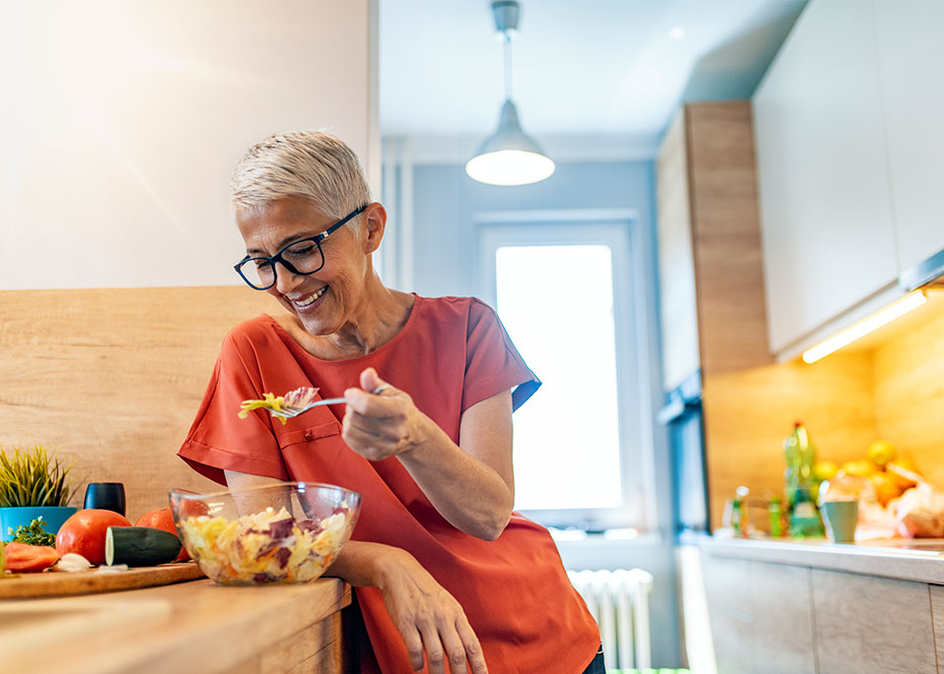 If you're looking for a healthy senior role model, 100-year-old Bunny — an energetic Amica resident — is your gal. The vibrant centenarian attends exercise class every morning, enjoys a rousing game of cribbage or tile rummy in the afternoon followed by an outdoor walk, and orders a healthy dish at every meal. She knows that the best diet for healthy aging includes nutritious foods such as whole grains and low-fat proteins.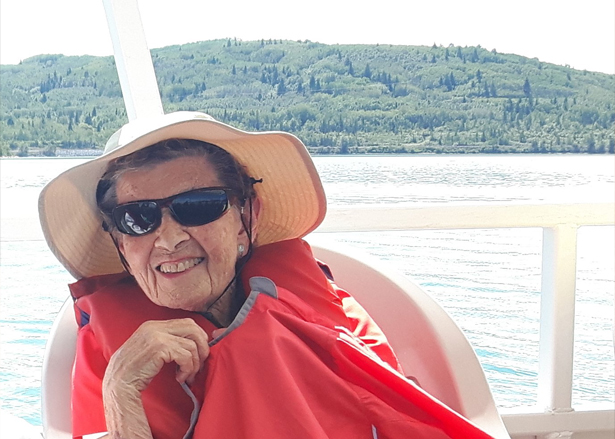 "I always choose sensible meals with lots of vegetables and fruits," says Bunny. "It's nice to socialize in the dining room, too."
Healthy aging diet secret #1: Go for whole grains
Did you know that savouring high-fibre grain products such as whole-grain bread, whole oats, quinoa, whole grain pasta and brown or wild rice can help you stave off diseases such as type-2 diabetes, heart disease, stroke and colon cancer? Learn more about the best foods for seniors to eat and the importance of drinking lots of water in our article, Healthy eating for seniors: 7 tips from Canada's Food Guide.
Healthy aging diet secret #2: Eat lots of colourful produce

At each meal, aim to fill half your plate with vegetables and fruits. Variety is key, as different foods deliver more vitamins and minerals than others. Dark green, orange, yellow and red vegetables and fruits help your eyes and immune system, for instance, while leafy greens, blueberries and strawberries boost your brain. Learn more about the most nutrient-dense foods from each food group and enjoy healthy recipes in our Guide to Healthy Eating for Seniors.
Healthy aging diet secret #3: Know which nutrients older adults need most

Calcium, Vitamin D, Vitamin B12, protein and iron are just a few vitamins and minerals that seniors need more of as they age to avoid osteoporosis, heart disease and other health problems. (Learn more in our most-needed nutrients checklist.) The goal is to choose the healthiest sources of these nutrients. For example, lower-fat cheeses and yogurt and calcium-fortified orange juice deliver calcium without a lot of unhealthy fat. Likewise, choosing lean grilled chicken, tofu or salmon is better for you than eating fried chicken, a cheeseburger or battered fish. Adding eggs, beans and canned fish to dishes offers lean protein and iron, too.
Healthy aging diet secret #4: Practice portion control

"I ask for half orders all the time," says Bunny. Dietitians agree that eating smaller amounts of food more often, such as every two to three hours, can help seniors maintain a healthy weight (which helps lower your risk of dementia, heart disease, high blood pressure and other ailments). That doesn't mean sacrificing taste though. Learn how Amica Peel Village sous chef Daniel Calabrese adds bold flavour to healthy dishes in our article, 3 ways Assisted Living helps seniors eat healthier.
Healthy aging diet secret #5: Choose nutritious snacks

"I try not to snack too much between meals but when I do, I'll have an apple or a juicy kiwi," says Bunny. Other healthy snacks for seniors that are low in fat and sugar include:
a handful of unsalted nuts;
lower-fat yogurt with berries;
veggie sticks and hummus;
a hard-boiled egg;
unsweetened applesauce;
a bran muffin; and
toast with peanut butter and banana slices.
For more energizing snack inspiration, read Healthy food choices for seniors with low appetite.
Healthy aging diet secret #6: Savour quality time and quality food

One of the most interesting changes in the 2019 update of Canada's Food Guide was its new emphasis on the healthy habits of eating mindfully — really tasting the flavours and relishing each bite — as well as making and enjoying food with other people.
That aligns beautifully with the culinary experience at Amica. Our residents love learning about new foods and techniques at our regular cooking demonstrations, for instance. They also appreciate knowing that Amica's delicious meals and snacks are nutritionally balanced and prepared fresh by Red Seal Chefs from 7 a.m. to 7 p.m. each day. A heart icon makes it easy to spot the healthiest, special diet options on each menu. With their nutrition needs covered, Amica residents can focus on catching up with friends while dining and making the most of each day.
"It's so nice here!" adds Bunny. "We socialize a lot, exercise and play games, so there's always something that you can do."
Book a virtual or in-person tour to find out what it's like to enjoy living on your own terms in an elegant Amica residence with outstanding dining, amenities, activities, senior care and safety measures.