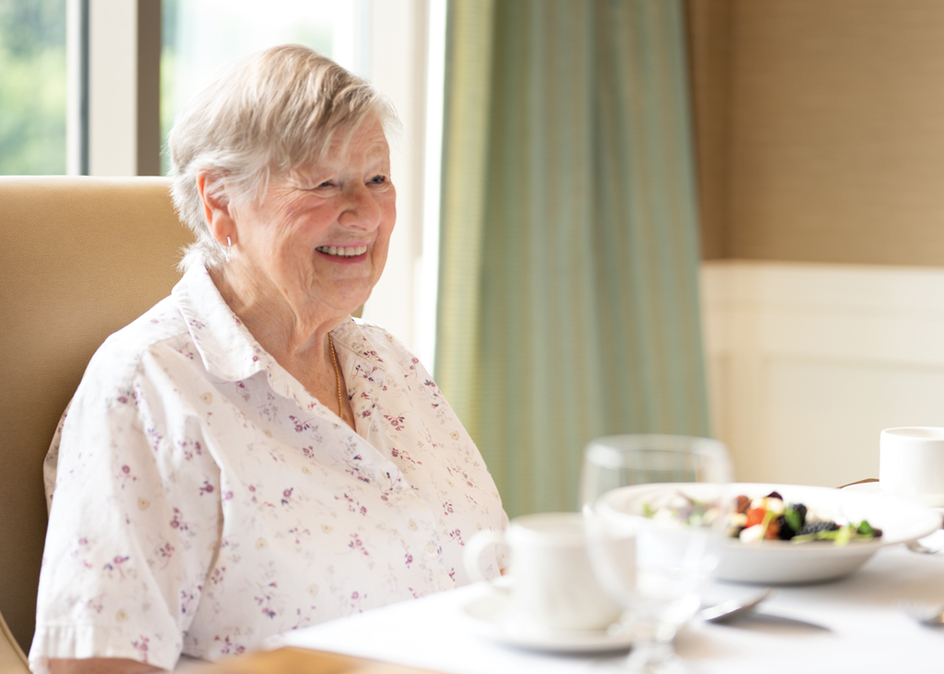 Would you like your breakfast, lunch and dinner prepared by a Red-Seal chef and Junior Culinary Team Canada member? You can at Amica Peel Village! Sous chef Daniel Calabrese loves creating delicious and nutritious meals for residents and is also looking forward to representing Canada at the 2022 Villeroy & Boch Culinary World Cup in Luxembourg. Like all Amica chefs, he's passionate about creating seasonal, dietitian-approved meals that suit every appetite. Using premium ingredients, following Canada's Food Guide and developing innovative dishes for special diets are just a few ways that Daniel and other Amica chefs help seniors in Assisted Living eat healthier.
"I love chatting with residents, asking about upcoming menus and getting inspiration for healthy meal ideas based on foods they've enjoyed in the past or in their travels," says Calabrese, who also develops special menu items inspired by his Junior Culinary Team Canada research. For Peel Village's third anniversary, for instance, he and Head Chef Ryan Collie created dishes like prosciutto-wrapped monkfish served with a tomato and pea tartlet.
1. Offering outstanding cuisine and nutrition in Assisted Living
While seniors alone at home can get stuck in unhealthy, "tea and toast" eating patterns, Amica residents enjoy menus featuring a wide variety of fruits and vegetables, lean proteins and whole grains as recommended by Canada's Food Guide.
"We like serving fresh local produce and adding tasty surprises like kohlrabi and bok choy," says Calabrese.
Learn more about nutrition tips for seniors based on the guidelines we follow at Amica in these resources:
2. Making special diets tasty for seniors in Assisted Living
Whether it's a grilled-vegetable panini for vegetarians, honey-ginger grilled salmon for those on heart-healthy diets or a flavourful stir fry with chick peas for diabetics, Amica chefs enjoy creating dishes that meet seniors' individual needs. Every day, the menu includes low-sodium, gluten-free and dairy-free options, too. (Read Chef's secrets for delicious special diets for seniors to find out more.)
"We always give residents choices based on their dietary restrictions," says Calabrese. "We're experienced, so we know how to keep the flavour high."
3. Enticing seniors to eat more in Assisted Living
Seasoned Amica chefs know how to offset the reduced appetite that's common among seniors and ensure they're getting the vitamins and minerals they need each day. For instance, they prepare a wide variety of small meals available from 7 a.m. to 7 p.m., offer easy-to-chew options with zesty sauces and create nutrient-packed snacks. (Read our tips for seniors with low appetite for more examples.) Connecting with friends in Amica's fully licensed dining rooms, bistros and terraces encourages residents to eat better, as well.
"Our residents love to gather, chat and share their opinions on the food, too," says Calabrese, who appreciates residents' involvement in developing menus and special events.
He's especially looking forward to serving a menu in November based on some recent Junior Culinary Team Canada dishes. Delighting Amica residents, doing culinary competitions and continuing to build his skills makes every day fulfilling for this talented chef.

"It's great to work with Chef Ryan at Amica Peel Village and keep developing as a cook," says Calabrese. "We're striving for perfection and always looking to take the food and service to the next level."

Book a virtual or in-person tour to find out what it's like to enjoy living on your own terms in an elegant Amica residence with outstanding dining, amenities, activities, senior care and safety measures.