Whether you're cooking at home or shopping for a loved one, it's important to select healthy foods and snacks with the vitamins and minerals that help seniors thrive and fight disease. The checklist of vital nutrients for seniors below is part of our Guide to Healthy Eating for Seniors, which includes recommendations from Canada's Food Guide, seniors' nutrition tips from dietitians and easy and delicious recipes.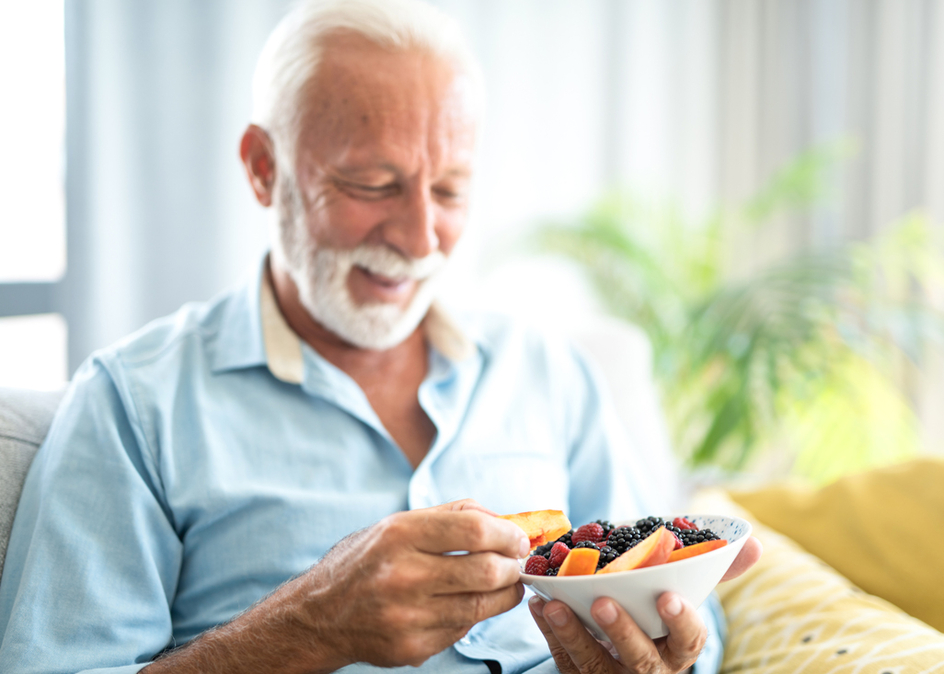 How older adults can eat for health
While all vitamins and minerals are important, the following nutrients are particularly crucial for seniors to stay healthy and reduce the risk of illnesses such as osteoporosis and heart disease. Talk to your health practitioner or a registered dietitian for personalized diet advice, plus rely on trusted sources of information such as your provincial health authority and unlockfood.ca, the website of the Dietitians of Canada.
| Nutrient | Where to Find it |
| --- | --- |
| Vitamin A: This vitamin helps keep your eyes, skin and immune system healthy. | Liver and dark green, orange, yellow and red vegetables and fruits |
| Vitamin B6: People over 50 need more of this nutrient, which boosts your immune system. | Meat, chicken, fish, beans and potatoes |
| Vitamin B12: Older adults can have trouble absorbing vitamin B12, which helps with nerve function and red blood cell production. | Meat, eggs, chicken, fish and dairy |
| Vitamin D: This nutrient helps you absorb calcium for strong bones and teeth. Many older adults don't get enough. | Milk, vitamin-D fortified beverages, tuna and fatty fish such as sardines and salmon |
| Calcium: Seniors need more of this mineral, which supports bones and teeth as well as your heart, muscles and nerves. | Milk, cheese, yogurt, kefir, calcium-fortified beverages, cooked spinach, almonds, legumes, canned salmon with bones |
| Iron: This mineral carries oxygen throughout your body and boosts cell function. | Meat, fish, eggs, extra-firm tofu and fortified soy beverages |
| Zinc: Another vital mineral for healthy immune function. | Meat, fish, beans and lentils |
| Protein: Seniors need this essential nutrient to build muscle, strength, immune and brain function and more. | Meat, chicken, fish, eggs, tofu, legumes, nuts |
| Fibre: As digestion slows, and the sensation of thirst diminishes, you can promote regularity by getting enough fibre and drinking enough fluids. | Fruits, vegetables, whole grains, legumes |

Healthy recipes and meal ideas
At Amica Senior Lifestyles, all meals are prepared by Red Seal certified chefs, who love creating exceptional cuisine that tastes great and meets Canada's Food Guide requirements, along with options for diabetic, vegetarian, gluten-free and heart-healthy diets.

Luckily, our Guide to Healthy Eating for Seniors includes three of their delectable recipes to try at home, along with diet advice for better aging, nutrition tips and more.

You'll also relish these other seniors' nutrition resources:
Amica's recipe for vitality
If you or your loved one are consistently skipping meals, losing weight and struggling with groceries and chores, it may be time to look into senior living. Amica's recipe for empowering seniors to thrive is a combination of premium amenities, activities and nutritious and delicious dining, combined with professional care personalized to the needs of every resident by certified wellness staff.

Book a virtual or in-person tour to find out what it's like to enjoy living on your own terms in an elegant Amica residence with outstanding dining, amenities, activities, senior care and safety measures.