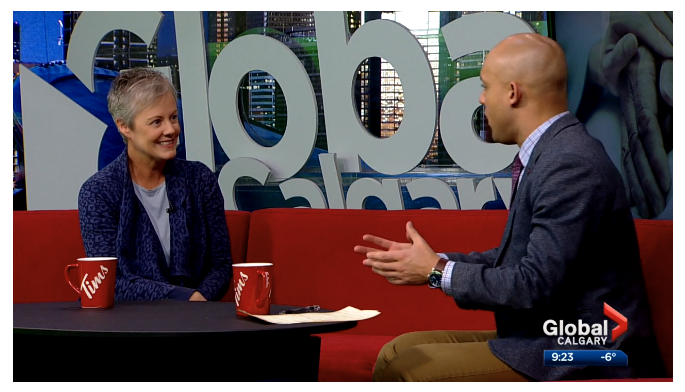 Calgary TV stations called Amica when they needed an expert to help families and seniors understand what happens after a dementia diagnosis, since Amica provides enriched Memory Care in retirement residences across Canada. Millions of viewers got more than symptoms, tips, advice and coping skills for dementia and Alzheimer's disease from the interviews with Dr. Heather Palmer, National Director of Cognitive Well-being at Amica Senior Lifestyles. The renowned specialist in cognitive aging also gave something many people lose when it comes to talking about dementia and Alzheimer's disease: hope.
"Your loved one might have driven themselves to the doctor where they receive a diagnosis," says Dr. Palmer. "It doesn't mean they're suddenly a different person going home. They're the same person, especially in the early days, although their brain isn't functioning the way it used to."
In an interview on CTV Morning Live Calgary, Dr. Palmer offered recommendations for living well after a dementia diagnosis. In the short video, you'll learn her positive coping tips for dementia:
How to recognize symptoms in the early stages of dementia: Many people assume dementia and Alzheimer's are about memory. Find out early signs of dementia including impaired executive function, reasoning and getting overwhelmed more easily.
How to tell if your symptoms are normal or if they relate to a possible dementia or Alzheimer's diagnosis. Dr. Palmer recommends seniors asking themselves if they're experiencing changes that are new for them, or different from what they're noticing in their same-aged peers. For caregivers: Think about if a parent or spouse is behaving differently, or in a way that's different from other people you know in their age group.
How to talk about going to the doctor to get a diagnosis for dementia or Alzheimer's disease. Some people may feel shame about diseases that affect the brain, so they try to hide their symptoms. Preserving dignity is crucial: approaching the conversation from a place of concern and love can help a spouse or parent be more willing to accept help.
Why it's important to get a dementia diagnosis. There are many forms of dementia, and each has a unique progression. Getting a diagnosis can help you understand what the journey might look like, and how to put supports in place to create an environment to support your loved one so they can keep living a full and rich life.
Activities for people with Alzheimer's or another dementia. Dr. Palmer recommends, first and foremost, understanding what the person likes to do that brings purpose, meaning and joy. Two, engage in regular physical and social exercise (such as conversation), to maintain the brain and body. Try these tips on how to reach out to people with dementia. And three, try music therapy and other dementia-friend activities, which have been shown to have a positive influence on people in Amica residences with Memory Care.
This interview on Global News Morning Calgary also helped family members and loved ones learn about how to support someone with dementia, how not to take comments personally, and tips for caregivers to support themselves:
People can live a good quality of life with dementia. Dr. Palmer reminded viewers that it's important to remember that people can live well for quite some time with dementia, especially with an early diagnosis.
Plan how you can play a supporting role. Learn how the disease might progress with time, and how you and your family can support your loved one most effectively.
Don't take things personally. Remember that the brain is changing, so your parent or spouse might not remember you or your loved one, or might remember others better than you. While it's easy to feel emotionally sensitive when this happens, try to remember that it's the disease talking, not the person trying to be intentionally hurtful.
How Alzheimer's and dementia caregivers can get help. Think about what you absolutely need to do and what others can do to help you and your family member. When others are caring for your loved one, remember to recharge by taking time for yourself in a way that's meaningful to you.
Learn more about how residents in Memory Care are enjoying excellent amenities, activities, flexible dining and personalized care at Amica residences. Schedule a private tour today.